A paddling pool in the garden is great fun, but sometimes it's good to get out and find something a bit more exciting to do. We have put together a list of some of the best splash parks, paddling pools, lidos and leisure pools just to make the research a bit easier for you.
Update: We have updated details here for Summer 2023- please check web links for more immediate updates.
King George's Playing Fields Splash Pad
Open for bookings!
Ingrave Road, Brentwood Essex CM13 2FD

This is the newest splash pad in our area. You'll find water jets, fountains, sidewinders, directional jets and cylinder spray. All sessions are 25 minutes long and all children need to be accompanied by an adult. In line with guidance, the Splash Pad will only be open when the temperature is 15 degrees or higher.
Currently open weekends 10am - 5pm. Cost is £4.25 per 25 minute session.
https://www.everyoneactive.com/centre/king-georges-playing-fields/
Aqua Action
Open for bookings!
Fairlop Waters Country Park, Barkingside IG63HN
Situated on the lake at Fairlop, this park is open to families BUT you must be able to swim 20m unaided to use this park. Suitable for ages 6+. Children ages 6&7 require an accompanying adult on a 1:2 ratio, children aged 8 and above do not require an adult. During term time open weekends only 10am - 7pm. During school holidays and bank holidays, open daily 10am - 7pm. £20pp (price includes wetsuit and buoyancy aid hire)
Stubbers Adventure Park
Open for bookings!
Ockendon Road, Upminster, RM14 2TY

This adventure park has lots to offer including a small beach area. Admission to the park is £3 per adult and £4 for children aged 5-15. Under 5s are free. The beach is included in this fee. It's a small secluded area with a shallow part of the lake area sectioned off for safety. Bring your own buckets and spades and have fun paddling.
Maldon Splash Park
Open from 8th July at weekends, daily during summer holidays
Promenade Park, Maldon CM9 5JQ
The Splash Park is located in the centre of Promenade Park in Maldon, offering a family friendly environment for all to cool off in on those hot summer days. Boasting a fantastic selection of interactive and accessible play equipment, and a brand new surface, Maldon Splash Park is the perfect summer destination for all the family. There are various ticket prices depending on how many adults and children are in your party.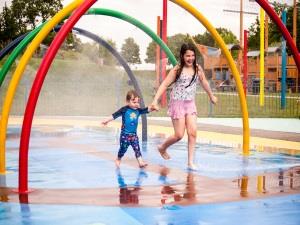 https://www.placesleisure.org/centres/blackwater-leisure-centre/centre-activities/maldon-splash-park/
Aqua Park Lakeside
Open for bookings!
Next to Travelodge, Alexandra Lake, Lakeside Shopping Centre, West Thurrock, Grays, RM20 2AB
Slip, slide splash and share the laugh out loud moments! Explore the course - beat the obstacles - race your pals. It's the ultimate day for groups, families, adults children 6+ & adrenaline junkies. You must be able to swim 25m unaided. There is a minimum height of 1.20m permitted on the Aqua Park. Children aged 6 & 7 years old can attend any session provided that an adult or guardian of 18+ is present on the Aqua Park with them, on a 1 adult to 3 children ratio. Children aged 8 to 15 years old can attend any session but must have either a adult or guardian on shore, or on the Aqua Park with them for the duration of the session. 16 years old and over can attend any session without supervision.
Open weekends only until 7th July then every day until 3rd September. Sessions are £20pp and wetsuits can be hired for an additional fee. Reserve wetsuit hire at time of booking.
https://aquaparkgroup.co.uk/aqua-park-lakeside/
Harlow Paddling Pools
Free to use - open during the summer holidays
There are 4 free to use paddling pools around the Harlow area and a splash park (Potter Street). Click the link below for information about each venue.
https://www.harlow.gov.uk/parks-and-culture/paddling-pools
The Pavillion Fun Park at Clacton
Open for bookings!
Marine Parade West, Clacton on Sea, Essex, CO15 1QX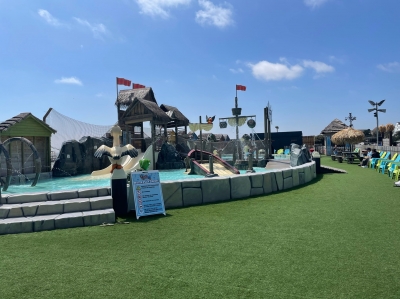 Clacton's newest and largest waterpark looks amazing! This state-of-the-art waterpark is the first of it's kind in the UK and will be one of Clacton's best attractions. The park is open every day from April to September (weather dependent) and offers a host of features including interactive elements and food on site.
Currently the water park does not have a pre booking system in place however same day purchases can be made for any session from the main cash desk on the water park from 10am. Session Times are as follows; 10am-12pm, 12pm-1:30pm, 1:30pm-3pm, 3pm-4:30pm, 4:30pm-6pm
One free adult per paying child. Price: £7.99 per wristband Weekends and Holidays, £4.99 during the school week.
https://www.clactonpavilion.co.uk/
Splash Pad at Ashlyn's Farm
Open for bookings!
Epping Road, North Weald, Epping, CM16 6RZ
A small splash pad is located at the farm and is bookable in addition to the farm tickets. You cannot book this as a separate activity. 2 hour sessions, time slots are are 9-11am, 11-1pm, 1-3pm or 3-5pm

Price: £5 per child in addition to the cost of farm tickets. Call 01992523118 to book.
https://www.instagram.com/p/CRdmMfZhZlW/
Splash Park Barking
Open for bookings!
Barking Park, Longbridge Road, Barking IG11 8Y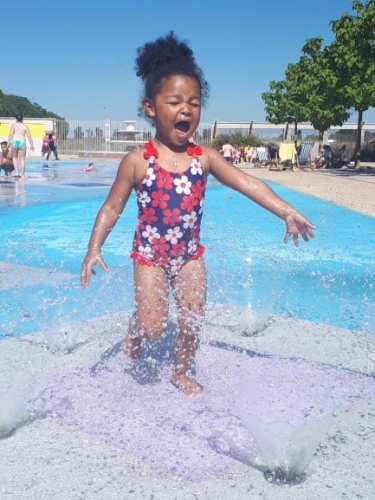 This is a great little splash park open every day in the summer (weather dependent!) from 10am – 6pm. It is perfect for smaller children as its all flat and has a soft surface. There are fountains at different heights which operate at different intervals.
90 minute session will start at 10:00, 12:00, 14:00, 16:00
Price: Admission - 90 minute session. Child £7 aged under 15; Adult £4.00; Family £18
https://www.splashparkbarking.co.uk/
Brightlingsea Community Lido
Open for bookings!
Promenade Way, Brightlingsea CO7 0HH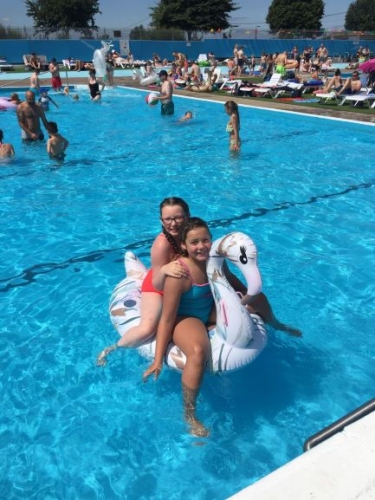 So this one is a little bit further away but if you are looking for something different and a change of scenery it could be just the thing. This is a traditional 1930s open air swimming pool which also has a smaller toddler pool. It can get very busy in the summer. The lido is generally open from May until early September. During school holidays it opens at 11am daily except for Mondays when it opens at 1pm. During term term they are open on weekdays from 1pm. There are sun loungers available to hire, a café on site and showers and changing rooms too. The Café is currently open everyday 9am to 4pm last hot food orders 3.20pm. For the most up to date information it is best to check the Facebook page @brightlido.
Price: Click here for full price details
https://www.brightlingsealido.org/
Festival Aqua Park
Open for bookings!
Basildon, SS14 3WB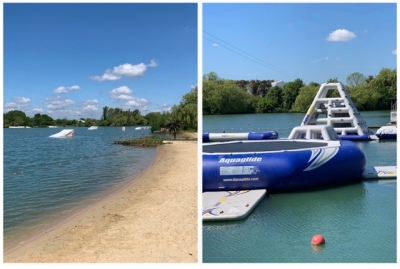 As a day out for the family, this can definitely be one of the more costly but Festival Aqua Park is an amazing venue and there is definitely a lot to keep all ages (6+ and beyond) happy. The huge inflatables on the water look like great fun and will provide plenty of challenge for everyone. There are safety briefings and everyone is given a buoyancy aid prior to going on the water. There is a beach area, a paddling area and a new café too. Check out the website for full details and pictures of what to expect.
Prices: £20 per person for a 1 hour session on in the Aqua Park.
https://www.festwake.com/prices-times/
Swanley Park
Open for bookings!
New Barn Road, Swanley, Kent, BR8 7PW

This splash pool has been designed to be shallow enough for the whole family to enjoy. Regulated by trained professionals and sophisticated technology, this pool is a safe area to play. Various water features complement the pool, on a bed of soft flooring, for those who get a little too excited!
Quiet sessions run from 9-11am £2.00 pp bookable view link below / from 11am the splash pool is free and open to the public with no booking required.
There are various other water activities available at Swanley park like pedalos, rowing boats and canoes, a plunge slide and hand boats.
https://www.swanleypark.co.uk/water-attractions/
The Strand Leisure Park
Open for bookings!
Gillingham, Kent ME7 1TT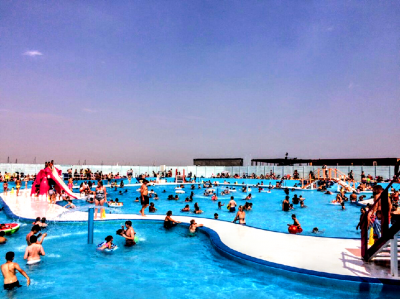 About an hour away we have this fabulous outdoor lido facility in Gillingham. There is a toddler pool, some small slides and a lazy river running through the venue. The pool uses filtered salt water from the nearby river Medway. There are lots of spaces for sunbathing or watching the kids play. From 27th May the venue is open at weekends only and daily during the summer holidays until 3rd September, 11am – 5pm. There are charges to park onsite. Please check the website for full details.
Sessions from 10.30 a.m. to 1.30 p.m. and 2.30 p.m. to 5.30 p.m. will be available.
Prices: Adults (16 yrs and older) £6.80; Juniors (15 yrs or younger) £4.50; Seniors (60 yrs and older) £4.50; Under 3's Free
Colchester Leisure World
Open for bookings!
Cowdray Avenue, Colchester CO1 1YH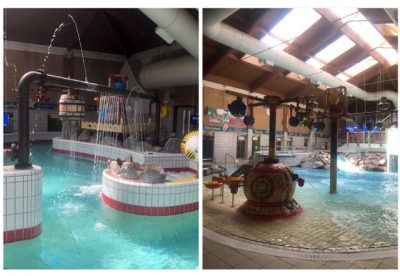 For those days when the weather isn't on our side, you might be looking for some indoor fun. This place has it all. It has 13 metre flumes, water rapids, a crazy river, fun slides, waves and shipwreck water cannons. During the busy periods they operate a wristband system which guarantees 1 hour and 10 minutes in the venue. You cannot book the leisure pool in advance. NB: Some features are not available - click here for all up to date relevant info.
Prices: Click here for up to date prices
https://colchesterleisureworld.co.uk/colchester/swimming-pools/the-leisure-pool/
Lakeside Shopping Centre
Available now!
W. Thurrock Way, Grays RM20 2ZP
Did you know that there are fountains at the end of the Boardwalk which children (and adults!) can play in? There are lots of deck chairs so parents can relax in comfort while the kids let off steam. Perfect to take care of the boredom during a day of shopping!
Prices: FREE!
https://lakeside-shopping.com/
London
On a day trip to London, it's always good to have a few tricks up your sleeve to entertain the kids, especially on a hot day. There are several spots around the city where the kids can have a paddle or play in the fountains completely free. Make sure you have a change of clothes and a towel in a bag - just in case!
Merchant Square Fountain Maze, 7 Harbet Road, Paddington W2 1AJ - Summer, 7.30am – 8pm on weekdays and 10am – 6pm at weekends
Prices: FREE
Granary Square Fountain, Kings Cross N1C 4AA - open daily
Prices: FREE
Appearing Rooms, South Bank Centre, Belvedere Road SE1 8XX - Open daily June to September 12noon - 9pm
Prices: FREE
Victoria & Albert Museum, Cromwell Road SW7 2RL - open all year round
Prices: FREE
The Diana Memorial Fountain, Hyde Park, W Carriage Drive W2 2UH - Open all year round
Prices: FREE
Somerset House, Strand WC2R 1LA - Open Spring & Summer months 10am - 11pm
Prices: FREE
Serpentine Lido, Hyde Park, South Kensington W2 3XA - Open daily June to August
Prices: £4.80 per adult; £1.80 per child; £12 for a family ticket
Queen Elizabeth Park, The South Plaza E20 2ST - Open daily
Prices: FREE
Leicester Square Fountains, Leicester Square WC2H 7LU - Open daily
Prices: FREE
If we have missed anything just drop us an email and let us know!
All details in this article are correct to the best of our knowledge but we are aware that information regarding opening hours and prices can be subject to change. Please do check websites and venues before you set off to avoid disappointment.
*Thanks to all those businesses who gave kind permission to use their images.