Updated 09/12/23
This Christmas many of us are facing a challenge to keep the spends to a minimum. As we are all trying to keep a close eye on the budget, we wanted to share some ideas that might help you to still plan a fun Christmas while keeping the costs down.
Presents
Everyone has different opinions when it comes to buying gifts for their children and I think it's important not to be influenced by what other people are doing and to do what is right for you and your family. I would be the first to admit that I sometimes find it hard to stick to a budget when buying presents. If you are trying to keep things more minimal then this is a great starting point.
something they want
something they need
something to wear
something to read
How many of the gifts given to children last Christmas are still played with/used regularly? I've been thinking about this a lot and it's helped me to think about how I can reduce the amount of tat this Christmas! One of the best things we did a few years ago was dramatically reduce our Christmas list. It wasn't difficult to do, we just decided as an extended family that we wouldn't buy presents for the majority of the adults as we were just gifting for the sake of gifting. The children still give presents to grandparents.
Christmas Traditions
Ever since I was a little girl we have had a takeaway on Christmas Eve and I have carried on this tradition with my family too. Christmas traditions can be something you start this year and carry on with, or something you've remembered from your own childhood. Here are a few ideas what won't break the bank.
Hot chocolate with all the trimmings on Christmas Eve
An annual family photo - in Christmas pyjamas or by the tree
A Christmas sleepover downstairs with best friends - sleeping bags and duvets around the Christmas tree!
Go to a show - the West End can be big bucks for a Christmas show or panto. Check out our local theatres and see what they have on this festive season.
Volunteer at a soup kitchen or food bank - such a great experience for older children
Plan an activity for Boxing Day - we like to go for a walk at the seaside
Bake festive cookies and treats together
Take a drive or a walk in the area to see the Christmas lights
Make home made cards for family members
Track Santa on Christmas Eve via NORAD
Activites & Games
Build a Christmas grotto/den – add some homemade hanging decorations and some battery lights to make it festive.
Movie night – we have lots of suggestions below for family Christmas movies!
Board games night – what's your family favourite? Dig out the games you've not played with recently.
Card games night – we love Uno!
Scavenger Hunt – during the lockdowns we designed some scavenger hunts that people could print off at home or save on their phones. These are still really popular on our website and still have regular downloads. You'll find a great list of parks, woodland and green spaces here.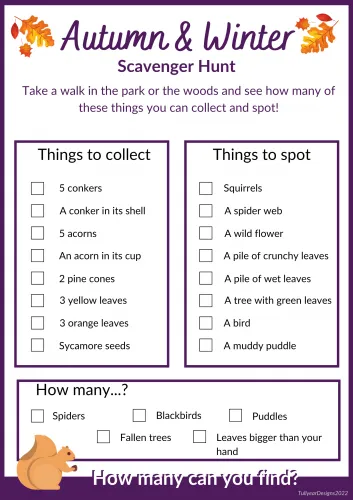 Create a 2024 Wish List Jar - all add things the family would like to do together in 2024.
Minute to Win It games - stack it up, full of hot air, snowball swap and more. You'll find lots of ideas on Pinterest. We like these too.
Who am I? - using post it notes, choose a character from a Christmas film and post it on someone's forehead. Players have 20 questions to guess their identity!
Lego Challenge – a great activity for a wet dreary day. Click here for some lego challenge cards or try and use your bricks to make something Christmassy!
Candy Cane Hunt – hide some candy canes around the house or garden (if the weather is on your side) and send the children off to find them. Hopefully this will give you enough time to sit down and have a coffee and a mince pie in peace!
Make a Gingerbread House – you can buy the kits cheaply in most supermarkets if you (like me!) haven't got the skills to make one from scratch!
Movies
We have updated this list for 2023! There is nothing like a Christmas Movie to get you in the festive spirit. So get those blankets out and make some snacks all set for an afternoon on the sofa! We all have favourites and every year there are some new additions to the list. Most are available on the various streaming services and there will of course be lots on TV over the festive period too. Here are OVER 60 inspire you.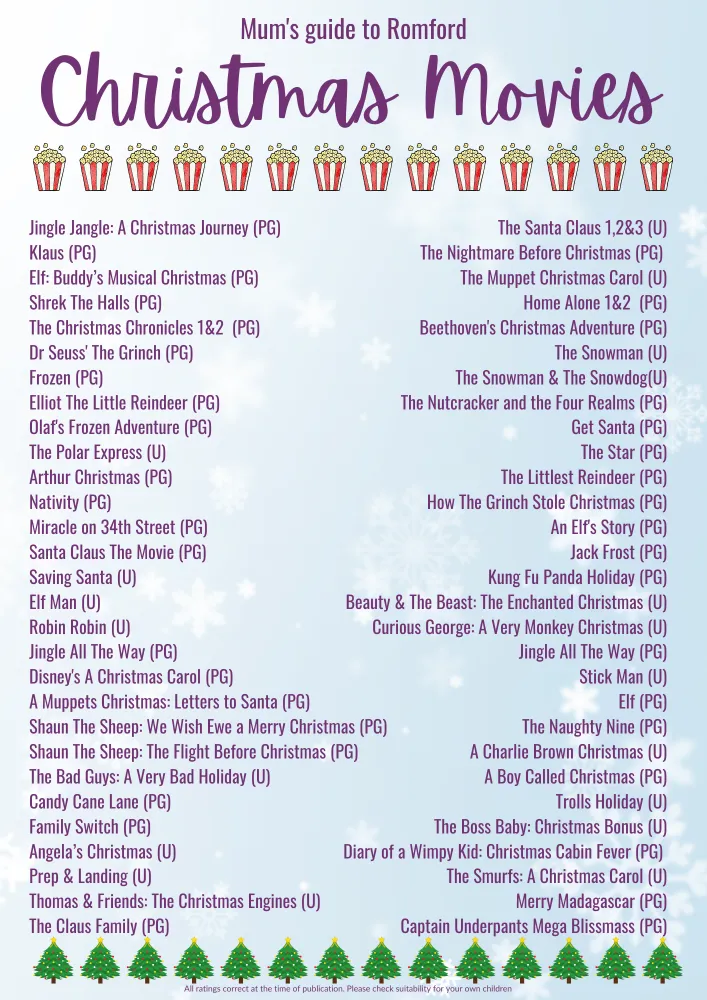 Advent Activities
There are so many ideas for advents that don't involve chocolate or toys. Here are just a few!
Book Advent - we have been doing this now for a few years. I use mostly books that we haven't read for a while (we do have an awful lot of books in our house!) and sneak in one or two new books! I number them so that in the week leading up to Christmas there are mainly Christmas stories. Kids love revisiting books that they have forgotten about - even if you think they may have outgrown them.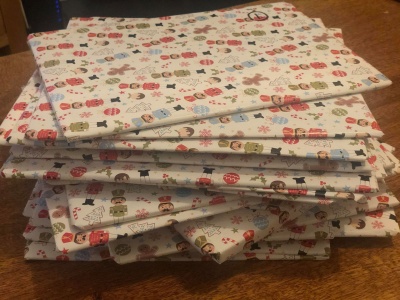 Reverse Advent – why not get a box and each day in December add an item to it that can be gifted to a local charity or Romford Food Bank? It might be an idea to start this a week or two earlier than December and then it can be gifted in time for Christmas Day.
I was a teacher for many years and we always had a Kindness Advent Calendar. I bought one of the calendars with pockets in it and each day had a piece of paper with a random act of kindness challenge for the class to do. It's very easy to replicate at home and you can add anything you like – wash the dishes without being asked, make mum a cup of tea, let your brother or sister choose the game/film etc.

Santa's

Beard

– Create an image of Santa's head without his beard. Each day the child adds a cotton wool ball to create the beard.
Advent Blessings Jar – all you need is a jam jar/mason jar and some lolly pop sticks. Each day write something on the stick that you are thankful for – a nice activity to go through and read all the blessings on Christmas Eve. This is a great way to revisit the good times!
Activity Advent – if you have a printer at home there are lots of websites where you can print off puzzles, word searches, colouring in and other paper and pencil activities. Put each one in an envelope, seal it and add a number. Click the links for ideas.
Photo Advent – this is a lovely idea that I found in a Facebook group. Why not print off some photos of the kids that you have taken during 2023, put each one in an envelope and mark them to be opened one per day during December. This is a great early gift for a grandparent.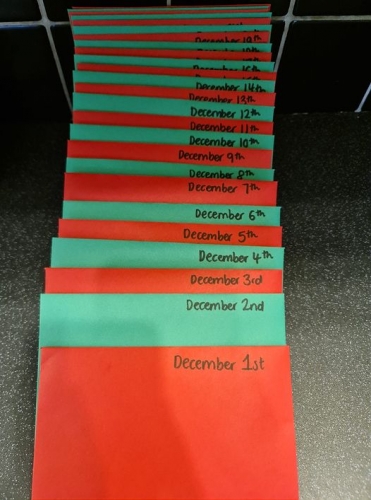 Photo with kind permission of Jen Rose
Arts & Crafts
I must admit I am not particularly artistic but at Christmas I do love to get creating. There are so many simple ideas that you should be able to create using items that you already have at home or can buy cheaply.
Christmas Pebble Painting – create some Christmassy designs on pebbles

Retro Paper Snowflakes

– everyone loves these and they are very simple

Homemade Cards

for family – Grandparents, aunts and uncles will love a handmade card far more than a shop bought card. It's also a perfect wet Saturday afternoon activity.
Pipe Cleaner Snowflakes – these might be a little fiddly but they look fantastic! Click here for instructions.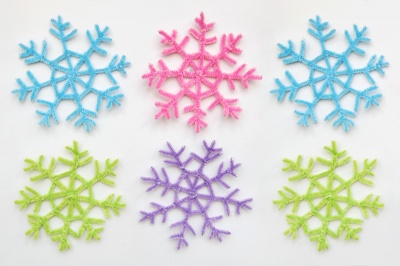 Photo credit - https://www.firstpalette.com
Twig Christmas Trees

- I am going to try these and then put in a box frame – a new Christmas decoration to come out each year!

Paper Plate Crafts

– so many ideas and all you need are basic craft supplies and a packet of paper plates!

Lolly Stick Christmas Trees

– These look really effective as a tree decoration or on the front of a homemade card.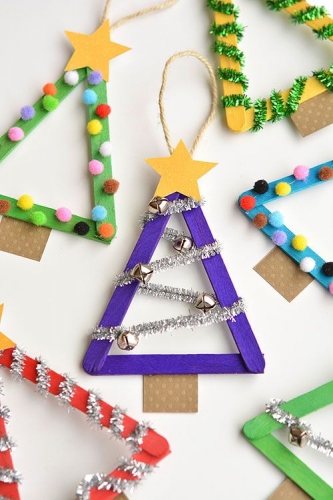 Photo credit - supermommyclub.com


3D Paper Trees

- these are perfect for older kids and teens as they are a bit tricky to make. Click here for instructions.

Make a Wreath

- You can use anything for this. Start with a card base and add pasta shapes, twigs/moss/pinecones, pom poms or anything else you can find.

Light Up Angel Cups

- These look so cute! All you'll need is: plastic cups, felt tips or sharpies, scissors, some card and a battery tea light.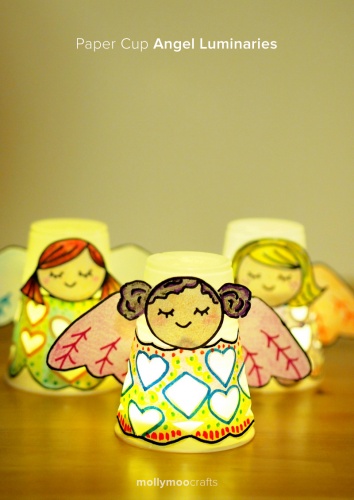 Photo Credit: http://mollymoocrafts.com


Salt Dough Decorations

– Thanks to Kayleigh at Mum's guide to Hertford for sharing her recipe! 1 cup of flour to half a cup of salt and a small amount of water. Use Christmas cookie cutters to cut out shapes and poke a hole through with a pencil. Cook on low in the oven for 3 hours or until dry (alternatively dry for up to a week in the airing cupboard) paint and decorate the tree.

Hand & Finger Print Baubles

– Turn finger prints into reindeer, hand prints into Santa and fingers into snowmen! You'll need some paints for this one. There are lots of ideas here to make really memorable decorations for your free. Click here for ideas.
Tasty Treats
It's the time of year for having extra treats with no excuses! There are lots of recipes and ideas online – these are a few of our favourites which are really easy to make! Click the links to find the recipes.
Gingerbread Men/Reindeer

– Make your usual gingerbread men biscuits or cookies using the cutter. Turn them upside down and decorate to look like Rudolph!

Peppermint Creams

- these are so simple and can be adapted to suit a theme. Make them any shape, add food colouring, dip in chocolate... the options are endless!

Christmas Rocky Road

- I have to admit to loving Rocky Road but I rarely make it as it's so moreish and it wouldn't last five minutes! The classic recipe is really easy to make but there are lots of ideas for adding some Christmassy ingredients too or just making a more child friendly version!

Christmas Cookies

- So many ideas on this website for fun cookies which the kids can help make. I am off to find my Christmas cookie cutters!

Rice Krispie Cake Christmas puddings

– Christmas pudding is often something that kids don't like. It's a grown up pudding! These little gems are absolutely the best substitute and can be made in advance.

Cheese Stars

– these really can be any Christmas shape. All you need is a roll of ready made puff pastry, some grated cheese, flour for dusting and a little milk. Unroll the pastry and sprinkle the cheese over one half, fold the pastry in half to cover the cheese and use a roller to seal it. Roll until doubled in size. Heat oven to 200C/180C fan/gas 6 and line a baking sheet. Use cookie cutter to make your shapes and brush with milk before cooking for 10-12 minutes! These will keep for a couple of days in an airtight container.
Pretzel Chocolate Reindeer - take 2 pretzel sticks (or 2 mini bread sticks) and dip half in chocolate. Stick eyes and red nose on chocolate with pretzel/bread sticks exposed at antlers.

Mini Christmas Tree Pizza Bites

– these can be adapted to suit your preferred pizza toppings. Click here for the recipe.

Christmas Fudge

– This great no bake fudge was shared by

Mum's guide to Hertford

. You can easily tweak it to make it Christmassy by adding toppings of your choice or cutting it into different shapes. Take a look!
Elf on the Shelf
Love them or loathe them, the Elf has become a part of Christmas festivities for lots of families! Last year we published our Elf Cheat Sheet which was hugely popular. Most of the ideas are simple so can be easily achieved - especially if you remember you've not done anything just as you get into bed - sound familiar? I am all for making life as simple as possible!
50 Thrifty & Nifty Things to do at Christmas
This has been updated for 2023 and can be downloaded here.
I really hope that this article gives you some ideas to help make this Christmas fun for everyone
Wishing you all a very Merry Christmas
Jane x