These are just some of the events running during the Halloween period. Most events will have limited numbers and will need to be pre booked. Don't leave it too late as some already have dates which are sold out. Click the links for more info!
We will be adding to this as list so kept checking!
🎃You can see the full 'What's On' guide here
🎃Frightening Fun, Ghoulish Games & Scary Snacks
Halloween events
The Scarecrow Trail 24th - 31st October
Download the map created by Engayne Primary Parents Association and go on a hunt for all the amazing scarecrows around Upminster & Cranham.
Spooky Specials at the NWDMR at Harlow Garden Centre 29th & 30th October
Take a trip round the haunted gardens and have a spook-takular ride with live actors and special effects and decorations. As it gets darker, we turn up the spookyness - so before it's dark is ideal for young children.
Spooktastic Halloween Experience at Cammas Hall 1st - 31st October
The pumpkin patch, some spooky characters, the wicket walkway, the maize maze and lots of great photo opportunities.
SpookyFest Halloween Event for Kids at Wat Tyler Country Park 25th - 31st October
No.1 Halloween event where children will access 3 chilling mazes, enjoy spooky stories, meet some creepy creatures and join the annual spooky hunt.
Kids Wicked Weekend 30th & 31st October
Halloween disco, face painters, spooky magic, BBQ, bat trail, indoor pumpkin barn and lots of photo stations.

Halloween Special at Audley End Miniature Railway 23rd - 31st October
Take the train ride through the woods to visit the witches and their monster friends. There is a gift for every paying child, Belinda the Fortune Telling Witch and William the Woodland Wizard will be there and of course the chance to let off some Halloween steam in the adventure play area
Willows Pumpkin Festival 16th - 31st October
Join Peter Rabbit and his friends down on the farm, take part in a pumpkin hunt and take some amazing photos in the Gourds Grotto.
Halloween Festival at Old MacDonald's Farm 23rd - 31st October
Join in the spooky fun at the haunted house, the magic school, the roller coaster, scary stories with Miraiker, take part in Old Macs ghost trail, pumpkin patch, PYO pumpkins, pumpkin carving, creepy crawly meercat feeding & talks, animal talks with Sunny the owl.
Dinos After Dark at Paradise Wildlife Park 22nd - 24th October
Get ready to take an adventure through time, visiting the Triassic, Jurassic and Cretaceous periods at our World of Dinosaurs in moonlight, if you feel brave enough! With a variety of night-time entertainment for all the family, this will be a night you won't want to miss!
Lee Valley Farm Halloween Festival 23rd - 31st October
Who will you spot around the farm this Halloween? Witches, Wizards... Vampires? Maybe even Frankenstein! Come in fancy dress and creep through our devilishly decorated farm and enjoy our funfair rides, pumpkin picking patch, adventure play, bouncy pillows and 𝘴𝘖𝘰𝘖𝘰𝘰 much more.
Belchamps Haunted Pumpkin Patch 25th - 29th October
The pumpkins are hidden in the lost haunted woods and you'll need to follow a map and work out the clues to find their locations. Lots to see and learn along the way, if your brave enough?!
Shriek Week Pumptastic at Nuclear Wild Forest 26th - 30th October
Fun in the mud for kids ages 6-10 years - booking essential as spaces will go!
Shriek Week Obstacular at Nuclear Wild Forest 26th - 30th October
Obstacle course in the dark with glow sticks and zip lines. Suitable for ages 11+
Fright Week at Epping Ongar Railway 27th - 31st October
Take a ride on the steam hauled ghost train from North Weird. Collect an activity pack from the spooky porter? Watch out for spooky characters on board who will scare and entertain in equal measure.
Spook-Fest at Aldenham Country Park 16th - 31st October
Spook-Fest returns, bigger and better than ever. Discover frightfully fun offerings such as pumpkin picking and carving, horrid hay tractor ride, spooky trail, pumpkin bingo, decorations throughout the farm and much more!
The Ghost Party at Belchamps 30th October
When Fiona and Sam are lost in the woods they accidentally stumble across a friendly ghost having a birthday party. After lots of laughter and games, disaster strikes when they let loose the evil grumpy ghost! Can they catch the naughty spirit before it's too late?!

Spooky Nights
Lots of venues are hosting some late night fun this year...
Spooky Nights at Barleylands 29th - 31st October
Pumpkin Village Nights at Marsh Farm 15th, 16th, 17th, 22nd - 31st October
Cammas Hall Night Entry 13th, 16th, 20th, 23rd, 27th & 30th

Something not so spooky
Paddington: The Story of a Bear - until 31st October
A Day Out with Thomas - 30th & 31st October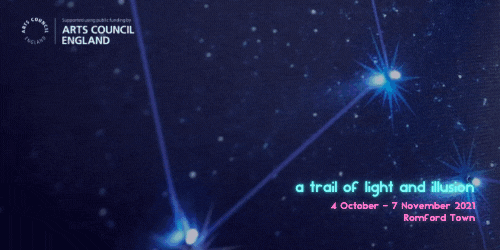 Don't forget the fabulous trail of lights and illusions, Illusionarium, which is completely free around Romford town centre all through October until 7th November.
Illusionarium - 4th October - 7th November
A free trail of artworks inspired by light and illusion in Romford town centre including family 'play points' - best viewed at dusk!
Crack The Code - 4th October - 7th November
Find the 12 secret characters and collect their code words to take part in the 'Play Stop' competition.
Romford Constellation - 25th October
Pop by and meet Martin, constellation maker and create your own constellation and give it a name.
Multicolourism - 16th October
Create your own 'light panels' using colours, paper, paint and shapes to create a modern version of "stained glass windows" on the huge windows on level 2 of The Brewery.
Family Fun Day - 23rd October
So much going on for all the family on Level 3 Mercury Mall.
Keep checking for newly added events.