Updated June 2022
A day out in London with kids can be expensive – but it doesn't have to be! I have been doing some research and come up with more than 70 ideas for things to do that are either FREE or don't cost much at all. Use the links below to get more information and to make plans for your day out! Whether you have toddlers or teenagers, there is always something to do in London to keep everyone happy.
Please be aware that although there are no official Covid restrictions in place now, many venues are still operating with new rules in place. Venues that are free may still require booking. Check websites and social media pages before you travel.
First Things First...
Take a picnic! It's cheaper, you can accommodate for the kids dietary requirements, likes and dislikes and you will appreciate having snacks to dive into on the tube, on the bus or wherever you need to. Also if you are out and about with smaller children, lunch time can be anytime and anyplace which eliminates the stress of finding a suitable restaurant.

Plan ahead. Due to Covid even free venues are only open for pre booked, timed tickets. Plan your day, take a look at the tube map and try and plan activities that don't require lots of criss-crossing across the city. I have added the closest tube station to each venue/activity below to help you.

Budget for travel costs. Visit the TfL website and make sure you know what's what.
Toilets
Edit: This tube map showing stations with public toilets and baby changing facilities may be useful!
https://content.tfl.gov.uk/toilets-map.pdf?fbclid=IwAR3PvmvynAAhji9eUbouljFXQWMeU9c34DcMI-Pd7NeBz9ZW8p_k1qDCjqI
You can also download apps like 'Toilets4London' or 'Flush' which can be really helpful!
Museums & Galleries
There are so many in London it would be impossible to mention them all. There are a few on this list suitable for younger children as they have 'hands-on' sections and most of these will be of interest to all ages, including those hard to please teens! Please note that while most museums and galleries are free, due to Covid restrictions it is essential to pre book a time to visit. Here are 10 suggestions to get you started!
1. British Museum - complete a trail and find all 12 objects. Don't forget to visit the Egyptian section and marvel at the mummies! Plan your trip by checking out the family activities before your visit.
Nearest Tube Station: Goodge St
2. Victoria & Albert Museum - free activities and events daily at this leading art and design museum
Nearest Tube Station: South Kensington
3. V&A Museum of Childhood - explore toys through the ages
Nearest Tube Station: Bethnal Green
4. Science Museum - so much to see and do for all ages. The main museum is free to enter. In my opinion it is definitely well worth paying a to visit the Wonderlab Interactive Gallery where there are over 50 activities including the infamous friction slide. Day passes from £9.00 Annual passes (unlimited access for a year) from £14.00. Open Wednesday - Sunday
Nearest Tube Station: South Kensington
5. Natural History Museum - a must see for the dinosaur lovers! The amazing lifelike exhibition is a favourite of ours. Free to enter but tickets must be booked
Nearest Tube Station: South Kensington
6. Museum of London - lots of activities to do on your visit and you can print off activity sheets at home to bring with you. The history of London is told from prehistoric times to the present in reconstructed interiors and street scenes, alongside displays of original artefacts found during the museum's archaeological digs.
Nearest Tube Station: Barbican
7. Museum of London at Docklands - Mudlark's Children's Gallery is great fun. Free and suitable for toddlers and kids up to 8 year olds. Sessions must be pre booked.
Nearest Tube Station: West India Quay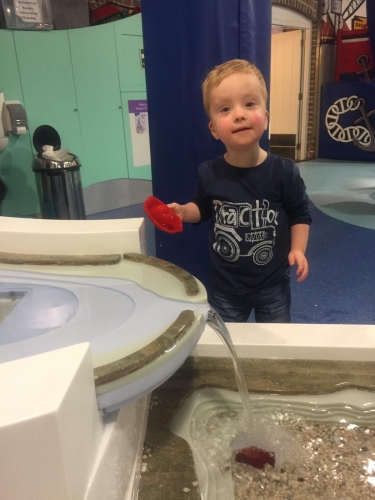 8. Tate Modern - Free to visit but timed tickets must be booked in advance. A family friendly gallery with lots of abstract art. You'll find some activities to get everyone enthused here at Tate Kids
Nearest Tube Station: Southwark
9. Transport Museum - One of our favourite places! Adults do need to buy an annual pass with gives unlimited admissions over a 12 month period. Children are free but timed tickets must still be booked.
Nearest Tube Station: Covent Garden
10. Bank of England Museum - There are lots of hands on activities at this museum. You can hold a real12kg gold bar in your hands and take a selfie in the gold corridor. Interesting fact: The front of the building appeared in Mary Poppins Returns!
Nearest Tube Station: Bank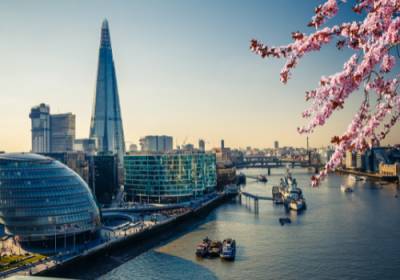 Public Transport
Use the great transport system to see the city – it's so much cheaper than booking a tour and with a little forward planning you can see all the sights. My little boy loves all things transport related so we always have to try and squeeze in as many forms of travel as possible! Get older children and teenagers to plan the traveling before you visit using the online maps. For information on charges and travel cards for kids, click here. If you are travelling with a pushchair then click here for information about planning your journey step-free.
11. Buses - Sit up top and try and get the front seats for the best views. Some of the best bus routes for sightseeing are:
Number 11
Catch the bus at: Liverpool Street Station
You'll see: St. Paul's Cathedral, Trafalgar Square, the Houses of Parliament, Big Ben and Westminster Abbey.
Ends: Victoria Station
Number 73
Catch the bus at: Victoria Station
You'll see: Buckingham Palace gardens, Wellington Arch, Hyde Park, Marble Arch, Oxford Street.
Ends: Stoke Newington
Number 24
Catch the bus at: Victoria
You'll see: Westminster Cathedral, Westminster Abbey, Whitehall, Downing Street, Trafalgar Square, Nelson's Column, Camden Town.
Ends: Hampstead Heath
Children under 11 travel free and older children are discounted with a paying adult. No cash is accepted on buses - use an oyster or contactless payment card. For more info click here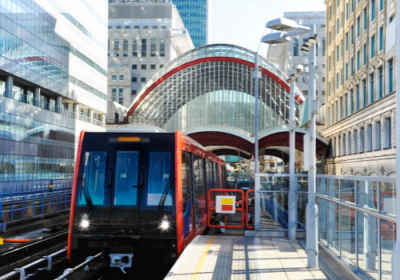 12. Docklands Light Railway (DLR) - a great way to explore East London and the financial centre. These trains are driverless so the very best seats are right up at the front!
13. London Underground - the tube map is easy to follow and children will enjoy planning a route and following the stations on their journey
14. Emirates Air Line - this is so much fun. Great views of the O2 and surrounding areas. Pay using your oyster or 'touch on' using your contactless payment card
Nearest Tube Station: North Greenwich or Royal Docks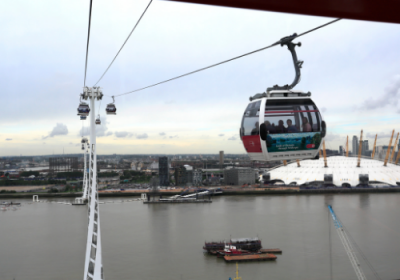 15. River Bus - a really great way to see the city from a different perspective. It's free for under 5s and discounted for ages 5-15
Interesting Places
16. Sky Garden - A personal favourite of mine, it's completely free to visit but tickets are hot property so check the website regularly so you don't miss out. Tickets are usually released 2-3 weeks in advance. Photo ID is required. There is a bar, restaurant and coffee bar there but you are under no obligation to make any purchases, just go and enjoy the views and the atmosphere
Nearest Tube Station: Monument
17. Platform 9 & 3/4 - Have your photo taken pushing the trolley through the wall to the secret platform
Nearest Tube Station: Kings Cross
18. Harry Potter Walking Tour - this free tour will take you to places that inspired the sets in the movies
Nearest Tube Station: Leicester Square
19. Treasure Trails - there are 50 Treasure Trails to do in London and they cost £9.99 each
20. Tower Bridge - I had lived in London on and off over 15 years before I actually saw the bridge open. It's a terrific sight to see. You can see the opening times here. If you decide to splash out on tickets to go inside the bridge you'll have an amazing view of the river and the traffic crossing the bridge through the glass floor 42 meters high above the surface
Nearest Tube Station: Tower Bridge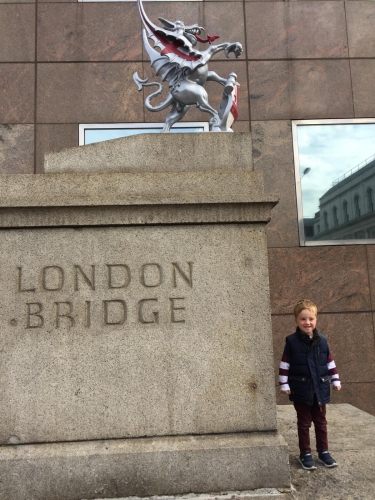 21. Known as the Millennium Mile, take a walk along the South Bank, seeing sights like The London Eye, Westminster, Big Ben and The London Aquarium. Walk over the Millennium Bridge, once known as the Wobbly Bridge, back along Tower Bridge and then walk past The Globe Theatre. Can you see the iconic building of City Hall? There are great bars and restaurants, street entertainers and always lots to see
Nearest Tube Station: Westminster
22. Covent Garden - there are so many street performers to see here. It's all free but they do appreciate a tip
Nearest Tube Station: Covent Garden
23. Changing of the Guard - this happens daily, except in bad weather. It takes about 45 minutes. Check the link for full details of times and the best spot to watch from.
Nearest Tube Station: Green Park
24. The Monument - if your children have been learning about The Great Fire of London then this will be an exciting venue. You don't have to climb the 311 steps to the top, but if you decide to, it's not that expensive. (£5.80 for adults and £2.90 for children, under 3s are free). Open at weekends and during school holidays 09:30-13:00 and 14:00-18:00.
Nearest Tube Station: Monument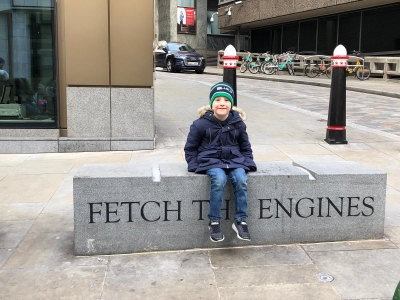 25. The Great Fire of London - a self guided tour following the path of the fire. Download the pdf here
Nearest Tube Station: Mansion House/City Thameslink/St. Pauls
26. Geocaching - a great free activity which also enables you to explore an area. You'll find suggestions here
27. Hay's Galleria - walk through the Galleria and see The Navigators, a moving sculpture with water feature
Nearest Tube Station: London Bridge
28. Continue walking along the south bank towards The Golden Hinde. You can take a look from the pavements or if you want to visit the ship it costs £5 per person (under 3s are free) with a family of 4 ticket costing £15.
Nearest Tube Station: London Bridge
29. HMS Belfast The ship is expensive to visit but it's a fantastic sight to see this Second World War Royal Navy warship as it sits on the Thames - and its free to take a look from the Southbank!
Nearest Tube Station: London Bridge
30. Greenwich - take the DLR to Greenwich and enjoy a walk down to The Cutty Sark
Nearest Tube Station: Greenwich/ Cutty Sark (DLR)
31. The National Maritime Museum - lots to do here. You can see the uniform Nelson was wearing when he was shot at the Battle of Trafalgar, fire a cannon and even steer a ship into port
Nearest Tube Station: Greenwich/ Cutty Sark (DLR)
32. The Royal Observatory - this is really worth a visit if you are in Greenwich. There are loads of suggestions on the website including standing on the Prime Meridian Line and enjoy the best views in London from the top of the hill
Nearest Tube Station: Greenwich/ Cutty Sark (DLR)
33. The Greenwich Foot Tunnel - not many people can say they have walked UNDER the river Thames! The entrance to the tunnel is found next to The Cutty Sark and takes you on a stroll to Island Gardens on the Isle of Dogs
Nearest Tube Station: Greenwich/ Cutty Sark (DLR)
34. The Singing Elevator - Take a ride in the lift at The Royal Festival Hall on the Southbank and listen as it sings to you and even sings the floor number you arrive at! See website for details of what elements of the Festival Hall are open
Nearest Tube Station: Waterloo/ Embankment
35. Scenes in The Square - Visit Leicester Square and discover the statues celebrating movies over the years. Amongst the most popular to see are Bugs Bunny, Paddington Bear, Laurel & Hardy, Mary Poppins and the most recent addition is The Iron Throne from Game of Thrones. Click the link for a statue map and free audio tour
Nearest Tube Station: Leicester Square
36. Nando's Recording Studio - Whether you think you are the next Ed Sheeran or the next Ellie Goulding, this free studio needs to be booked in advance. It's really popular!
Nearest Tube Station: Leicester Square/Tottenham Court Road
37. Peacocks in Holland Park - this vast park is home to lots of peacocks and if you time it just right you might get to see a magnificent show of feathers. Follow signs to the Kyoto Garden within the park
Nearest Tube Station: Holland Park
38. City Hall - visit this iconic building on the Southbank. Parts are open to the public and the dramatic sloping walkway with the great views are worth a look
Nearest Tube Station: London Bridge
39. Illuminated Tunnel at Kings Cross - This subway tunnel with a difference will take you from St Pancras International and King's Cross stations towards Granary Square, Coal Drops Yard and the shops and restaurants around the canal. The 90-metre long tunnel features an 'art wall' made from LED lights which is used to showcase artistic commissions
Nearest Tube Station: Kings Cross
40. Canary Wharf - this is an interesting place to explore packed with trendy restaurants and interesting buildings. There are always things going on so check out the what's on guide in the link. In Columbus Courtyard you'll find children's floor games and mini golf. Check out the full 'What's On' guide here
Nearest Tube Station: Canary Wharf
41. The Ceremony of the Keys - this is a free event at the Tower of London although there is a booking fee of £10 for each booking of up to 6 tickets. This nightly ceremony lasts approx 45 minutes and ensures the Tower and its jewels are safely locked up for the night. It is quite late (9.30pm) and more suitable for older kids - and the grown ups!
Nearest Tube Station: Tower Bridge
42. Table tennis - there are table tennis tables scattered around London where you can play for free! Visit the PingLondon website for details of where to find tables.
43. Visit the Infinity Chamber in Covent Garden. Found in Conduit Court in Covent Carden, it encourages visitors to take five minutes out of their busy days and indulge in restorative colour therapy. Created using thousands of LED bulbs.
Nearest Tube Station: Covent Garden
44. Leake Street Tunnel - found under Waterloo station this is the longest graffiti gallery in the capital. This free, open space allows artists to show-off their skills and creations – some of which last for months, days, or even only a couple of hours.
Nearest Tube Station: Waterloo
45. Pose for a pic at 10 Downing Street - OK so you can't do this for security reasons BUT there is an address close by that looks remarkably similar. 10 Adam Street (just off The Strand) was once the residence of a previous Prime Minister and he had it decorated in the style we now recognise at the official residence. Click here for all the info
Nearest Tube Station: Charing Cross
Enjoy the Amazing Views
While we would all love to take a trip to the top of The Shard to see the views of the city, there are many more options to see the cityscape without paying a penny.
46. The Sky Garden - as mentioned above for its stunning indoor public garden, the views are stunning. It's completely free but you must book in advance. Tickets always go really quickly so keep checking the website. They are usually released 2-3 weeks in advance and you will need photo ID.
Nearest Tube Station: Monument
47. Primrose Hill - at the summit of this grassy hill are some spectacular views across London. It's a bit of a walk (as anyone who has been to London Zoo will know!) but it's worth it. Investigate buses that will get you closer to the park entrance here
Nearest Tube Station: Chalk Farm
48. Parliament Hill - Found in Hampstead Heath, it used to be known as Traitor's Hill. Head to the summit of Parliament Hill, the highest point in London at 98 metres high, for the best possible view of the London skyline, including; St Paul's Cathedral, the Palace of Westminster, the Gherkin, the Shard and more. It's a popular place to fly kites and have picnics
Nearest Tube Station: Hampstead Heath/Gospel Oak (Overground)
49. Alexandra Palace - while there are always events going on here, the Ally Pally as it's known by locals is famous for its stunning views. The hill is really high but it's worth it! There is a 200 metre stretch with benches and steps from which to sit and enjoy the view, and if you don't feel up to the climb you can hop on the W3 bus from Finsbury Park underground. Check out their what's on guide here for up to date info on events.
Nearest Tube Station: Finsbury Park Underground
Play Parks
For information about Royal Parks and what's available at each venue, click here.
50. Queen Elizabeth Olympic Park at Stratford - there are free trail guides, a splash park, play areas, don't miss Tumbling Bay, ride the slide at the Arcelormittal Orbit (this is something more suited to older kids or teenagers), take a boat tour or a swan pedalo, the wetland tale trail and so much more. A whole day can easily be spent here!
Nearest Tube Station: Stratford
51. Life Sized dinosaurs at Crystal Palace Park (and a maze, farm, playground, skatepark and much more). Crystal Palace park has now opened again and there are details on the website of times and events running.
Nearest Station: Crystal Palace
52. Coram Fields - This is a very central park with play area including a zip wire, the largest slide in town, sandpits and a paddling pool. It is close to the British Museum
Nearest Tube Station: Russell Square
53. Victoria Park - located in Hackney, near Museum of Childhood this beautiful park is perfect for a sunny day out and a picnic. There is a great play park and a splash pool. At the time of publication the splash pool area was still closed
Nearest Station: Homerton/ Hackney Wick

54. St James' Park - see the pelicans being fed at 2;30pm daily. You'll find them at the opposite end to Buckingham Palace, behind Duck Island Cottage near Horse Guards Parade. It doesn't last long (about 10 minutes) as the pelicans are ready and waiting for the food every day!
Nearest Tube Station: Charing Cross
55. See the Peter Pan Statue in Kensington Gardens next to Hyde Park. Bring the Peter Pan statue magically to life with your smartphone, as part of Talking Statues. Simply swipe your phone on the nearby plaque and get a personal call-back from Peter Pan
Nearest Tube Station: Lancaster Gate
56. Princess Diana Memorial Play Park - This is a beautiful play area complete with a pirate ship, teepees and a sensory trail
Nearest Tube Station: Queensway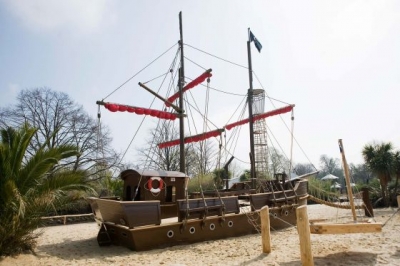 Image from www.royalparks.org.uk
City Farms
There are lots of city farms to choose from. Here are just 3 that we like;
57. Mudchute Farm - this large farm and park in East London is popular with families and schools. Check social media pages for up to date information on whats happening at the farm
Nearest Station: Mudchute (DLR)
58. Hackney City Farm - open 12pm - 3pm daily (closed on Mondays). The café is open again and is known to be a big draw, but the rest of the farm is thriving with happy animals, a pottery studio and garden to explore
Nearest Tube Station: Bethnal Green/Cambridge Heath/Hoxton
59. Kentish Town City Farm - Farm visits are available for pre booking on Thursday to Saturday, 11am to 3pm and Sunday, 12 to 2pm. Free entry. New booking slots are released each Thursday from 10am
Nearest Tube Station: Kentish Town
Talking Statues
60. There are talking statues all over London. All you need to do is scan the QR code and you'll receive a call back from whoever the statue depicts. Statues are all over the city and a map can be downloaded here
The kids will love hearing what Sherlock Holmes, Dick Whittington's Cat, Peter Pan, Queen Victoria, Hodge The Cat and many more have to say.
Let's Splash!
Definitely something for the summer weather but on a day trip to London, it's always good to have a few tricks up your sleeve to entertain the kids, especially on a hot day. There are several spots around the city where the kids can have a paddle or play in the fountains completely free. Make sure you have a change of clothes and a towel in a bag - just in case! Top Tip - invest in a camping towel, they roll up really small and are lightweight.
61. Merchant Square Fountain Maze, 7 Harbet Road, Paddington W2 1AJ - Summer, 7.30am – 8pm on weekdays and 10am – 6pm at weekends
Nearest Tube Station: Paddington
62. Granary Square Fountain, Kings Cross N1C 4AA - open daily. Free
Nearest Tube Station: Kings Cross
63. Appearing Rooms, South Bank Centre, Belvedere Road SE1 8XX - Open daily June to September 12noon - 9pm. Free
Nearest Tube Station: Waterloo/Embankment
64. Victoria & Albert Museum, Cromwell Road SW7 2RL - open all year round. Free
Nearest Tube Station: South Kensington
65. The Diana Memorial Fountain, Hyde Park, W Carriage Drive W2 2UH - Open all year round. Free
Nearest Tube Station: Knightsbridge
66. Somerset House, Strand WC2R 1LA - Open Spring & Summer months 10am - 11pm. Free
Nearest Tube Station: Temple
67. Serpentine Lido, Hyde Park, South Kensington W2 3XA - Open daily June to August
Prices: £4.80 per adult; £1.80 per child; £12 for a family ticket
Nearest Tube Station: Hyde Park Corner/Lancaster Gate

68. Queen Elizabeth Park, The South Plaza E20 2ST - Open daily. Free
Nearest Tube Station: Stratford
69. Leicester Square Fountains, Leicester Square WC2H 7LU - Open daily. Free
Nearest Tube Station: Leicester Square
Shopping
70. While visiting shops is free, we know that it can be difficult to get out without making a purchase. That said there are some very unique and interesting shops in London which will be fun for adults and children alike. You might want to visit Hamleys, M&Ms London, The Harry Potter Shop, The Lego Store, Harrods Toy Kingdom and Forbidden Planet
Let's not forget the teenagers!
We have had some requests since this feature was published to add a section for teenagers. There are many on the list above which are perfect for all ages but we all know that it's hard to entertain teenagers and trying to do this on a budget is challenging – HOWEVER we have some suggestions which might help.
You can opt for some of the more big ticket experiences like The Clink Prison Museum, The Dungeons, The London Bridge Experience, The Harry Potter Photographic Exhibition, or a Thames Speedboat Experience to name but a few but there are other options too which won't cost as much.
Remembering that our teens love their social media and will be looking for photo ops to share on their Instagram throughout their visit, why not take them on a tour to find famous movie locations.
Visit Abbey Road and take a photo on the infamous crossing where the Beatles once stood. Be aware there are two Abbey Roads! You want the one is St John's Wood (3 Abbey Road, NW8 9AY)

Nearest Tube Station : St John's Wood

If your teenager isn't impressed with what's on offer at the British Museum or even in the Science Museum (I think this one is a must for ALL ages though) then try God's On Junkyard in Walthamstow. This gallery hosts a world of neon signs and other paraphernalia which is unusual and very quirky.

Nearest station: Walthamstow Central which is a London Overground.

Camden Market – hugely popular with adults and a magnet for teens to hang out with over 1000 quirky shops and stalls selling everything from vintage clothes and art to music and knick knacks. Camden Lock is also a popular hang-out for teens!

Nearest Tube Station: Camden Town

Portobello Road Market – similarly to Camden, this market has a great vibe with unusual and quirky stores and stalls. You can also find the famous blue door from the film Notting Hill – another Instagram op!

Nearest Tube Station: Notting Hill Gate

A bit of window shopping on the world famous Oxford Street or if you are visiting the Queen Elizabeth Park at Stratford it is also the home of Westfield Shopping Centre where teenagers are sure to find all their favourite brands and designer shops.
The Prince Charles Cinema - This cinema is a cultural icon and perfect for older teens who are film buffs. There are always cult classics and often sing a long versions of shows like Grease and The Sound of Music. It's a must for teens to visit at least once. Nearest Tube Station: Leicester Square
Catch a West End Show – Kids Week deals are applicable for up to age 17 this year.
Sherlock Holmes Museum – not free but for avid fans it could be worth it! Nearest Tube Station: Baker Street
Street Art Walking Tour - for fans of street art this could be a great way to spend a few hours. This link has a step by step self led tour so is free!

Nearest Tube Station: Liverpool Street

Take a Jack The Ripper Tour - this is not free but it's been really popular since it began in the early 80s and is known as The Original Terror Tour! Are you brave enough? Are they!?

Nearest Tube Station: various - see website

For the tech lovers, dining at Inamo is an experience. Menus are projected onto the tables and you place your order using the unique interactive tables. There are two locations, one in Soho and one in Covent Garden. Nearest Tube Station: Covent Garden

If you have any other suggestions please drop us a line and let us know - we can add it to this list!
If you are planning to visit some of the main attractions in London, a great way to save money is to purchase a London Pass. To keep costs down, take a picnic on your day out. We have lots of ideas to liven up your picnic bags here.
We have also spotted this list of suggestions for FREE Family Days Out in Essex which is definitely worth a look!
All details are correct to the best of my knowledge at the time of publication. Please do check before you travel to avoid disappointment.