Don't you just love kids who love music? The younger they are, it seems the funnier their dancing, singing and general enjoyment is, but their pure unadulterated joy of what is arguably the most important art form is a wonder to behold and their enthusiasm is often infectious!
But if it's just enjoyment that preschool children get from music, is it really worth spending money on music classes to attend with them? Surely you could just Spotify a track or two, and have a sing-a-long, right?
Well, let's look at the benefits. I run live music classes for babies and toddlers called Mini Mozart in Hitchin (and other locations in Herts), and it's not only amazing to see week after week children's interest, delight and wonder of music, but also how much the attending the classes helps with their confidence, language, motor skills, social skills, reasoning, behaviour and their emotional health!
So how do we go about making Mini Mozart music classes so special for children?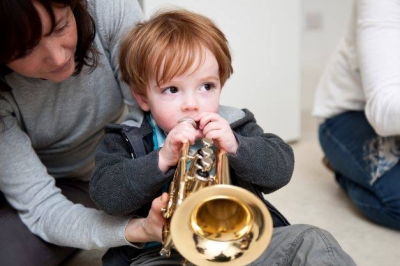 Our classes are all LIVE - Children will start to understand how music is created by watching our musicians, hearing them play and getting to touch the instruments in a way that just isn't possible with recorded music.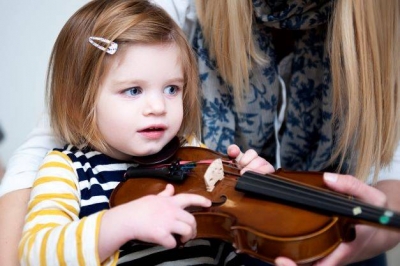 Our classes are EDUCATIONAL - Children are introduced to the musical concepts of pitch, rhythm, dynamics and tempo through singing, movement and touch. Their listening skills become enhanced - rather than merely hearing, they learn to actively and avidly listen.
Our classes aide their DEVELOPMENT – Children start to develop musical expectations through repetition, which, when realised, instil incredible confidence.
Our classes are FUN for them - Through singing and movement, bubbles and games, parachute and puppets, your orchestral musician and their piano accompanist will create live magical musical moments to captivate your child.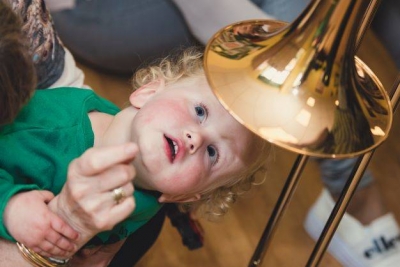 And our classes are FUN for you! - We use music graduates who can call upon a wealth of musical knowledge when talking about repertoire and keep things interesting for grown-ups too! Parents/carers refresh their memories on hazy nursery rhyme words and tunes, shake the parachute, catch the bubbles, and listen to a different story or fable each week, and take true joy in experiencing the live music along with their child.
Mini Mozart practitioners are excellent musicians. The class leader usually plays at least two orchestral instruments, which the little ones are encouraged to touch and explore, once they've heard what they sound like. All the classes have a piano accompanist who plays some of the world's best loved classical repertoire and as often as possible, visiting orchestral musicians drop in to play along so your little one experiences the sound of different orchestral instruments.
We use classical music to bring stories to life and each week there's a different one, so we might sing Sleeping Bunnies to a snoozing hare in The Hare & The Tortoise, Wind The Bobbin Up to make The Emperor's New Clothes, listen to Mozart or Chopin whilst trying to catch some bubbles, or shake the parachute to the contrasting movements of Vivaldi's Four Seasons. The classes have been designed to introduce children to the concepts of pitch, rhythm, dynamics and tempo through fun games and exercises – with the emphasis being placed firmly on the FUN!
Our Hitchin venue is incredibly special as well; classes run in the Peter Morrison Hall at Benslow Music Trust which boasts a Steinway piano which our pianists play – I'm not sure many other preschool music classes can make a claim like that!
So the benefits of live music classes for babies and toddlers are many and we hope that you enjoy discovering them with your little one soon!
Mini Mozart classes run in Hitchin on Monday mornings during term time at Benslow Music Trust, Benslow Lane, Hitchin, SG4 9RB.
For more information, email [email protected] or check out our Facebook page and to book a trial class, go to www.minimozart.com