During Easter half term, we went along to the soft play session at Indie Rock. It is located upstairs in The Victoria Shopping Centre so nice and easy to get to in terms of public transport and parking.
They hold soft play sessions every Tuesday and Friday which can be booked online or via their social media. The sessions are for 2 hours for
The small soft play area is fenced off right next to the climbing wall which means the area is fully secure and the children can roam free. It has some soft toys, a ball pit, tunnel and balancing beams so definitely targets towards the older baby/toddler age. When we arrived we were offered some climbing shoes but you also get the option to wear your own. As I wasn't sure how much climbing we would want to do, we opted to wear our own.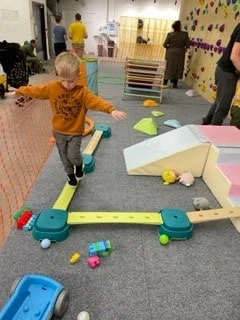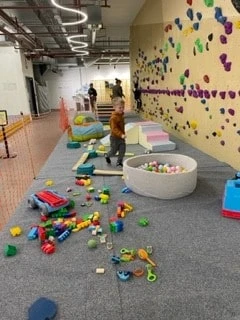 The staff were really friendly and were offering pointers and tips on how to navigate the wall. They also had some great suggestions on games for the children including putting a soft toy up on the rocks to encourage the children to climb and 'rescue it'.
I took along both children (Louie,4 and Leo, 9 months at the time) and as most parents would agree, is sometimes quite daunting going out alone to some types of activities where you may need more than one pair of hands!! As both activities were together in the same area, it meant I could pop the youngest one down in the ball pit whilst I helped the eldest one with climbing. An activity that would usually be a no-go for me to do with Louie was actually an enjoyable experience thanks to the soft play area being there too.
After climbing, we had some lunch in the coffee shop where they sell drinks and small bites. They also have some toys, a play kitchen, books and colouring for the children and a really lovely space to chill out. The coffee shop can be used by anybody - you don't have to be climbing to use it, so a great place to pop in whilst you're out shopping.