On 3rd March 2022 World Book Day celebrates it's 25th Anniversary! This article was originally published on 17th February 2022.
--
If there are three little words that every parent dreads at this time of year they are "World Book Day". We know that it's coming, it happens every March, and every year we swear we'll be more organised next time. But inevitably we put off thinking about it in the hope that some great idea will come to us, and instead, when it doesn't, we end up in a last minute panic. It becomes particularly difficult when the children are older and have outgrown their princess/pirate/cowboy/witch dressing up outfits that served us well for years representing numerous characters from fairy tales.
So having been through this quite a few times with our children we've come up with a list of fairly simple, but effective ideas that you can create with items you may already have, or might be able to pick up quite cheaply in a charity shop.
Violet Beauregarde (from Charlie and the Chocolate Factory by Roald Dahl)
Outfit: Purple dress/outfit (pad slightly if you want)
Make-up: Paint the face purple and spray or chalk hair purple
Accessories: Make a golden ticket to carry

Matilda (by Roald Dahl)
Outfit: A blue dress and red hair band
Accessories: Use a shoebox to 'make' a pile of books to carry around (lighter than carrying a real pile of books).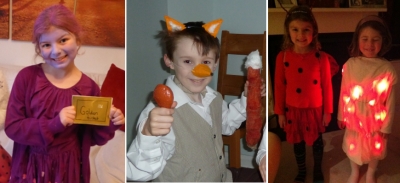 Glow Worm (from James and the Giant Peach by Roald Dahl)
Outfit: Cut a head hole and arm holes in an old white pillow case. Roughly sew a small set of battery operated Christmas lights inside the pillow case in a spiral. Ensure you are able to tuck the battery holder into the bottom folded bit of the pillowcase on the inside

Ladybird (from James and the Giant Peach by Roald Dahl)
Outfit: Red clothes with black felt spots stitched on
Accessories: Fairy wings. Antennae made from deely bobbers or pipe cleaners attached to a hairband
Golden Ticket (from Charlie and the Chocolate Factory by Roald Dahl)
Outfit: Dress head to toe in gold
Fantastic Mr Fox (by Roald Dahl)
Outfit: School trousers/shorts, shirt, neckerchief, jacket or waistcoat
Make-up: black nose and whiskers (or make a nose from a cone of orange card)
Accessories: Fox ears made by attaching some triangles of orange card to a hairband. Tail made by stuffing a leg from a pair of tights with newspaper, painting it orange and gluing cotton wool to the end (no need to attach as it is shot off at the start of the book)
The Boy in the Dress (by David Walliams)
Outfit: Football kit with a dress worn over the top (a strappy/sleeveless summer dress is best so the football kit can be seen)

One of the Three Little Pigs
Outfit: Checked shirt & jeans/dungarees, child's builder's hat with triangles of pink card stuck on to make pig ears
Accessories: Child's tools/toolbelt. Snout made by cutting a section off a toilet roll tube, coverig with pink tissue paper, drawing two black dots on the end and attaching with elastic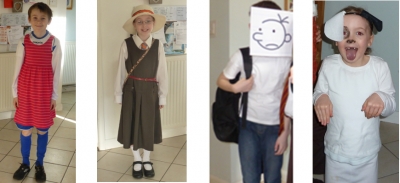 Darrell Rivers (from Malory Towers by Enid Blyton)
Outfit: Brown pinafore, white shirt, orange tie (or a tie with orange in it), brown felt hat or straw hat with brown & orange ribbon glued/stitched on
Accessories: Satchel

Paddington Bear
Outfit: Red hat and blue duffle coat
Accessories: Amall suitcase. Label attached to the coat reading "Please look after this bear"
Make-up: Black nose
Greg (from Diary of a Wimpy Kid by Jeff Kinsey)
Outfit: Jeans and t-shirt
Accessories: Find a picture on-line and print out to make a Greg mask. Rucksack

Dennis the Menace
Outfit: Black shorts, red & black striped t-shirt/jumper
Hair: Messy and spiky
Puddle the Naughtiest Dog (by Hayley Daze)
Outfit: Dress in white
Accessories: Easr made from black and white felt shapes attached to a hairband
Make-up: Black patch over one eye and a black nose

Where's Wally?
Outfit: Red & white striped bobble hat, red & white striped jumper/t-shirt, blue trousers/jeans, round black glasses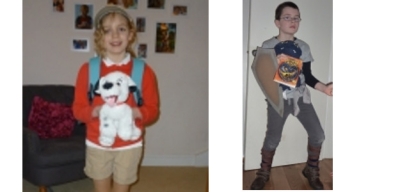 George (from The Famous Five by Enid Blyton)
Outfit: Shorts/trousers, jumper, cap
Accessories: Rucksack, toy dog
Make-up: Freckles
Tom (from Beast Quest by Adam Blade)
Outfit: Grey t-shirt over a long-sleeve top; belt or sash tied around the middle; dark trousers; dark ribbons wound from ankle to knees.
Accessories: Sword, shield and a beast