We were invited to have a chat with Mr Steve Lloyd, the head teacher at Sauncey Wood Primary School. After meeting with him recently we have decided to rename him Mr Motivator. He has been embracing challenges and celebrating each child's progress at Sauncey Wood since 2015 and is keen to share his passion with the whole community.
"I am madly passionate about helping every child. Let's make it personal to the children."
Mr Lloyd wanted to change the perception of this greatly improved school that's "stuck on the top of the hill" and with attendance levels up and children excited to come to school each day he is achieving just that. There is a very holistic approach to teaching the children at Sauncey Wood. It begins with the children being willing to learn. If they don't feel that they are ready for a lesson or need 10 minutes to themselves, for whatever reason, they have the option of sitting or walking with one of the two incredible school therapy dogs or reading in the beautiful Book Wood library or even cleaning out & feeding the fish or chatting with Turbo the Tortoise (who is currently on holiday in his hibernation den). Children are the main priority and Mr Lloyd feels that the "responsibility is purely on [his] shoulders"; that they are not just statistics or data. The staff are keen to support the children and their families so that the children are in an environment where they are keen to come to school and therefore keen to learn with good results following on from this. A child making small steps socially or picking up a pen for the first time is fantastic progress for that child. "We should be celebrating this progress and it is working well for the school". This was reflected in the recent Ofsted that stated their excellent education and excellent facilities.
With a background in Sports Science, Mr Lloyd has encouraged a range of sporting activities at the school including the Daily Mile, Wheely Wednesday (any wheels can be ridden around their all-weather track), an annual Colour Run and Santa Dash and last year 18 staff members including catering staff and the site manager ran the Wheathampstead 10k – it's not just the children that have been encouraged in their health & well-being. The school are undertaking a huge challenge this year trying to collectively run 6000 miles 'to' the Tokyo Olympics. If they make it, they will all receive an "Olympic" medal and, we imagine, a wonderful sense of sporting achievement. With all this activity, including the annual Harpenden Schools' Year 3 & 4 football tournament held at Sauncey Wood, Mr Lloyd would like to spread it throughout the community and there is talk of a Harpenden Teachers' Tournament too…!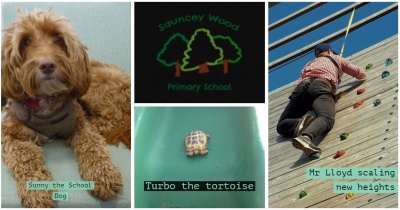 With the school's tag line being Grow Curious Minds we were interested to find out what Mr Lloyd did on a personal level to achieve this. "This role is with you 24 hours a day. It's a difficult thing to switch off from. You have so many families and children to think about and what to do next for them. Education constantly evolves and changes every day so I read as much as I can; fiction, non-fiction, Ofsted reports! Creating the Book Wood library was a priority. Reading unlocks education for children; if they can read, if they access books and enjoy it, that's your curriculum right there. I am undertaking some mental health training at the moment; I'm reading a lot about this and changing our behaviour policies. Putting in therapeutic ways to support children, not just at primary level but at secondary school as well." As an ex-footballer, who played for Wales U18s and trialled for Leeds Utd and Everton, he is still very sporty and last year took on the amazing challenge of the 100 miles bike ride, Ride London-Surrey.
Looking ahead to the coming year, Mr Lloyd is pleased that the new changes to the curriculum will give the school the opportunity to really personalise education and make it relevant to each child. To ultimately give the best education and have the children go home and say "Guess what we did today at school?"
To see the school for yourself book onto the remaining informal tour:

Tuesday 26th November 2019, 1.30pm
Or make an appointment via the school office on 01582 621514 to book a visit
www.saunceywood.herts.sch.uk
www.facebook.com/SaunceyWoodSchool