There is no denying the buzz as you enter the pantomime that puts you in an immediately excitable mood. The children are eagerly anticipating the performance (and are eating all their goodies before the curtain rises…). And we're off!
This year's Harpenden panto has been produced by Polka Dot Pantomimes. A star cast, including the dashing Prince Henry played by Jeremy Edwards, gave us the perfect concoction of panto magic – the children were hoarse from screaming, the knees needed oiling after the stand-up/sit-down audience participation and everyone had a jolly good time.
The Mayor of Harpenden had his 5 minutes of fame as he was plucked out of his seat, danced down the aisle and put on a fantastic impromptu repartee with the Dame – all in the spirit of Christmas!
We were invited to meet the adult members of the cast after the show which the children found hugely exciting and we found out lots of things:
The Evil Queen usually plays the leading loveable female roles in pantomimes so was relishing in sinking her teeth into the dark side. Although she was actually lovely and plays the trumpet (not that she was blowing her own!). Her advice to any budding theatre performer is to get yourself signed up to a local theatre group and get as much EXPERIENCE as possible.
Snow White recently moved to the area and my second son has fallen madly in love with her. She was as gracious and kind as the real thing and even more beautiful. She can look after 7 little people, sing like an angel, act and remain calm and merry even when being poisoned – oh my parenting skills need some updating! And she was utterly endearing too when she mentioned she gets nervous if she knows people in the audience. Although, don't feel sorry for her as she's the one (spoiler alert!!) that gets kissed awake by Prince Henry.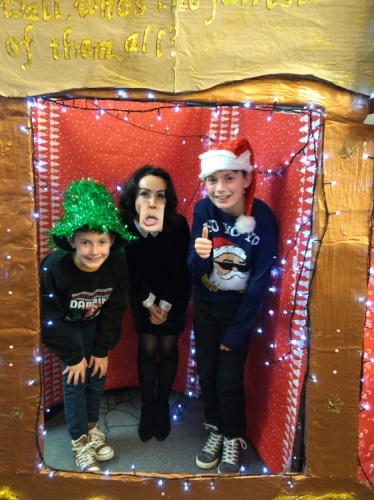 Snow White larking around with two of my monkeys
And, yes, he was charming, brilliant with the kids - he had his own little girl 18 months ago who is clearly his whole world – and gracious with his time as he patiently answered the boys' questions. His advice? Prepare, prepare, PREPARE! He had a strong work ethic and said how much he enjoyed performing – it was fun! If you're prepared for your role you can relax. We chatted about Hollyoaks, children, commuting, family life, children, acting, children, performing, children…!! It is fair to say he was a Dad first and foremost!
Muddles was clearly relaxed as he bounced around the stage getting the audience participating and seemed just as vivacious back stage. Herman was, thankfully, delightful, unwrinkled and straight backed. The fairy dazzled both on stage and off and I felt like the dancers just wanted to keep on dancing their energy levels were so high. One phrase that each cast member mentioned was what a great team they had together - how well they all got on. This was a relief because it would have been really awkward if someone didn't think so! Ah, all this excitement in one room – I wanted to get those water guns and start cooling them off…!
Before I sign off I want to mention all the fantastic children in the show. All local school children, dazzlingly choreographed by the stunning Jess from Showtime Circus (whose smile is actually brighter than Prince Henry's teeth and the sparkly costumes put together), who filled the stage with the joy of Christmas and some of whom (mentioning no names in particular…The Dwarfs) couldn't even see through their costumes' heads and yet did a brilliant job at entertaining the audience. I hope you could hear the cheers for you even if you couldn't see the smiles you brought to everyone's faces. It would have been lovely to acknowledge you properly at the end! All I can say to that is POTATO!! Well done little people.
Get yourselves along to the Harpenden Public Halls for some traditional family Christmas fun.
#Be more Snow White.
#Prepare.
#Experience
#Relax
#Enjoy