During October half term we were invited along to Audley End Miniature Railway Halloween Special. To say there was excitement would be an understatement as most of you know we have a train fanatic in the house!

Since restrictions has eased, we really hadn't visited many places locally. I admit to still feeling apprehensive about places that could potentially be crowded. We have been to Audley End before and always had a fantastic day - this one was no different.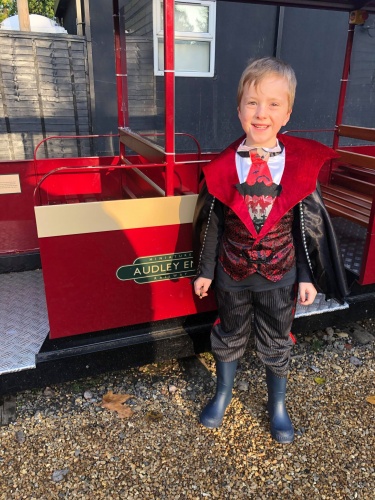 I thought I would tell you about our visit - I realise this event has now ended but if you considering future events that they are running, this will give you a flavour of what to expect.
From Romford it takes just over an hour and 15 minutes to get there which I think is a reasonable distance for a day out. Once you get off the M11, its a scenic drive through some lovely little villages and open countryside.
We were given a departure time for our train ride and asked to be on site no more than 30 minutes before. This meant queuing was limited and the start of the experience was smooth. These are new Covid rules but in reality they make sense all the time. No children like to queue and it can often be a tension point in a day out.
We were greeted in the car park by a member of the team who was dressed in a Halloween costume with full makeup. He gave us quite a theatrical introduction to our day which was unexpected but definitely got us in the mood for some spooky fun.
Before the day, we had received an email detailing exactly what would be happening, including all the safety measures being taken to ensure everyone was as safe as possible. Actually this email was sent out twice which is great. I know I often see something I need to read and then get sidetracked so it was great to get a timely reminder to read through it all. It actually felt very reassuring. Sadly, we all know how unnerving it can be to arrive at a venue and realise that little or no consideration has been given to the Covid situation. Audley End had thought of just about everything, from perspex dividers between the carriages on the trains which ensure you are safe in your own family bubble to hand sanitising points throughout the grounds.
When we arrived at the Admissions Hut our names were checked and we were given an activity pack for the train, a pencil, a card spider and some string - to tie our wish to the wishing web! There was a Take Away Cafe selling a variety of refreshments to take on the train and there were also toilet facilities available at this point which were very clean. The next opportunity to buy snacks or use the facilities is around an hour from the train departure time so it's a good idea to come prepared with snacks!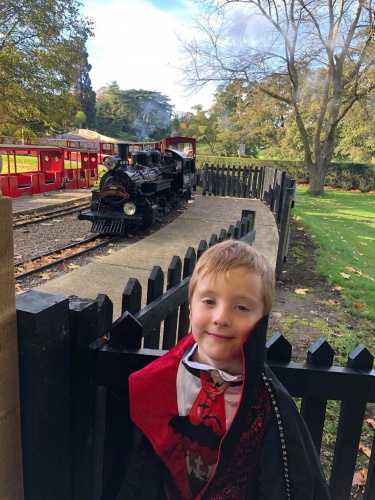 The train ride is always the highlight of a day out for us - our 6 year old loves all things train related! As we queued in a socially distanced line waiting for the train to pull into the station we had a member of the entertainment team chatting to the children and making us feel very welcome. The train driver gave us a wave with a scary werewolf-clawed hand as he pulled into the station.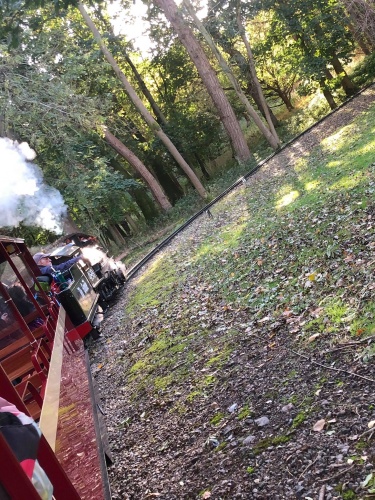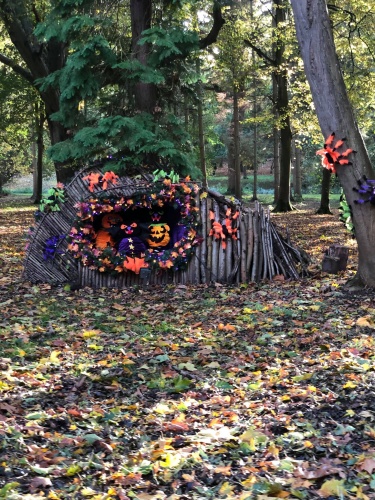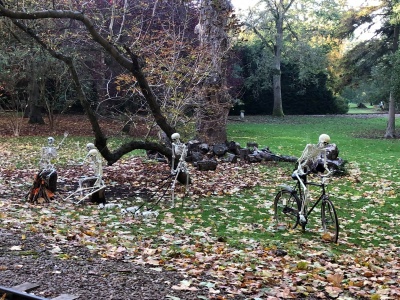 The train journey began exactly on schedule and it really was a fully immersive experience. We travelled through the stunning grounds where there were lots of Halloween themed scenes, decorations and things to see. I have to say, the decorations were amazing and the photos don't really do it justice.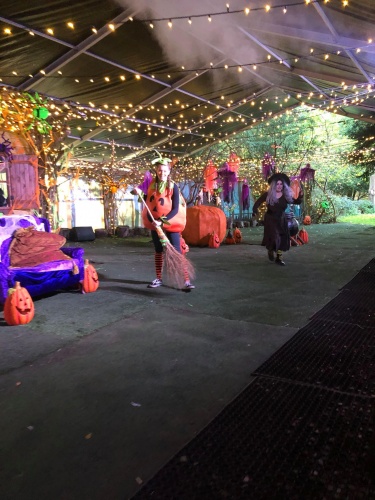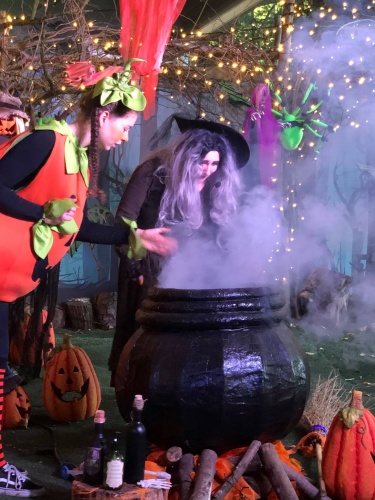 At the halt we were greeted by the Witches and Pumpkins and entertained with a show and songs for about 10 or 15 minutes or so. This was really well organised and there were three witches each with an identical set meaning everyone on board got a fantastic view. There was singing and dancing to 'It's a Kind of Magic' (did you sing that as you read it?!) which got some of the adults joining in too! At the end of this part of the experience each child received a small gift - a spooky bat keyring!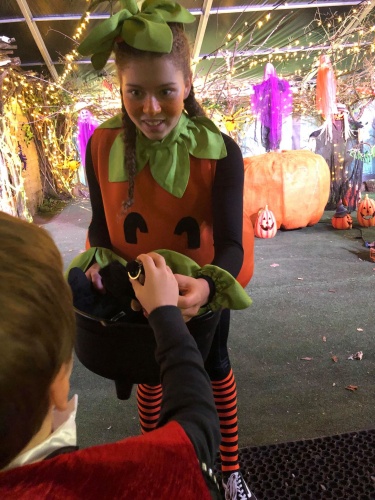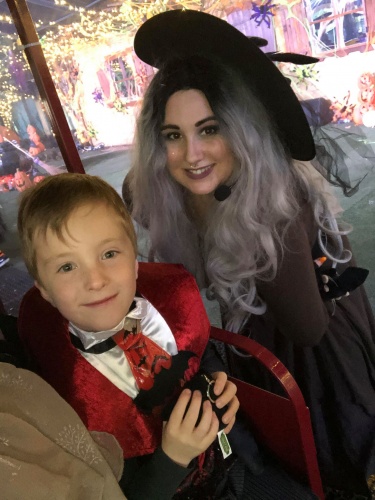 As the train travelled a full circle, there was an opportunity to see spooky scenes and decorations again which was great as we definitely missed a few bits at the beginning.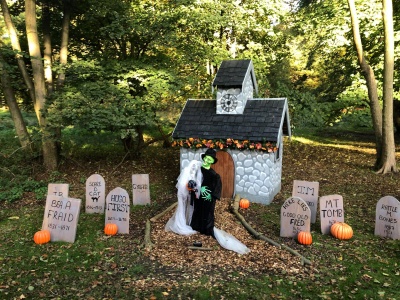 When we disembarked we were given very clear instructions to line up next to the 'Bubble Posts' which ensured social distancing. These markers are very clear but of course the onus is on the adults to ensure this happens.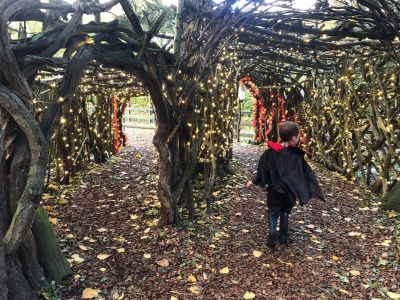 We walked through the beautifully decorated woodland to visit Herbert the Talking House. This was great fun and even after we left this to move to the Tipi area we could still hear Herbert snoring which added to the experience.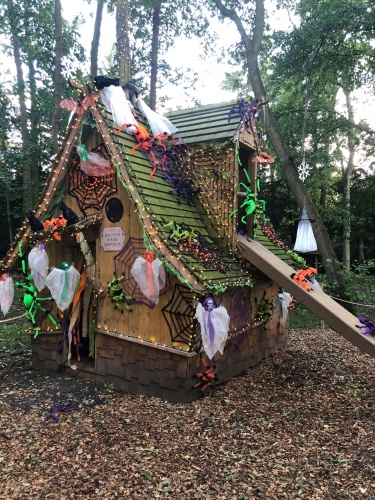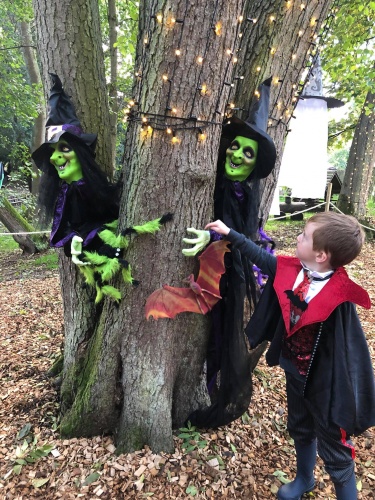 The Tipi area where the Woodland Cafe, new play area and picnic seating can be found. There are toilet facilities here, under cover seating and picnic benches scattered around the site. There were visible staff cleaning constantly and ensuring that there was no build up of litter. Toilets were cleaned every 30 minutes. There was a cafe selling various take away treats including children's meal deals, coffee and cakes - the chocolate brownie was particularly good!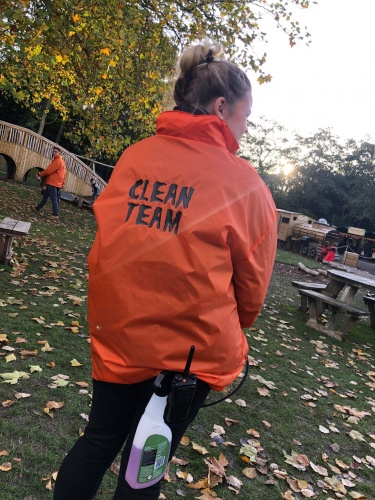 We also had time to write a Halloween wish on our spider and tie it to the wishing tree. We loved seeing other children's wishes and trying to think of something really special to wish for!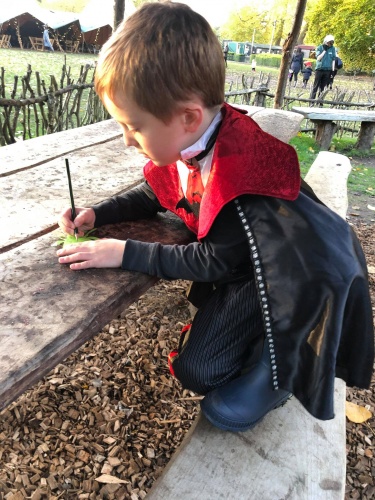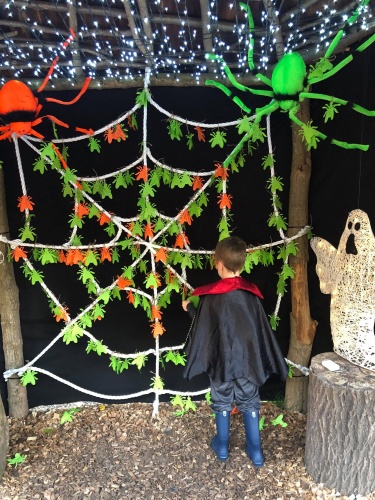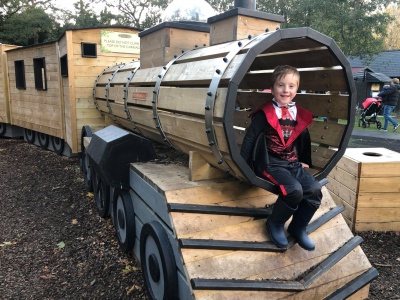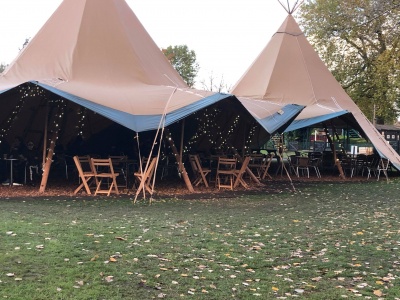 We had around an hour here before being called to another show where we met William the Woodland Wizard.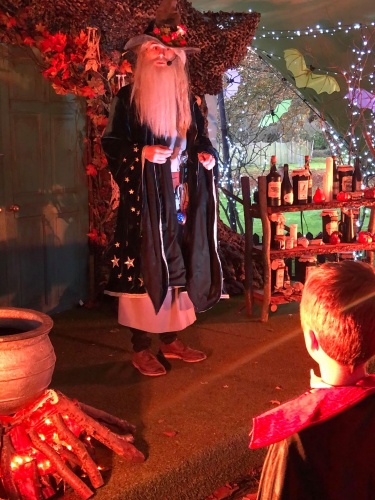 This was the final part of the day and we left just after this show. Audley End was about to close and it was getting dark! If there had been time we could easily have gone back to the play area and stayed longer.
All in all we had a fantastic day out.
Most importantly for me as a parent, we felt safe. There were lots of safety and hygiene measures in place and it was obvious that the team all knew their role, whether that was being the train driver, being part of the clean team, or being one of the entertainment team. They all played their part really well.
Tickets for events at Audley End always sell out really quickly and their Christmas event is already fully booked. If you are interested in going to their next event in 2021, keep tabs on our website for an announcement of tickets being launched. They won't hang around for long!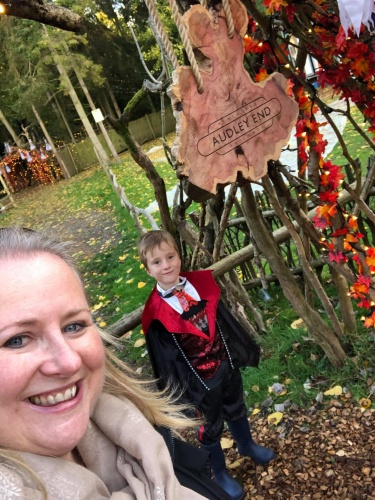 Thank you Audley End - we can't wait to come back!
**Please note, although we were kindly gifted these tickets, the opinions in this article are completely my own**