This weekend we visited Woodstock Farm in Cold Norton. Cold Norton is around 40-45 minutes from Romford.
This is a small family run farm which has recently been running 'Be a mini farmer' events. I would say it's perfect for children age 7 and under.
Our session was on a Sunday morning from 10am – 12noon. There was ample free parking on site and the whole event was run outdoors. The owners Sarah and James were there on site taking part in the session with several members of staff, all of whom were really friendly.
We were given a timetable for the day as some activities are at specific times while others are more relaxed and could be done as and when. We were given a time for our quad bike field tour and we were also given a bag of food for the lambs/goats. More could be bought for 50p per bag.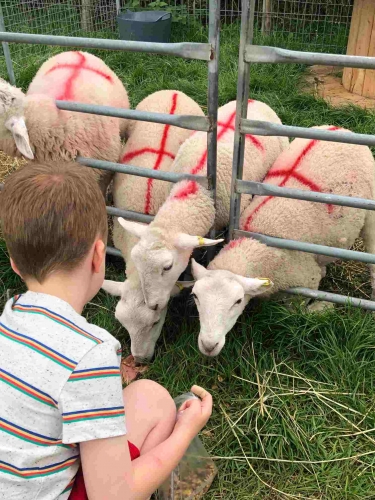 The sheep were ready to support their national football team in the Euro 2020 final!
So what did we get up to? Well we started by having a look around. The site is small so you can see the whole plot easily. It is split into two areas – one where the animals and tractor driving are and one with some play equipment and picnic tables, most of which were under gazebos.
In the main area there were some swings, a climbing dome, a see-saw, some digging equipment, chicken coup, a flower covered 'photo wall' (we all love an Instagramable pic!) and a wooden cow where children could simulate milking by hand. There were several very friendly hens roaming around.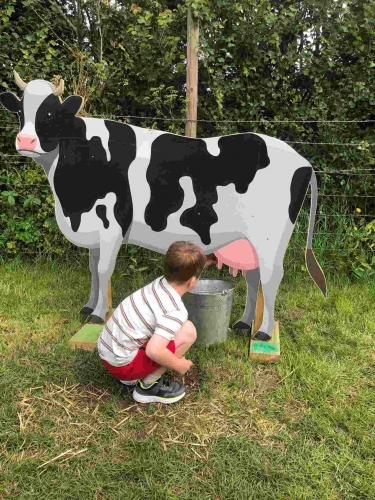 We had several rides on the ponies, Tommy and Peppa, which was initially the main attraction. The staff leading the ponies round the field were great with the kids and answered endless questions. There are four animal pens with lambs, adult goats, kids and a pig. Children are encouraged to feed the animals (not the pig!) and at an allotted time a member of staff brought out milk bottles and gave one to each child to bottle feed one of the sheep/goats. There was enough for everyone and the children were able to have their bottle refilled and have another go if they wanted to.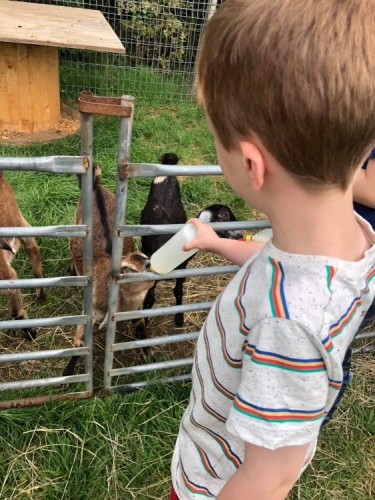 There were also boxes with brushes which the children could use to brush or groom the animals.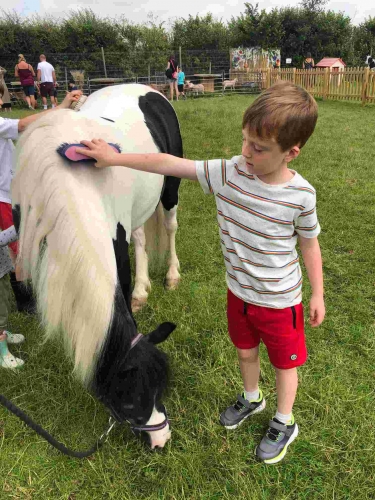 This is Tommy the pony enjoying being groomed.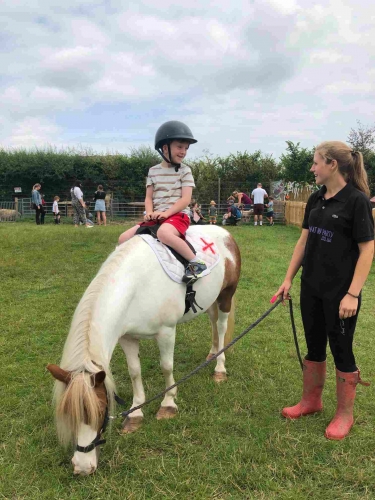 Peppa the pony having a snack between rides!
Also in this area there was a rabbit which we got to pet and a chicken coup where we collected our own eggs – yes, we had omelette for tea made with the eggs we collected! There is an honesty box to pay for the eggs which were £1.50 for 6 so make sure you bring some change.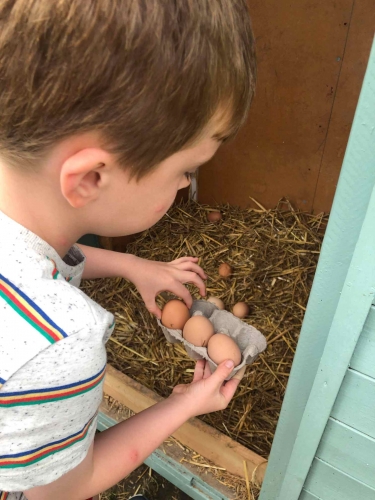 Around half way through the session the ponies were taken in and a small tractor came out for the children to drive. This created huge excitement as they all got to do a lap of the small field driving themselves. Sarah walked alongside throughout and helped with steering.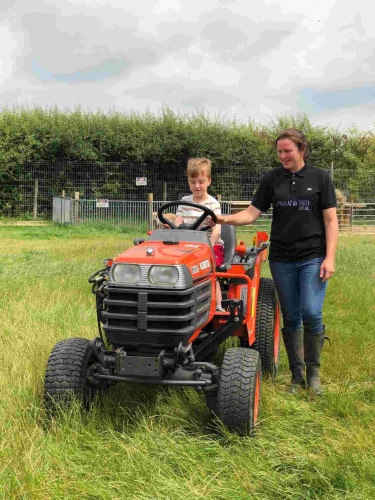 Sarah making sure the Mini Farmers didn't go off track!
Before we left we walked through the farm to a field gate where we waited for our quad bike tour. Before our turn we were able to climb into a full sized tractor! A quad bike with a small trailer on the back and a hay bale inside (to sit on) arrived driven by the farmer, James. A trip round the field to see the sheep and some cattle took about 5-10 minutes and was great although a bit bumpy - which apparently made it more fun!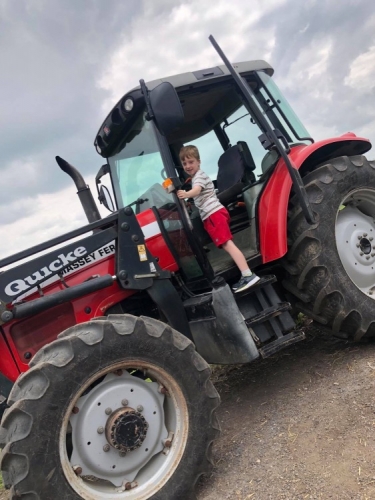 All in all this was a terrific morning. The team were so friendly and welcoming. There is just enough to do on site during the time given and if the weather is good you could take a small picnic. There is no shop/café and there is a portaloo on site for use. There were handwashing opportunities and sanitising gel if you haven't brought your own. The session was busy, Sarah said the busiest they had had so far, but it didn't feel crowded. We did have to queue for the pony rides and the tractor ride but queues were quick and there were things for the children to see and do while they waited.
The children all got a certificate before they left!
We really enjoyed our morning and being able to ride the ponies and drive a real tractor was very exciting.
If you would like to find out more about Woodstock Farm, click here. Alternatively you can visit their Facebook page here.
Thank you Woodstock Farm – we will be back!