After what seems like a very long time, it's great to be back doing something festive and fun with the family at Christmas. As with most people in my generation, a visit to the pantomime was always part of my childhood Christmases. Last night we were invited to Queens Theatre in Hornchurch to see this year's show, Aladdin.
The show was nothing short of fantastic.
There were just 8 cast members and it's incredible to think that such a small cast could bring this story to life and make the audience feel part of their adventure. It was packed with jokes and one liners as you would expect. There was plenty for the kids to enjoy and lots of banter for the grown-ups in the audience too! Each cast member played an instrument or two and their own musicality was very much part of the show.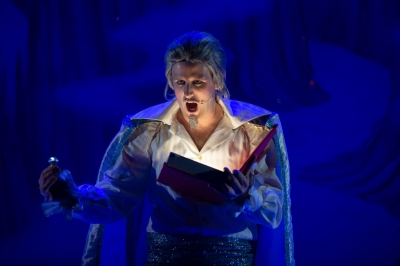 All the key ingredients of a great pantomime were present and correct including a principal girl and boy, a dastardly villain, a pantomime dame and lots of slapstick humour. As with all pantomimes the story revolves around a plot of good versus evil.
The story is based on the tradition tale of Aladdin but with a more modern twist. It begins in Hornchurchopolis and follows our hero Aladdin in his quest to ensure that the villain of the tale, Björn Nastee does not get his hands on the magic lamp. Our hero's mother, Betty Bagwash, runs a laundry service in Hornchurchopolis and does all the laundry for the Sultana, Princess Jasmine's strict mother.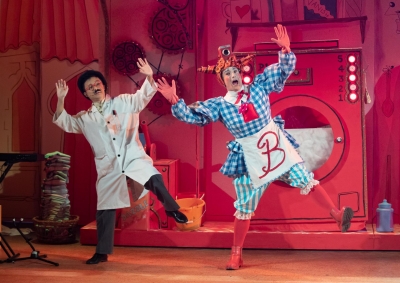 Audience participation is one of the elements that make pantomime unique. There were cheers when Dame Betty Bagwash made her dramatic entrance on her tricycle, boos and hisses when the villain Björn Nastee entered and left the stage, lots of clapping along with songs and of course plenty of 'he's behind you' and 'oh yes it is' being shouted by children and adults alike!
Each cast member had great comic timing and there were lots of sound effects from backstage which added to the humour. The lighting and special effects were super with a highlight for my 7 year old being Aladdin's magic carpet ride. Our journey home was spent discussing just how they managed to make the carpet fly on stage! We loved the costumes, especially those of the pantomime Dame, Betty Bagwash. There were lots of references to local areas and current news stories making the show very relevant for the audience.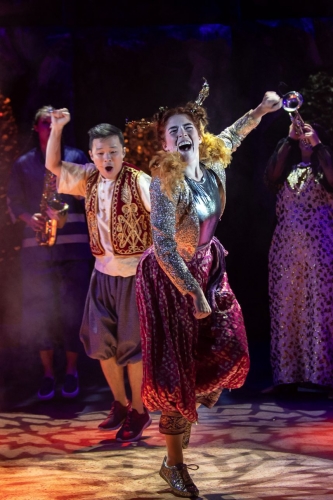 If you haven't visited Queens Theatre before, or haven't taken your children to see a pantomime before then I would definitely recommend you get tickets for Aladdin. The facilities at Queens Theatre are great. Disabled toilet/baby change facilities at the entrance to the auditorium, step free access to the main toilets (of which there are lots so the queue during the interval moved really quickly!) and refreshments which can be pre ordered for the interval. The auditorium is the perfect size so you never feel like you are sitting too far from the stage. Smaller children were offered booster cushions which made sitting on folding theatre seats so much easier.
The whole experience takes approximately two and a half hours. We took our seats around five minutes before the start of the show. The show itself is around two hours with a 20 minute interval in the middle.
The theatre is offering several access performances;
Dementia Friendly performance - Thursday 16 December at 1.30pm,
Audio described performance -Thursday 30 December at 2pm,
British Sign Language interpreted performance - Thursday 30 December at 6.30pm,
Relaxed (SEN/Autism Friendly) performance - Saturday 1 January at 6.30pm.
Aladdin runs until 2nd January 2022 and there are matinee and evening performances available.