Top Tips For Your First West End Theatre Visit with Children


Written in conjunction with our good friends Mum's Guide to Harpenden.
Taking your child to the theatre for the first time is a really special experience. Nothing can beat the magic of live performance! I still remember my first trip to our local theatre. Jacob, my eldest was 2 and we took him to see the Hertford Theatre panto, which at the time was Hansel and Gretal. I was so worried before hand and pretty much brought a three course dinner with us in case he was a fidget but he absolutely loved it. I even had to wipe a little tear away at the end of it.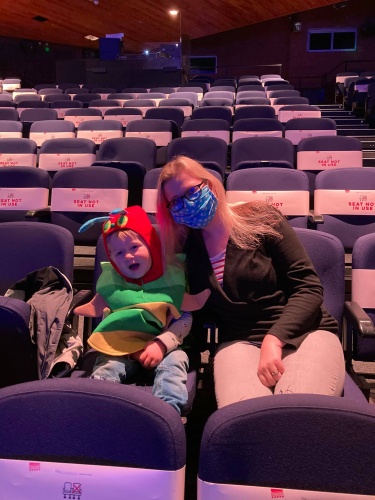 These days there are an abundance of shows suitable to give our youngest theatre goers the perfect introduction to the experience. Many are based on much-loved children's books which will give a sense of familiarity. They regularly tour local theatres , Hertford Theatre is currently undergoing a huge growth and legacy project so is currently closed, The spotlight has recently reopened however, so you won't have to go far to catch one and they will be scheduled at child-friendly times. These also have the benefit of being short, often without an interval, to avoid children getting restless and losing their attention
.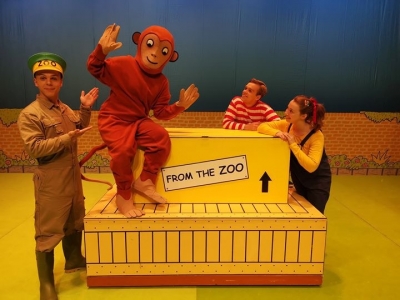 You might want to be a bit more adventurous though and head into London for the ultimate theatre experience. This may seem a bit daunting with young children but if you plan ahead it can be a piece of cake.
If your children are a bit older there are lots of musicals that are suitable for them - for example all those in the Disney franchise. Be aware that many theatres don't allow very young children unless the show is specifically aimed at that age group. Musicals are big productions with lights, sounds, special effects and an intensity that can be a bit too much for a younger audience. So even if your 4-year old is the world's biggest Elsa fan you may have to "let it go" for a couple of years as Frozen, for example, is for age 6+. Check out each show's website to find all the details about age restrictions and any special effects they will be using.
If you do decide the time is right for a trip to the West End then here's our top tips…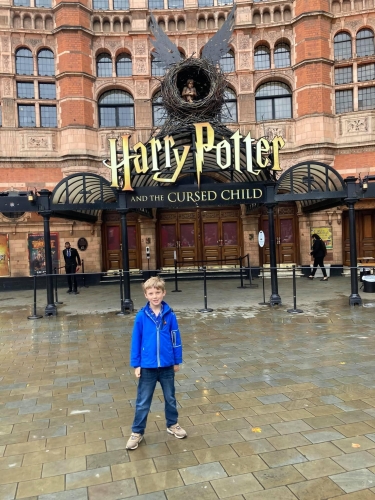 Booking your show

As mentioned, think about the suitability of the show for the age of your children. How long is it, how intense will it be? Will they understand the story? Are there any characters that they might find scary or themes that they might find upsetting? You are paying a lot of money, so you want everyone to enjoy it.
Shows aimed at young children will be on at suitable times. Other general shows will have matinee performances, which are convenient if you are travelling into London and don't want to be travelling home late with young children. Traditionally, matinee performances are on Wednesday and Saturday, but many shows are now offering them on other days instead or as well.
Many of London's theatres are beautiful historic buildings, but this means their construction predates modern requirements for accessibility and amenities so they've been adapted over time. If you have particular access needs take a look at the theatre website for information or contact them directly for help to see how they can accommodate you.
Many shows now offer accessible performances - relaxed, signed, audio described or captioned. Take a look at the individual show website to find out when these are.
Once you've decided on the show, you need to book your tickets. There are lots of official sites where you can get last minute deals, but if you are planning to go during the school holidays then you may need to plan ahead a bit more, especially if it's a popular show and you want to catch a matinee.
Kids Week 2022
One of the best ways to get cheaper tickets is through Kids Week. Run by the Society of London Theatres, this started many years ago as a single week in August and due to popularity has expanded to cover the whole of the month offering one child under 18 free and one half-price with each paying adult, to a range of shows. As you can imagine it is extremely popular and you have to be quick on launch day to get tickets for the most popular shows, but with perseverance we've never failed to get something great every year - Lion King, School of Rock, Matilda, Mary Poppins to name a few. Tickets go on sale usually mid-June - this year (2022) it's Tuesday 14th June at 10am.

Which Seats?
Deciding which seats to book is the next big decision. A good view (or not) can make or break the experience. I find seatplan.com handy. You can look up the theatre and the exact seats and see if anyone else has reviewed them and sometimes there will be a photo of the view from the seat - though be aware that this may be taken before anyone else has sat down in front, and often the camera doesn't do it justice and the stage may appear further away than it actually is, so best to judge by what people have written. It's particularly useful if you are considering buying restricted view seats (which will be cheaper) to get a sense of just how restricted it is. The stalls are obviously the most expensive seats, because you'll be closest to the action. However, with children, seats in the circle can be a better choice because they are tiered, so less of an issue if someone taller sits in front.

Plan your day

Plan your travel and allow plenty of time. There is nothing worse than thinking you might miss the start of your show because the train was late or the tube was delayed. We always head in nice and early and find a coffee shop nearby to relax in until showtime. There's plenty of cafes and restaurants in the West End so it's easy to find somewhere near the theatre for a drink or a bite to eat beforehand.
Be aware that the foyer areas of many London theatres are small so there may not be much space for storing things like buggies so check ahead with the theatre. Most are near tube stations but do think about how much walking little ones will have to do if you can't take a buggy.
London is a fabulous city with loads to see and do so you could make a day of it and combine your theatre trip with some sight-seeing too.

At the theatre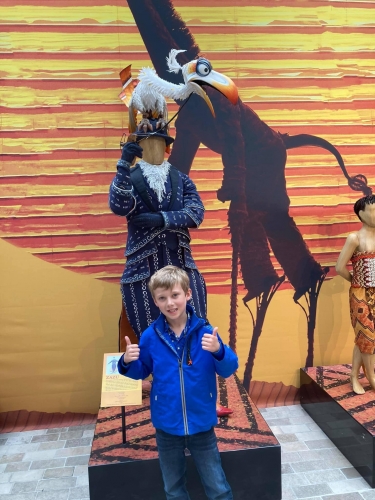 Some theatres, if the show is suitable for children will have booster cushions available, but they are often limited in number and first-come first-served, so get there nice and early if you want to secure one - or you could bring your own cushion (just for the children of course!)
Food & drink at the London theatres does tend to be on the pricey side and technically you are not allowed to bring your own. However we find water and something like a small pack of dried fruit or sweets is usually ok. A family picnic is definitely a no! Staff do have the right to confiscate food and drink at the bag check on entry, or ask you to leave the theatre if they think you are flouting the rules. So eating beforehand is a good idea.

We know what it's like out and about with children! It can feel like you are carrying everything but the kitchen sink to deal with any possible emergency, but we'd recommend limiting your bag size as there's often not a lot of space to stow your bags at your seat. There is usually a cloakroom where larger bags can be left. The content of all bags will be checked on entry to the theatres.
This one is a general recommendation regardless of whether you are visiting the theatre with children or not… currently to ensure safety for all visitors there is maximum ventilation in the most theatres meaning even on the warmest day it can feel cool, on the other hand when the heating is on full and there's a packed audience some can get rather warm so we'd recommend wearing layers to cater for every eventually!

And last but not least we'd advise making sure that everyone use the toilets in plenty of time before the start of the show, either in the theatre or perhaps at a cafe/restaurant beforehand. As mentioned earlier, many of London's theatres are historic buildings so there's often not enough toilets. You don't want to leave it too late and end up missing part of the show. If the children are likely to need to go again during the interval be ready as soon the interval starts to get to the toilets before the queues get too long.
And that's our guide to an enjoyable trip to the theatre with children. Whatever you decide to see we hope you enjoy it!
Thanks for reading
Kayleigh & The Boys
XxxX