On Monday the 13th December we were invited along to Southern Maltings in ware to interview Peter the director of Half a String the company behind the amazing show "Under the Frozen Moon" which is showing at The Southern Maltings from the 14th December until 3rd January .
Those of you have have been to a christmas production organised by Hertford Theatre before will know that these are no ordinary productions, will full on immersive displays created meaning your experience begins the second you set foot inside the theatre. As you will know Hertford Theatre is closed for refurbishment but has found a new temporary home in The Southern Maltings Ware. This is a very different type of show to the all singing all dancing big productions Hertford Theatre usually put on and they have enlisted award winning company half a string to bring an immersive, theatrical frozen-folktale for local families this Christmas!
Your Under the Frozen Moon experience begins as you push open the door to Southern Maltings and you enter a sparkling, magical world of ice and adventure. Clearly a lot of thought has gone in to the design of the displays including 1000 mini bobble hats which are hung from the ceiling in the hallways. You are invited to be a day visitor to Lunavik; where even the moon is frozen!
An interview with Peter, the director of Half a string and the creative genius behind Under The Frozen Moon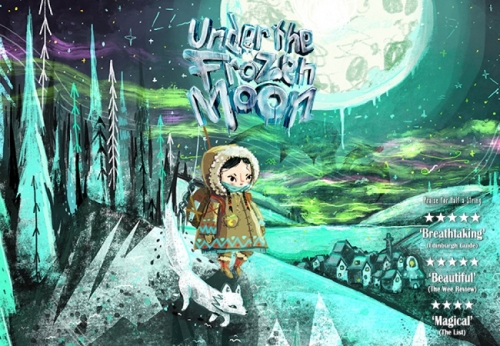 We grabbed director Peter during a 10 minute break between rehersals to ask him the questions our followers most wanted to know.
You can watch a video recording of our interview here or read below for more.
Hi Peter thank you for inviting us along today we are very excited to be joining you and I have to say the place looks Amazing.
What we have done is basically throw this interview out to our social media followers to give them the chance to ask you the things they really want to know about Under The Frozen Moon.
1:But first of all could you tell us a little bit about half a string, how it came about and why?
Sure, Half a String started in 2016, a collaboration between me, I write and design a lot of the set, and a singer songwriter Avi Simmons , we collaborated on a show called a "heart at sea" and then we started touring that and took it to Edinburgh did lots of things with it which was all very exciting, and then half a string formed out of that collaboration and I still work with Avi, who wrote the songs for Under A Frozen Moon today. We like to tour theatre and do workshops with kids and we are very much focused on visual theatre, puppetry and live music as well. We like to have some fun.
2:And how long ago has the project with Hertford Theatre Been in the Pipeline.?
Sure yeah, we first created Under the Frozen Moon in 2019 and were touring it just before Covid and then we started talking to Hertford at the start of this year to bring it to The Southern Maltings and adapt it and change it and do all of the immersive stuff as well and its been really exciting, so yeah about a year in the making.
3: We've had a question sent by a local mother to ask if you could give us a little synopsis of the story of Under The Frozen moon to give them a little teaser so to speak of what to expect and where the inspiration came from.
The story starts in a town called Lunavik and underneath this town, under the ice, there is an ice dragon that drains all the warmth and heat from the world so that even the moon is frozen, which is where the title of the show comes from. We start in Lunavik and meet our hero Amka and she goes on an adventure to give the dragon a hug, we meet lots of puppets and characters along the way, I wont give too much away but thats the premise of it . It was inspired by a lot of themes around the winter and Christmas and gift giving and friendship and family and things like that , so its like a folktale of how the moon became unfroze and the world started to turn again.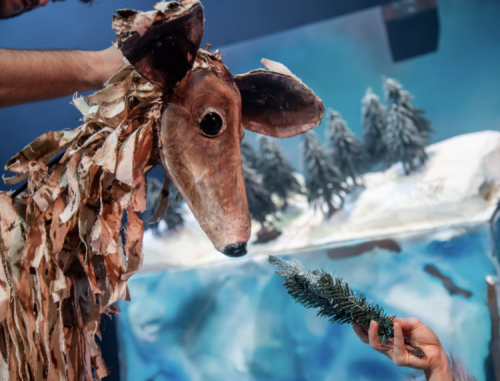 Now we have a question from a little boy who runs his own podcast called Jack to The Future.
4:He would love to know how long the puppets take to make?
Ooh Jack, very good question it totally depends on the type of puppet, in this show we have loads of different types of puppets, we have like puppets that are about an inch big which are just a ball of wood with a little bit of clothing on and that would take me about an hour but then weve got a lifesized fox puppet which would take me maybe a week , we've got a dragon which would take me maybe even a little longer it really depends on the puppet but I would say that all of the puppets in the show put together would be weeks and weeks of work. Very good question.
Now I am a huge fan of the arts and firmly believe that introducing young children to the theatre is so important to their cultural development and this is part of the reason why I am such a huge supporter of everything Hertford Theatre does bringing affordable high quality performances to the local community. With that in mind we wanted to encourage as many people as possible to come along and see half a string at the southern maltings , I do know that for some it's the fear of the unknown that may potentially be that barrier that is preventing them from booking. So we have a few questions from the local SEND community that they have asked me to discuss with you if that is ok?
5:What accommodations are being made for SEND children? I know there are a couple of relaxed performances and a couple of BSL signed performances could you elaborate on those a little more?
Yeah sure, so we are doing two relaxed performances in those performances we leave the audience lights on at a low level so its kind of light, its expected the audience may want to get up and move around and we are fine with that and all prepared for that, we also lower the level of the music and sound so its not so in your face a bit of a gentler lighter show in the relaxed shows. We also have the two british sign languaged show as well there will be a signer on stage with us signing all of our words and songs in the show.
6:How loud is it in parts? Particular sections?
Theres not loads of like loud sudden noises in the show we dont try to surprise people on purpose but we take the music level down got relaxed performances and there are a few quite loud tracks, such as a sleigh going across the landscape which can get quite loud, we take those out for the relaxed show,
A local mother Michelle has also asked for various information regarding the seat layout which we are going to try and get some visuals of for her and about various logistical things regarding access and toilets etc which I have spoken to Rebecca about and will feed back in the write up but we hope that that information helps to make the SEND community feel more at ease with what to expect.
9: Thank you so much for meeting with me today Peter and I cannot wait to see the show myself on Thursday, Just before you go could you give us three reasons why our followers should come and see Under the Frozen Moon this festive period.
Yes absolutely so in the show there are lots of surprises theres always a new puppet or a new piece of set popping out and just when you think you've seen it all theres more so look our for that theres lots of exciting things happening on stage. Reason number 2 the music is beautiful in the show , the songs written by Avi Simmons performed by Amelia Gabriel lots of live instruments on stage a bit of flute a bit of violin, lots of guitar, lots of voice , reall atmospheric music that feels the world and is live looped on stage as well, we have a loop station. Number 3- its an experience that the whole family can enjoy so from the immersive venue, as you come into the venue theres the town centre of Lunavik and our hero Amka's cottage to the show where everyone can get involved and enjoy the story and the puppets and the surprises and the story. They are my top 3 I would say.
Thank you so much to Peter for taking time out of his busy rehersal schedule to meet with us and we cant wait to see the show ourselves and of a course a full tried and tested review blog will follow.
Under the Frozen moon is showing at The Southern Maltings in Ware from the 14th December 2021 - 3rd January 2022