On Sunday afternoon I had the pleasure of being invited to the press gala night of The Snowsmith. The Snowsmith is by award-winning theatre company Half A String and is being performed at Ware Drill Hall, Hertfordshire, co-produced with Hertford Theatre. I took along two of my children with me and we had an amazing time.
As many of you will know Hertford Theatre is having some major renovation work and is currently closed so this Christmas they have borrowed Drill Hall and made something magical.
On arrival I was a little sure what to expect, having been in Drill Hall many years ago I knew it as just that, a large hall. So had no idea quite how this would work. The team at Hertford Theatre who always do a splendid job of creating magic at the theatre, have indeed once again worked their magic and transformed the space.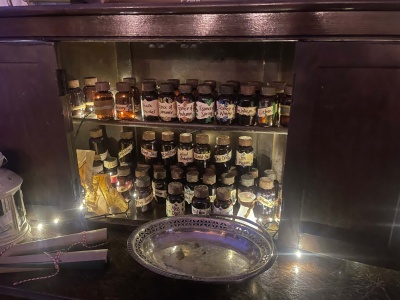 Creating a gorgeous bar area, which was warm and cosy, and themed to the show, and is set in Era's Meteorology lab, which Grayson thought was just wonderful. Looking at all the bottles, gadgets and magic. The magic continues when you leave there to get through to your seats via a forest. Yes you read that right, a forest! It's truly gorgeous, and they should be incredibly proud of their creativity. Words and photos will not do it justice so you will have to pop along and see the show and see for yourself.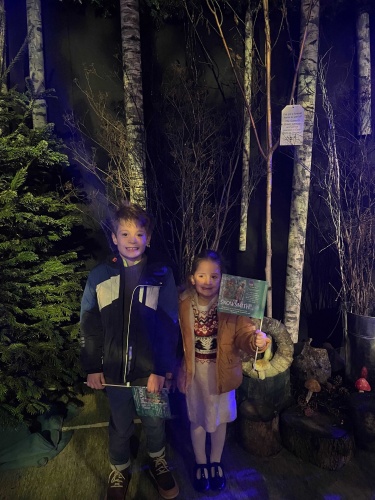 The story follows Eira, the experimental meteorologist as she rediscovers the joy of the most magical of weather in this fast-paced, action-packed original adventure, all to bring joy back to the miserable town of Thawmor, where's it's freezing but never snowing. Can she recreate snow and make the town happy again? I don't want to give away the story really by saying too much about it, I loved it so much, I could happily chat about it lots. But I often find that blogs and reviews spoil the magic somewhat by giving too much away. It's so cleverly told with its small cast of four, through song and movement and beautiful puppetry. The puppets are incredible they are so detailed and magical, and play an integral part of the story, my children loved them. We have talked about them all week. Grayson (9) was saying how clever he thought it was that the cast played several different characters, and we have talked about their different roles and what we liked about them. He loved the captain/sailor the best as he liked his accent! Hallie (4) loved the goats the best - so you'll have to look out for them too.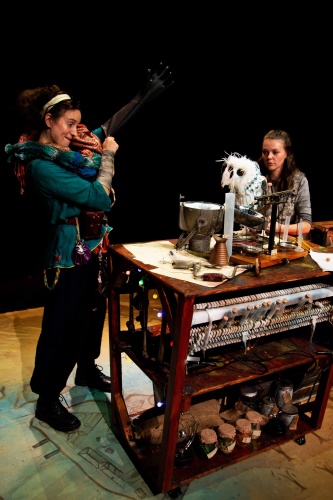 The show feels fully immersive right from the moment you enter the venue. The stage area is flat on the floor with raised seating on all four sides of it, so it's central to the audience. So you are watching the action close up and really do feel a part of it.
Following the show audience members can have a meet and greet with the cast and puppets, which the children loved. Its also a great photo moment. This theatre experience is an instagram delight - puppets, forests, cosy bars, its a win win!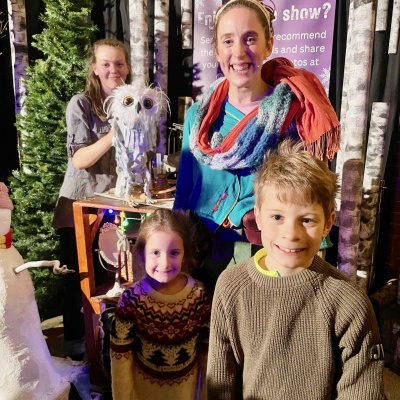 As for can Eira recreate snow and make the town happy again? Well lets just say we left the show and within an hour the snow was coming down thick and fast. That was so magical, Hallie said Mummy Eira got it right she made it snow.
The story of the show is aimed at families with children aged 5+, however, the nature of Half A Strings Work means there is something for everyone with plenty of sensory delights for younger children, and jokes and visuals for older children too. As I said its visually beautiful, and is so cleverly done.
So here's the all important part - how do you get tickets? Well they cost £16 per person, and babes in arms (under 18 months) are free of charge. You can book your tickets here at www.hertfordtheatre.com
Two relaxed performances are being offered on 28th December, and also there shall be a dedicated Elective Home Learners performance on 21st December at 2pm.
Hertford Theatre are also delighted to be working with Herts Welcomes Refugees, Hertfood Food Bank, Hertford and Ware Ukrainian Host Families, Home-Start Herts and Hertford Mayor charities to support visits to see The Snowsmith for families who may not otherwise get to enjoy a show this Christmas.