This year Halloween is going to be very different for us all. Many events will not be running as usual and traditional events like 'Trick or Treating' may not be possible.
As we are unable to meet in groups of more than 6, we have put together some ideas that you can easily replicate at home while following Government guidelines. There are loads of links in this blog to make it easy for you to find what you want!
Half Term Activities
These are obviously activities that you can do anytime, but with the children at school and parents back to work, it's easier to make plans for half term.
The Mum's guide to Romford Scavenger Hunt. Print this off and take it with you while out walking to the shop, walking to school or just for your daily walk. How many Halloween themed things can you spot?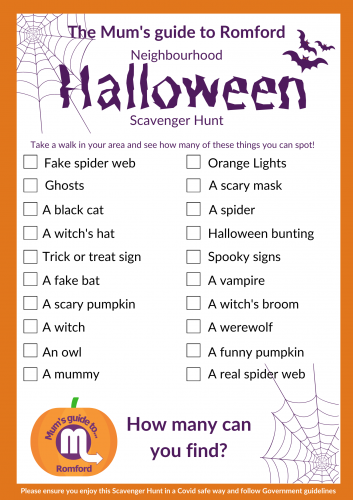 Join The Havering Pumpkin Trail 2020 group on Facebook and get involved with putting pumpkins, or pictures of pumpkins, in your window for kids to find while they are out for a walk or on their way to school. Over 1000 people have joined the group and there have been some fabulous ideas added for crafts, pumpkin carving and decorations. It's definitely worth a look.
Spooky indoor camping. This activity never dates and kids of all ages love making tents. All you need is a big sheet or blanket and something to drape it over (chair backs, large umbrellas, the table etc). Kids can make their own decorations to make their den/tent suitably spooky. We have some battery operated Halloween lights from the pound shop to go in our Den of Doom! Huddle together to share spooky stories. Bring a torch and some snacks!
Make your own Pumpkin Piñata - you all know I am not very crafty, but luckily my friend Kayleigh at Mum's guide to Hertford is! She has shared her blog with us on how to make your own pumpkin piñata with the kids. It will take a few days to allow for drying time but the finished article looks great!
Halloween Movie Night - there are so many Halloween themed movies that can be enjoyed by the whole family. Make some popcorn or some spooky snacks and settle down for a night in front of the box. Here are a few ideas to inspire you.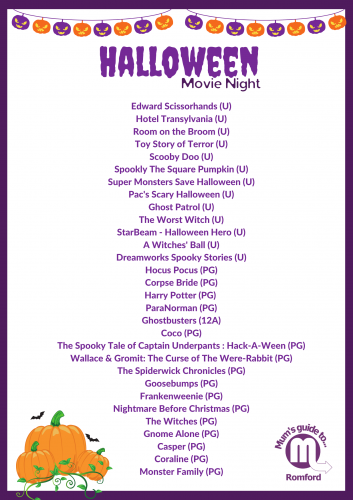 PYO Pumpkins

– this year most PYO venues are operating a booking system to enable them to follow guidelines, so do check our website for information and make sure you book before you visit.
Having something to fill the odd ten minutes of time is essential when the kids are off school, especially if the weather lets us down. My son loves to colour in and recently I discovered this great website with lots of Halloween Colouring pictures to print at home.

Halloween Playdough

– this is another ideas that has been shared with us by Kayleigh who runs Mum's guide to Hertford. It's actually really easy to make and can be kept in a zip lock bag. Just mix flour and water! Kayleigh has used some beetroot juice for colour but you could use a few drops of food colouring.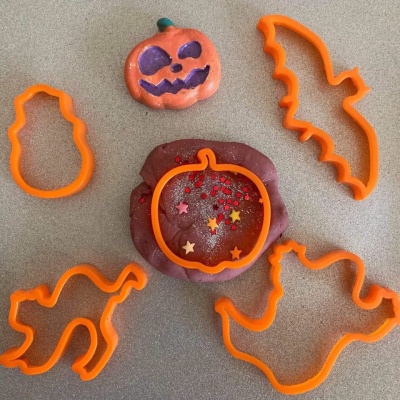 Photo credit: Kayleigh at Mum's guide to Hertford
Spooky Stories
Our house has more books than I can count. I know if we have a hunt we will find lots of Halloween themed stories to read. Alternatively pop along to your local library. Havering Libraries have restricted opening times at the moment. Click here for full details.

These are just a few of our favs!
The Witches – Roald Dahl
Meg and Mog Stories – Helen Nicholl
Room on the Broom – Julia Donaldson
Funnybones – Janet and Allan Alberg
Winnie The Witch – Valerie Thomas
The Princess & The Wizard – Julia Donaldosn
Angelinas Halloween - Katharine Holabird
Four Silly Skeletons – Mark Sperring
The Worst Witch – Jill Murphy
The Girl Who Drank The Moon – Kelly Barnhill
Watch out on our Facebook page for recommendations from others!
Frightening Fun & Ghoulish Games
Keeping the kids occupied during half term is never easy, especially if the weather isn't on our side. These party games require very little effort and can be made using a little imagination and a few bits and pieces from around the house.

Apple dunking

- the old games are the best. One way to make this more exciting for the kids is to make a big bowl of jelly to put the apples in. Definitely a game for the garden!

Hands off my donuts!

- tie a donut from the ceiling or a door frame and see who can eat theirs first. No hands allowed!
Eyeball and spoon race – ping pong balls are very cheap to buy and with a sharpie or stickers can be made into an eyeball. You can actually buy these in the pound shop if you don't feel creative! Perfect for a spooky egg – sorry, eye and spoon race!

Monster freeze dance game

- musical statues for little monsters.
Pin the heart on the skeleton - there will be lots of skeleton decorations available to buy in local shops, or you could draw round a child and make your own!

Tin can bowling game

- save cans and paint or decorate to look like ghost/Herman Munster/cat/pumpkin/mummy etc. Stack them and bowl them over. This would also work with cardboard tubes.

Spider races

- Each player has a plastic spider and a straw. Blow the spider to the finish line. You could use any object for this.
Truth or Scare - This can be made and adapted to suit your own children. Draw a 'Truth' card and answer a Halloween related quiz question, or a 'Scare' card to answer a question about things you are scared of or complete a challenge (eg, catch a spider). You'll find some good ideas for questions here. https://www.playpartyplan.com/halloween-truth-or-dare-questions/

Ghost busters

- very cheap and simple to plan! Use plastic cups decorated like ghosts. Stack them high and knock them down with nerf guns or beanbags.

What's in the box?

- This is great fun because it's a little messy, kids love it! Players are blindfolded and have to put their hand into the box and decide what it inside. Ideas could be toothpaste, baked beans, jelly, tinned spaghetti, rice pudding, mash potato, shower gel, ketchup, jam, cooked spaghetti, pumpkin goo.
Make a Mummy - OK, so toilet roll is a precious commodity these days so this may not be something you want to do BUT it's always great fun.

Scary Snacks
Having a little family party at home is definitely on the cards for us. Here are some quick and simple ideas to create some spooky snacks and treats. Make some of these to enjoy at your movie night or indoor spooky camping and get the kids involved. Some of these will be fun to make together.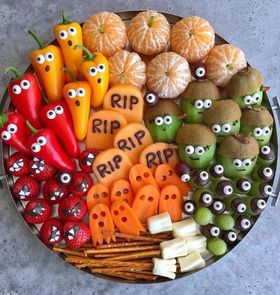 Use Halloween cookie cutters to cut sandwiches, tortilla (bake it to make it crispy), fruit and veg etc.

Jelly worms

- tie together a bundle of drinking straws and place in a tight fitting class or container so that the jelly doesn't just pour out of the bottom. Make a jelly solution and carefully pour inside the straws. Once it is set, remove the worms from the straws and pile on a plate! You can make different colours or mix colours to make a more worm like colour!

Mummy dog

s

- sausages wrapped in thin strips of pastry and baked in the oven. You could add eyes after cooking using slices of olive.

Eyeballs

- use a tin of lychees and grapes to make an eyeball. Nest the eyeballs in a bed of jelly. Find the recipe on the BBC website here.

Ghost strawberries

- whole strawberries dipped in white chocolate. When the white chocolate sets, use melted milk chocolate to create eyes and mouth.
Mini meringue ghosts - make a face with melted milk chocolate.
Skeleton gingerbread men - bake traditional gingerbread men, or if you're no Mary Berry, buy some ready to decorate! Use white icing to draw a skeleton on each one.
Cookies or shortbread biscuits with iced spider webs.

Fruit kebabs with decorated ghostly marshmallows in the middle.

Clemantine pumpkins

- peeled orange with small piece of green cucumber or celery stalk to decorate.

Brownies with eyeballs

- you can buy eye ball decorations for baking in most good supermarkets or use icing to create your own.

Support Local Businesses
We take every opportunity to support local businesses. Now more than ever small businesses need our support so let's take a look at a few that could be useful to you over the Halloween festivities. Click the links to visit their web pages.
__________________________________
If you have other ideas that you'd like to share with us, you can send them to us and we will add them to the list!
Have a fabulous, fun and safe half term and Halloween.
Jane x