I honestly had no idea that Northamptonshire was just a short drive away from Huntingdon. It was only when the other half was looking on Google Maps to see what we could do on the first scorchio weekend of July that we realised it was practically on the doorstep! And it was only when we passed the 'welcome to Northamptonshire' sign that it really sunk in.
Just under half an hour up the A14 is Stanwick Lakes, a 750 acre countryside attraction and nature reserve located in the heart of Northamptonshire's Nene Valley. It is the perfect place to spend a day out in the sunshine, and would still be a great place to visit as long as the weather is dry. The fab thing about it is that there is no admission charge. You have to pay for parking but that's it. The parking charges range depending on when and what day you are visiting, but the most you will pay is just over a fiver during the school holidays - to spend the whole day there.
There is simply so much fun to be had there for kids of all ages. When we visited, we saw babies, toddlers, pre-schoolers, school aged, and teenagers too. Every age was visible so it is totally inclusive for all. Let's go into a round up of what is there.
The Adventure Playground
As you enter the site, this is what you see. A huge wooden adventure playground just waiting to be explored. It is surrounded by a moat and includes a whole area of water play, with small stream and water wheels that the kids can splash around in, a large sand play area, a climbing tower with giant slide, tunnels, stepping stones, and a sunken ship. My boys spent absolutely ages playing in this area and they absolutely did not want to leave it.
What I will recommend at this point is to take their swimming stuff, or spare clothes, and a towel! We didn't realise there was a combination of sand and water before we arrived, and there is an outside shower that you can wash them down in! We had to wash the littlest down in it and dried him with his spare t-shirt!
There is plenty of grassy areas around the playground, along with some benches to sit on. People had set up gazebos as they were clearly spending the whole day there!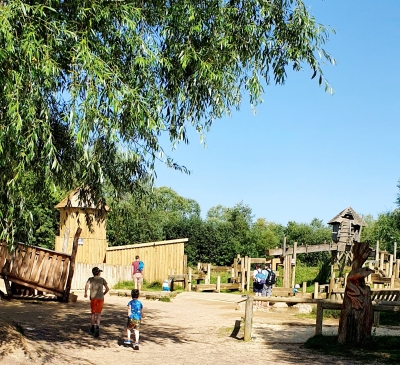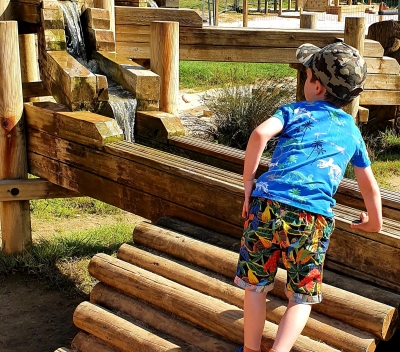 The Assault Course
For children and adults alike, the assault course is like something out of the Krypton Factor. If you are too young to remember that programme, Google it! The end was epic and everyone wanted to have a go. Now is your chance!
Once again it is all wooden and there are a series of equipment that you have to make your way through. A climbing tunnel, a rope challenge, monkey bars, more tunnels, tyres to step through, a cargo net to go up and over, climbing walls, a rope swing, before ending with a balancing challenge! It is quite simply awesome! The boys went through it at least three times!
The Adventure Trail
Set around a part of the lake, the adventure trail is full of stuff for the kids to have fun on. There is a rope bridge over the water, climbing rocks, a hexagonal swing, double zip line, and balance beams to navigate. There is even a treehouse hide where you can get an elevated view of the site. There are picnic benches dotted along the route and green open spaces to have fun or relax in. We didn't make it to the adventure trail because by this point it had gotten really hot and we were all ready to go home and jump in the paddling pool. It will be our first point of finding on our next trip!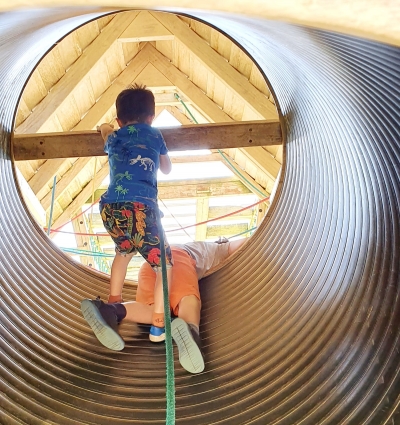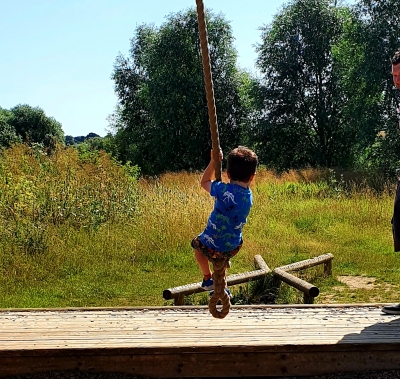 Sculpture Trail
Situated around Solstice Lake by the Visitor Centre and approximately a mile in circumference, it is the perfect distance for little ones to walk and explore the sculptures. They always have so much excitement when they spot the next one!
Cafes
The site has Cafe Solar which serves a full range of hot and cold drinks, sandwiches, cakes and light meals, including jacket potatoes, soup and daily specials. There is indoor seating and outdoor seating on the Lakeside Terrace. Dogs are allowed on the terrace, and inside there is the Hideaway indoor play area.
There is also the Skyloft Coffee Lounge situated on the Mezzanine.
Please note that at the time of writing, Cafe Solar is being refurbished and will be reopened in the autumn. In the meantime, additional seating and an extended range of hot and cold food will be available at the Snack Shack, plus an exciting new takeaway offer. 'The Waffle Shack', in the central playground, will be opening on Wednesday 21st July throughout the school summer holidays, serving drinks, ice-creams, waffles and crepes.
We grabbed some sandwiches and hot sausage rolls from the Snack Shack, and an ice cream each too!
Cycle Hire
There is a cycle hire area on site where you can borrow bikes for both adults and children, along with tandem bikes, trailers, buggies, and child seats. Stanwick Lakes has a network of over 7 miles of cycle paths. In addition to circular routes around the lakes there is a four mile linear route running from Irthlingborough towards Thrapston, along the former railway line, providing safe off-road cycling – and a means of 'green' travel for local visitors. There is so much beautiful countryside to see, bikes would be perfect to get around!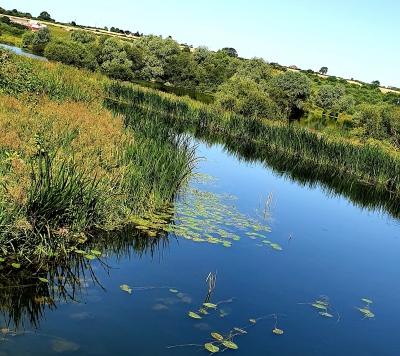 Toilets
There are toilets on site. One set is inside the visitor centre and there is an outdoor set just behind the Snack Shack. Both include a baby change area.
In addition to all of the above, there is a heritage trail, BBQ facilities, an outdoor theatre, picnic areas, a visitor centre, and a gift shop. As I mentioned, there is so much to do there, it is really easy to spend the whole day. Please do make sure you check the website for Covid-19 updates and what is open and when. There were bits closed while we were there but I'm not sure of the plans going forward. Also, sadly someone decided to do some arson and set fire to some of the equipment so there is some rebuilding work going on at the moment.
We had such a wonderful day at Stanwick Lakes and we will definitely be visiting regularly throughout the Summer holidays. What an amazing place to have just a short drive away!