With the Summer holidays in full swing and a lot of rain on the horizon, we have been looking for lots of things to do indoors - because quite honestly, you don't know at what moment of the day you are going to get caught in a downpour right now!
So when we got an invite to spend some time at Crafty Monkey in St Neots, we were super happy to organise it on what might be a rainy day!
Crafty Monkey is a pottery painting studio, which also offers baby hand and footprints, clay impressions, plaster outprints, foam clay, build a bear, silverprint and more! They are based in Moore's Walk in St Neots. The nearest car park is on Tebbuts Road which is a pay and display, and a couple of minutes walk from the shop. It was all super easy to find following good old Google Maps!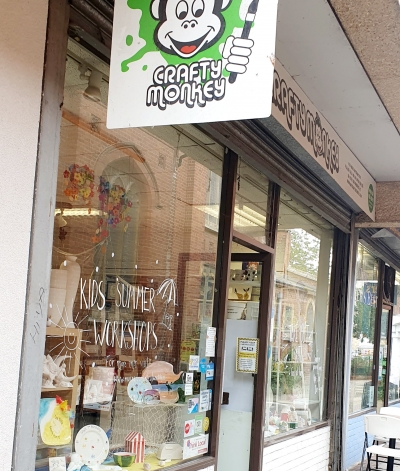 The online booking process was easy to follow and I soon had the confirmation in my emails. There is clear and concise information on how it is all running throughout the Covid crisis, and it is clear they are doing their utmost to keep everyone safe, even though they can technically reopen the place as in normal times.
We went to Crafty Monkey on a Monday morning at 10.30am. They have only started opening on Mondays throughout the Summer holidays so it was quieter than normal because not many people had got the memo about them being open. We went into the shop and were immediately in the section where you have to choose what you are going to be painting. Of course, with kids, they suddenly want to touch everything and change their minds hundreds of times about what they are going to pick, which is all slightly terrifying when you are surrounded by breakables. After some time, my eldest decided upon a little house that acts as a tealight holder, the youngest chose a T-Rex, and I decided to paint a little 'family' plaque. There really is so much to choose from, even I struggled to decide!
Beth who was working that day, ran through some of the more important instructions, asked us if we wanted a drink (cold options only at present) and then directed us to our table where I then read the instructions in full. On the table was a plate with the paint colour chart on it, which is super helpful to see how each colour comes out once it has been glazed, a box of all the paints, a pot of paintbrushes, cup of water, and then a plate and sponge for each person. There are no aprons because of Covid, however it isn't really messy and washes off really easily anyway!
It was time to start painting and the boys and I set off. I was super impressed with how attentive my youngest was to the mix of colours he wanted to use. He created a patchy dinosaur of all colours which I knew would look fantastic. It is best to do three layers of paint, and he managed brilliantly with two, but I did end up going over with a third because he couldn't be bothered. That's typical him though!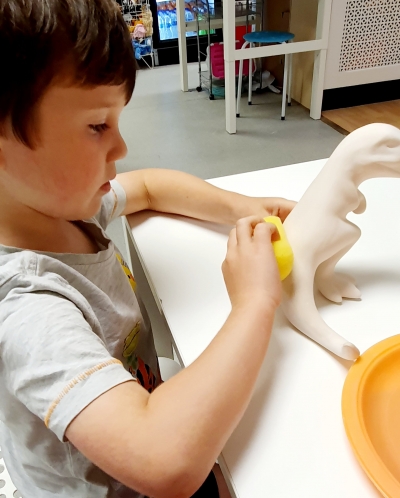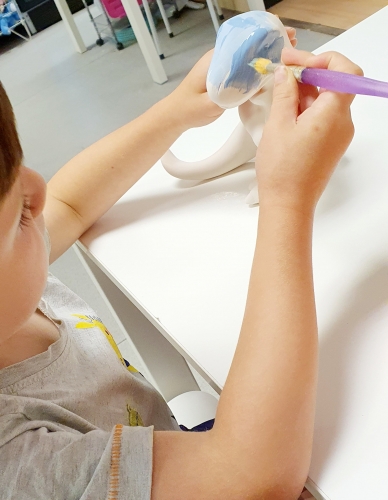 My eldest painted his house and did a great job, using a range of colours and patterns, and really taking his time over his creation.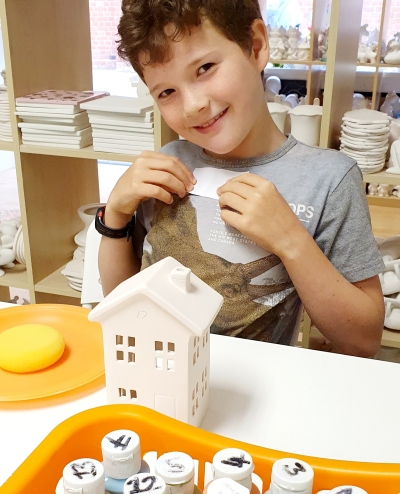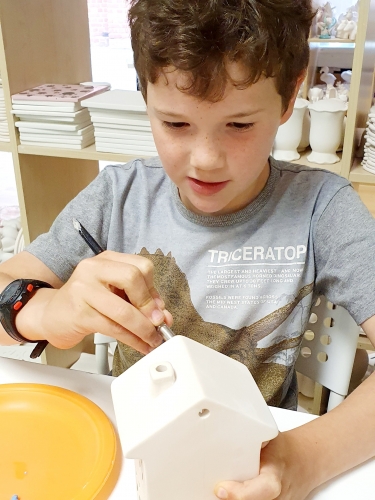 And I took the longest! I took it very seriously indeed and thoroughly enjoyed painting my plaque. We all did a pretty fine job!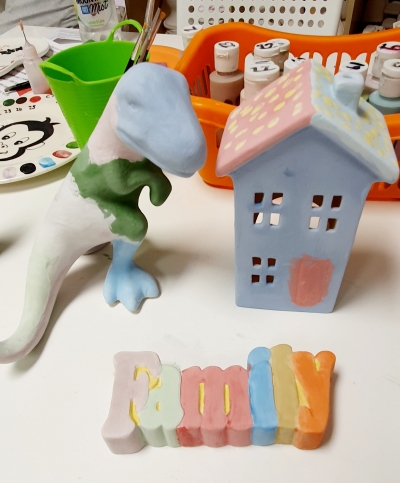 Once we had finished our painting session, we were told that it would take roughly ten days before they would be ready, we nipped to the loo (yes, the all-important toilet is there!), and headed on back to the car park.
On Thursday, just three days later, I got the email to tell me that our creations were ready to collect. At the moment, you have to book a pick-up appointment so they can control how many people are descending upon the shop, and again, booking was very simple. Luckily, we were already heading to St Neots again on Friday and so I managed to time my pick up with that trip out. When I arrived, it was ready behind the counter, and Beth (who happened to be working again) wrapped each one in tissue paper and I popped them all in my bag.
The boys were so excited to open them when we got home and they were so chuffed with how their creations had come out. They are so beautiful and bright and they absolutely love them!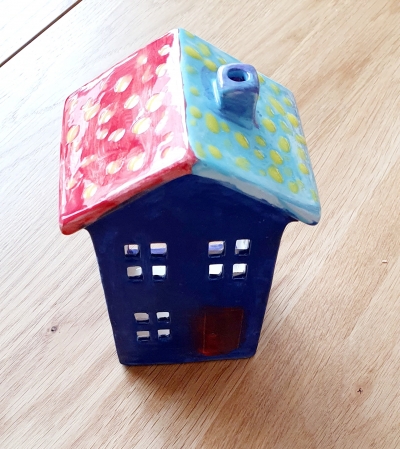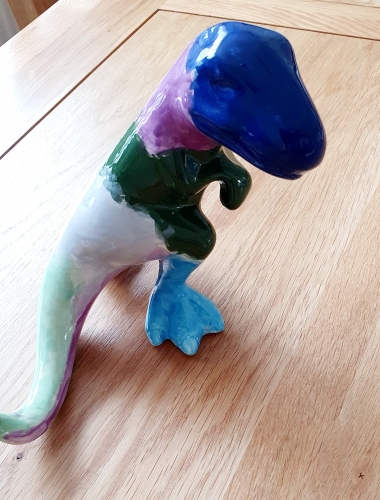 I was also super impressed with my painting. I am not the most artistic person but even I managed an OK job of this!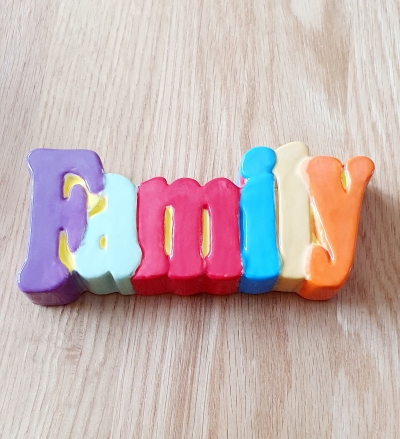 Our morning at Crafty Monkey was definitely worth the trip and it is such a lovely thing to do with the little ones. It is something that I will definitely take them to do again, and I know my eldest was quite keen for me to look into the Summer workshops they are running this month! And Beth was wonderful. My eldest LOVES to ask questions and she was always there on hand to help him out, give him info, and offer advice on painting. Nothing was too much trouble for her!
If you aren't ready to visit and spend time in a shop yet, Crafty Monkey also have an online store with equipment that you can buy and use at home, and if you are looking for a special present but worry about being artistic enough, they do commissions and gifts that they make themselves! So they really do have something for everyone.
Thanks for reading, and let us know if you go and have fun at Crafty Monkey!
Lisa
**We were gifted a painting session and items to paint, in exchange for our review, however all words and opinions are my own**