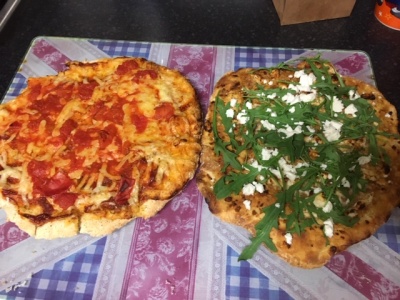 Recipe of the Month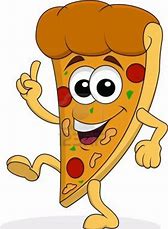 2 ingredient Pizza Dough
I love to cook with my children and I also love to find the simplest ways of cooking our favourite meals, I thought id share some of them with you.
Pizza is well loved in our house!
And through years of experimenting I think we have honed the recipe to a tee.
Its very simple
You will need:
1 cup ( depending on how large or how many pizzas you want will depend on the size of cup you need- a large mug will give you 2 pizza bases)
Self raising flour
Natural Yogurt
Method
Preheat the oven to 250 oc
Mix two cups of self raising flour to one cup of Natural yogurt.
knead into a dough (takes about 5-10 minutes)
Split the dough in half and roll to desired consistency.
Then add your toppings
Tomato puree works well as a base then top with your choice of cheese and vegetables or cooked meats. pictured we have cheese and tomato and a feta and rocket pizza.
Place in the Oven for around 15 minutes ( we cook at a high heat to try to mimic a pizza oven), at this point remove the pizza and check the dough consistency, if it is still sticky, pop back in the oven for another 5 minutes and repeat.
And there you have it amazing Pizza dough made from 2 ingredients that is a healthier choice with none of the salt and sugar found in ready made pizza bases.
<div style="width:165px;padding:0px;margin:0px;border:0px;line-height:0px;"><a target="_blank" href="https://www.tots100.co.uk" title="TOTS 100 - UK Parent Blogs" rel="nofollow"><img style="width:165px;height:110px;border:0px;margin:0px;padding:0px;" title="TOTS100 - UK Parent Blogs" alt="TOTS100 - UK Parent Blogs" src="https://www.tots100.co.uk/top/badge-10351-2.gif" /></a><br /><a target="_blank" href="https://www.tots100.co.uk/top/sponsor.html" title="TOTS100" rel="nofollow"><img style="width:165px;height:56px;border:0px;margin:0px;padding:0px;" title="TOTS100" alt="TOTS100" src="https://www.tots100.co.uk/top/sponsor.gif" /></a></div>