At the time of editing this article East Herts was not under any lock down or tier restrictions but I do know that many of you are concerned about increasing covid rates and that some of you for numerous reasons are uncomfortable with large crowds this Christmas. Therefore we decided to rejig last years article to provide some inspiration for getting into the Christmas spirit either from home or in a socially distant manner.
Santa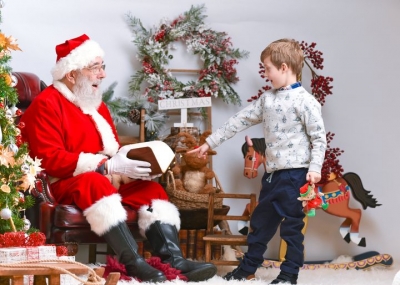 Perhaps one of the biggest concerns us parents have had is having their Santa visit cancelled. The good news is that with a few exceptions largely Santas Grottos are going ahead in a socially distant way and you may still be able to arrange a Santa visit for your little one. You can browse a range of socially distant Santas grottos here.
Alternatively
Why not consider using Santa on Zoom- one of our paid advertisers to provide a personalised zoom call from the big man himself. More details here.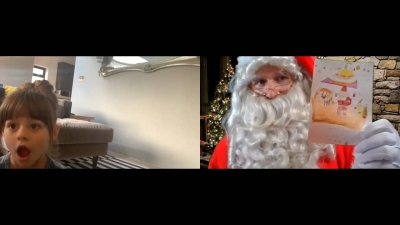 The spirit of Christmas
This year why not give something back this advent period. Perhaps start a reverse advent calendar for the local food bank or donate to HertFood. HertFood are putting together hampers and gifts for those in the local community who are struggling this festive period. Hertfood is liasing with local schools to ensure the gifts and hampers are received by those who need them most. Why not involve your children in the process and help them to learn to appreciate what they have and who they have this festive period.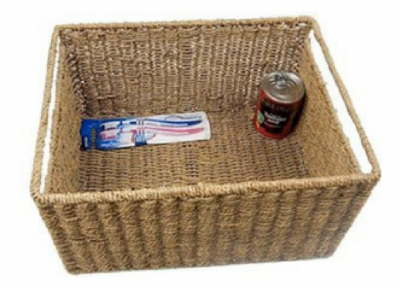 Baking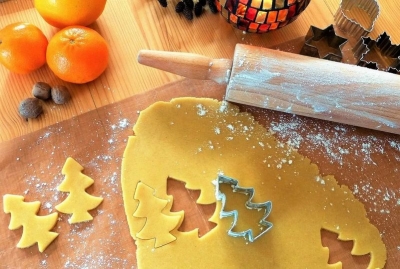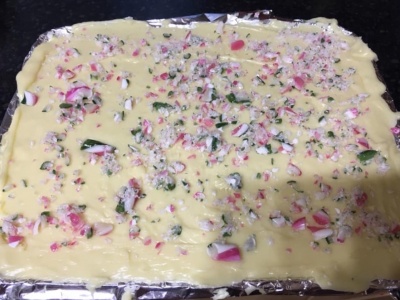 Decorate a Gingerbread House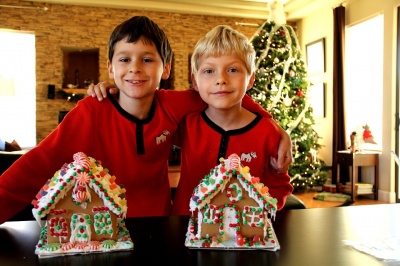 Either purchase a kit (ready made houses currently in Aldi for £5) or make your own for a fun filled festive activity.
Make your own magic reindeer dust, mix oats, sugar coloured with food colouring, bird seed and hole punched bits of coloured paper to make your own reindeer dust for xmas eve. Please place in a bowl inside your home if including sugar and paper. If intending to scatter outside please use oats and birdseed only.
Arts and Crafts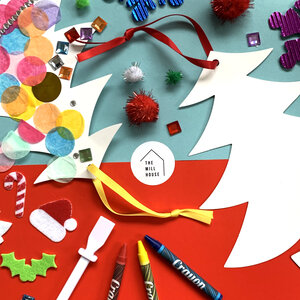 Salt Dough Decorations – 1 cup of flour to half a cup of salt and a small amount of water use Christmas cookie cutters to cut out xmas shapes and poke a hole through with a pencil. Cook on low in the oven for 3 hours or until dry (alternatively dry for up to a week in the airing cupboard) paint and decorate the tree.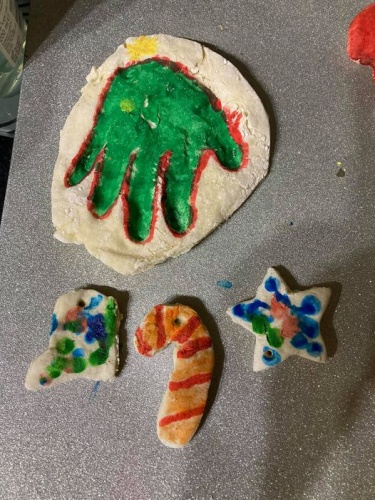 Decorate your doors as snowmen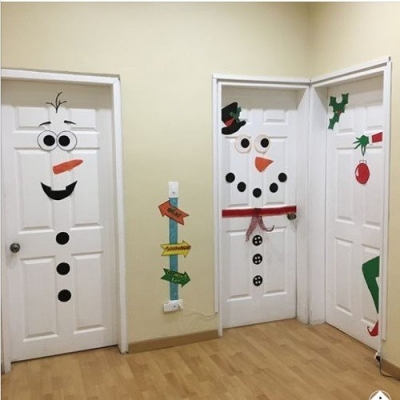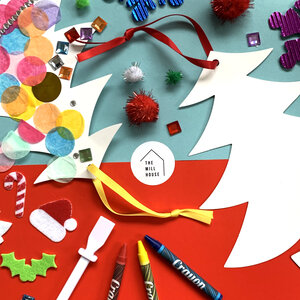 Buy rolls of brown paper and let the kids go crazy painting xmas shapes on it and use as wrapping paper if you need refills on paint The Mill House can help with that too.
Write your Christmas cards- get the kids involved too!
Raid that craft cupboard, use what you have. Have lolly sticks? Make lolly Christmas trees. Paper plates can be used to make snowmen, white paper can be used to create hanging snowflakes , the possibilities are endless.
Food
Why not treat yourself to a special afternoon tea or food package delivered to your home? The wonderful Serendipity may have moved from Hertford Town centre but they are still very much running and delivering food hampers to Hertford daily some examples of which can be found below.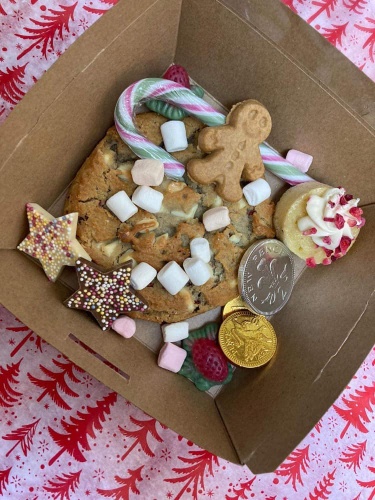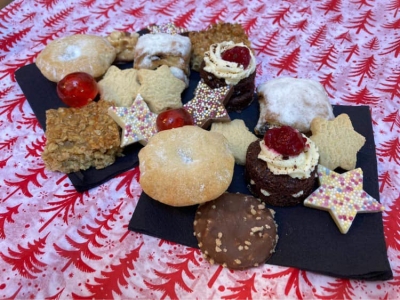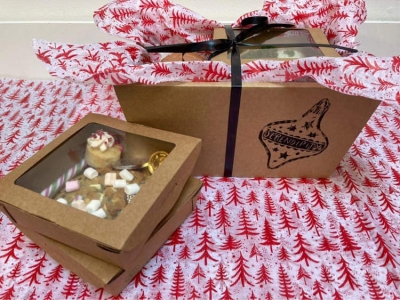 Activites & Games
Scavenger Hunt - why not take part in our scavenger hunt here:
Build a Christmas grotto/den- prior to lockdown i visited poundlound and stocked up on lots of cheao xmasy bits that my children can now use to decorate their bedrooms. If you want to make this extra special why not book The Greatest Sleepover (pictured below) and TipTop teepees for a Christmasy sibling sleepover.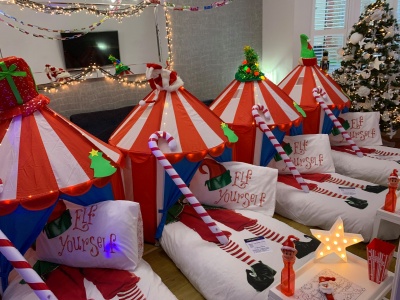 Movie night- Thanks the the wonders of Netflix, Amazon Prime, Now TV or Disney plus there are an abundance of Christmas movies. Theres some great ideas here.
Board games night- Why not invest in a new christmas board game this Christmas- theres some great ideas here.
Card games night- Not strictly Christmas related but theres something to be said for the humble card games such as Uno, Happy families and snap.
Create a 2021 wish list jar - all add things the family would like to do next year
Christmas Lego - I'm sure most of you probably have an abundance of Lego at home so why not embark upon a mass family lego building contest. There are some great ideas on Pinterest here.
Candy cane hunt- a simple cheap and cheerful activity. Hide Candy Canes all around the house and or garden and settle down to enjoy a cup of tea whilst the kids find them all. You could make clues if you wanted to.
Blast those xmas tunes- Christmas disco anyone? Put some christmas tunes on and throw an improtue Christmas disco.
Make paper chains- an oldie but a good one. Cut strips or paper and stick together and cover your home in paperchains.
Elf on the Shelf
Love him or loathe him Elf on The shelf has become a huge part of the run up to Christmas for many families. We've found 50 fun ideas for your elf this December.
Outdoor Local Activities
Both The Hertford Christmas Gala and the Hertford Castle Christmas Market are going ahead this year, we know you may want to avoid busy crowds but perhaps you could consider arriving early and taking a socially distant walk around in the fresh air to soak up the Christmas magic.
You could also take a walk around your local area to see the Christmas lights for a socially distance activity why not take a walk into town and view the lovely displays.
We hope this has given you some festive ideas for how you can still put lots of sparkle and festive cheer into the run up to Christmas from the comfort of your own home.
Whatever you chose to do we wish you a festive period of love, family and making new memories.
From our house to yours- Merry Christmas.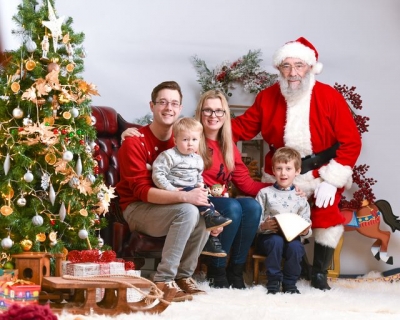 Love
Kayleigh & The Boys
XxxX