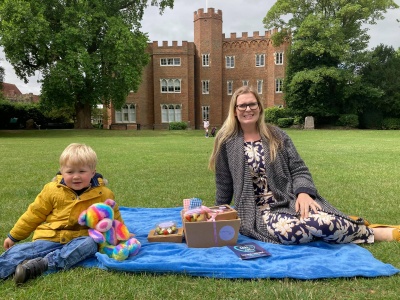 Serendipity Hertford- Take away Picnic Boxes
I don't know about you but I love a picnic! There's something about enjoying some yummy food in an outside space, (particularly when that space is as beautiful as Hertford Castle) , however often the actual hassle of sourcing things for a picnic and making endless rounds of sandwiches takes the appeal away from it a little bit and this is why these boxes from Serendipity Hertford are absolute genius!!
We were invited to try out these boxes by Carla from Serendipity before anyone else and were delighted to accept . There's nothing we love more than small business, food and Hertford so it was wonderful to combine all three.
We headed along last Monday to collect our box from Serendipity and we decided to take our picnic just across the road to Hertford Castle. Our reason for doing so was to pay homage to Hertford Castles, sadly cancelled this year, annual teddy bears picnic and we took along our 2 year olds Rainbow Bear as an extra nod to the current climate.
Upon arrival what struck me was how beautifully presented the picnic boxes were, and much of the packaging was compostable. We decided to wash out and keep the little plastic salad pots to reuse for snack pots to reduce the environmental waste. These picnic boxes really were something special. with so many special occasion's missed due to lockdown and so many parties and celebrations on hold my husband and I commented on how lovely these would be for a special birthday picnic or celebration or even to deliver to someone who is still shielding.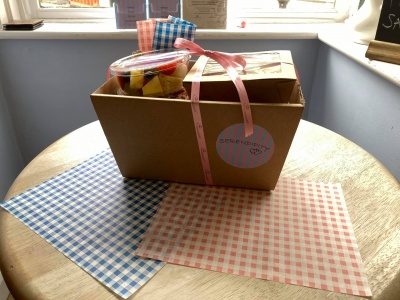 The contents and prices are below.
Serendipity Picnics
Picnic for 2 - £19
Ham & cheese finger sandwiches
Choose from 2 house salads
* Mixed leaf, cucumber & cherry tomato
* Homemade coleslaw
* Roast vegetable cous cous
* Pesto pasta with spinach, pine nuts & mozzarella
* New potato & chive salad
* Feta, olive, cucumber & cherry tomato
Then choose a savoury box -
Meaty - Mini pork pies, scotch eggs, sausage rolls & chicken satay skewers with mustard mayo.
Veggie - Mini vegetarian quiches, sweet potato falafels, beetroot falafels with houmous.
Accompanied by mini traybakes & marshmallows box & a fruit pot.
I think you will agree that they are excellent value for money for the quality and quantity of food they contain.
The mini pork pies particularly got the thumbs up from my 2 year old.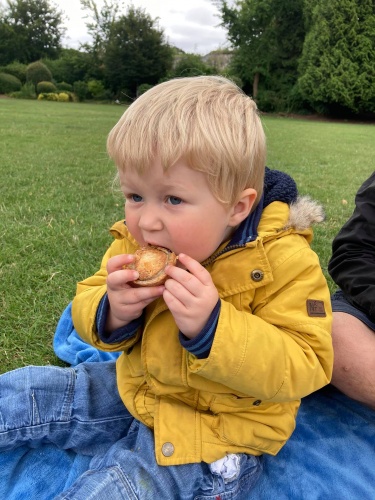 As did the sweet treats boxes!
My husband adored the Veggie savoury box....
And I was a massive fan of the salads!