We know that for many of you this year Christmas may look a bit different. We've had lots of messages come in already from concerned parents who are worried that Christmas on a budget may be a little less magical this year.
Now I love all things Christmas and i am also a huge fan of bargain hunting. I am by no means an expert but I do have a nose for hunting out some bargains so I am here to pass on a few of my personal tips and hope you will find them helpful
Presents
Reduce your list of people to buy for
A few years back I made a Christmas list of every single person I needed to buy for that Christmas and was horrified when I realised it was 32 people. 32 individuals! Presents for aunts, uncles, friends, children of friends, it went on and on. I realised I was stuck in a cycle of reciprocal gifting, I wasn't enjoying the gifting process, I was buying because they were buying for me, I was likely buying things they didnt want or need and the whole process was producing waste and putting a financial burden on myself. So what we did was speak up and what we found is that most of those people were absolutely fine with cutting the gifting process, in fact many of them breathed a sigh of relief as their list shrunk in size.
Now thats not to say I don't enjoy gifting, I absolutely do, but when your list is that large you start to enjoy it less and I would far rather gift a present I know would be loved , than gift one destined to be passed on to the charity shops, unwanted and unloved.
Speak up: Make the first move, once you have potentially identified those who maybe you didnt need to gift to ,speak up, send a text or give them a call and ask if you can skip gifting this year.
Suggest an alternative : If you have a large group of friends maybe you could do secret santa, or all agree to donate to the food bank or make a small charity donation instead of buying mountains of presents. This year a group of us who had previously swapped to secret santa have dropped presents completely, instead we have arranged to meet up and go for a festive walk, have a coffee and let the kids play together in the park, we are gifting each other a long over due meet up with no obligations to buy presents, we are simply going to enjoy each others company. If covid has taught us anything its that its the people we missed not the presents. Perhaps you could take your aunt to van hage to see the christmas lights and have a cuppa and a natter, or get the kids to make some homemade fudge (recipe here), if we change the way we thing about gift giving we may spend less but actually give something more meaningful.
Manage childrens expectations
I do not know your personal circumstances but I do understand that some children may have big ticket items on their wish lists, games consoles, bikes and so on. If these are out of your budget, do not put yourself into debt to get them. My children are never allowed to ask Santa for a big ticket item, those come from us, but i understand people will have different ways of doing things. I have a couple of suggestions that may help.
Second hand - do check the second hand shops, marketplace, ebay etc as often you are able to find things that are a fraction of the price new (do check they are working however!), CEXS in Hertford town sells second hand consoles, games etc etc which all come with a warranty. You can also exchange old games and accessories for vouchers towards new purchases as well.
When my son asked for a Switch for his birthday we told him we were unwilling to buy something so expensive and if he really wanted it he would need to save for it. We gave him a little towards it and he asked friends and family for birthday money that year , he saved his pocket money as well and eventually had enough to buy the console , he learnt a valuable life lesson about saving and working towards something and treasures that switch far more than if we had just given it to him.
It may be that you explain that Santa isnt accepting requests of big items this year and suggest your child asks friends and family for money to put towards it if a big ticket item is out of budget this year, or depending on the age of the child you may be able to find a cheaper alternative.
Stockings, advent calendars, elf on the shelf, xmas eve boxes and all those little extras
Again, different families have different traditions for these and i am aware that sometimes there is an air of "keeping up with the jones" and feeling pressured to do all these things because others do.
Firstly you dont have to do any of these things, if you are looking for someone to tell you that its ok to shun them, then I will be that person.
Free yourself from those obligations but if you do do them we have some tips.
So I will admit that I do all of the above things at xmas, however I do not spend a fortune!
Lets start with stockings, the amount people spend on stockings sometimes i really find astonishing personally, likewise I really hate unnessercery tatt, it just ends up all over the floor or broken and i'm not a fan, so for us stockings have always contained the same items which grow with the children.
Each child gets - 1 chocolate santa ,a new pair of PJS (usually brought in the sales throughout the year ), a book (relevant to their age and interests - check charity shops!) and one or two small items, this year my youngest has a couple of bits from Toys for a pound (fidget toys i know he will use) and my eldest has a small minion game ( and some footballs cards) and thats it. I have done this every year since they have been born and never spend more than £10-£15 on stockings.
Advent Calendars
The cost of these can be astronomical! There is no need to buy a £30 advent calendar (unless you particularly want to) a chocolate one is fine, or if you do want to do something a bit special you could make your own. Last year I made my boys one out of some pegs, some twine and some christmasy envelopes that i wrote numbers on. For my son i bulk brought pokemon cards from ebay and each envelope had a few cards in, and a couple of the later envelopes had chocolate coins in aswell as cards, he absolutely loved it and it cost me around £5! My youngest had a personalised puzzle (also £5 from etsy) and we added a few pieces to each envelope so he could build the puzzle over the course of the month, he loved it!
Last year we did puzzles for both boys, i picked up a spurs puzzle in the mind charity shop in hertford town and picked up a scooby doo puzzle cheaply from market place. They cost £2 each including the chocolate coins.
This year I am planning to recycle some xmas gift boxes, get them a cheap £1 advent calendar each, gift each an xmas book (one from charity shop and one from a local giveaway page) Mr Men Christmas stories and The Christmas Pig, include some christmas bath bombs (just a couple to be enjoyed over december) and some Christmas socks and put them inside the gift boxes. Each day they get a chocolate we can read some of their book together and they can chose when to use the xmas bath bombs. They will cost approx £5 each box. I have also recycled an old Mr Men book advent I had and am in the process of making it into a low cost family advent, filled with ideas like "go on a frosty woodland walk", "snuggle and watch an xmas movie", "drive round and look at the lights "write xmas cards together" and so on. All free or cheap things to do as a family this advent (really excited about this!)
Elf on the Shelf
Again this is something that we do, the boys have 2 elves but ours don't cost us money. I'm not really sure where the original idea of elf on the shelf changed to one that involves lots of money but its a bit baffling. The original concept was basically that the elf moved about from shelf to shelf, hence the term elf on the shelf. Over time Elf on the Shelf seems to have become something that costs money and i find it really baffling. With our elves they move about, sometimes they are a bit naughty, for example they put pants on the tree, draw a face on toilet roll, hide in the fridge, make snow angels in flour but i never buy anything extra for them and we still have a lot of fun with them. Use what you have, look on facebook for free ideas of things to do.
We have some suggestions below.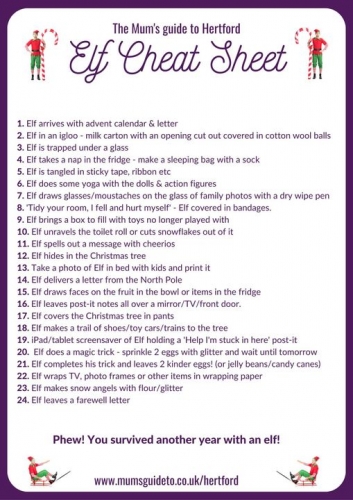 Xmas eve box
Again, this is something that we do do , despite my love of keeping to a budget but we keep things simple. When my eldest was a baby i purchased a copy of the night before christmas from a charity shop, this book goes into our xmas eve box every year and is only ever read on xmas eve. Our box which we reuse every year also contains, 2 cheap hot chocolate bombs a cheap chocolate chip cookie mix , a simple craft or colouring activity to do together (can use free downloads check out the wonderden for these!). The idea behind our xmas eve box is to bring us together as a family on xmas eve, we bake the cookies for santa together, we sit at the table together for the craft activity , later in the day we have a hot chocolate watching an xmas movie on the tv and finish the day with the night before christmas story before bed. Our Xmas eve box is an important part of our Xmas traditions, but is far more about bringing us together than money.
Shop Smart
Hopefully by following some of the tips above you have reduced the amount of people you need to buy for so lets talk about how to shop smart for those presents you do need to buy.
If you can save a bit of money back in January you can pick up some real bargains for the next christmas. For example I buy the Pjs for stockings in the next size up every january (they arent xmas themed) , likewise craft activities for the xmas eve box can be picked up for pennies in the january sales.
Always compare prices of items, be sale savvy (often companies put up prices just before sales so they can declare the item is a certain % off when it actually isn't), keep an eye for big toy sales in sainsburys, make checking charity shops and markerplace part of your routine. I find Toys Price Comparison really great for comparing prices of toys to make sure you get the best deal.
Search for discount codes online. Another thing i personally do is use the top cash back app throughout the year on just normal purchases and then change the money up to either vouchers or cash in my bank account at the end of the year as a little christmas fund boost.
I also save my tesco clubcard vouchers throughout the year .
Toys for a pound is a really brilliant webpage too with really good quality items for super cheap.
Now i am aware that different households have different traditions, different budgets and ways of doing things and i absolutely respect that but here is what we personally do.
In our house we loosely stick to the something they want, need, wear, read idea for tree presents and a few extras (in reality they have about 8 tree presents some of which will be second hand) then they ask santa for one or 2 things and thats it, I don't buy anymore than that.
For presents for relatives we do buy for remember it is the thought that counts. My parents favourite gift ever was a framed photo of all the grandkids together. Maybe the grandkids could make gifts, a homemade christmas decoration or some fudge (recipe here) could work wonders and mean a lot more than a shop brought gift.
Teacher collections
Love them or loathe them? Its the time of year where teacher collections rear their heads. Personally we all chuck in a fiver usually and buy the teachers vouchers but in these times of worry its important to remember that these are no way compulsary. If funds won't stretch to a teacher gift this year, get your child to draw them a picture thanking them for something they've done this year, I promise this will mean more than any wine and chocolates could.
Food Glorious Food
For food shopping i start to buy one or two extra things each week where i can, but lets be honest, christmas dinner really is just a fancy roast dinner. It doesnt have to be turkey, it doesn't need all the trimmings what matters is coming together. If you don't like roast dinners and you'd rather have a big plate of pasta then do it. Its your christmas.
Christmas Activities and Days Out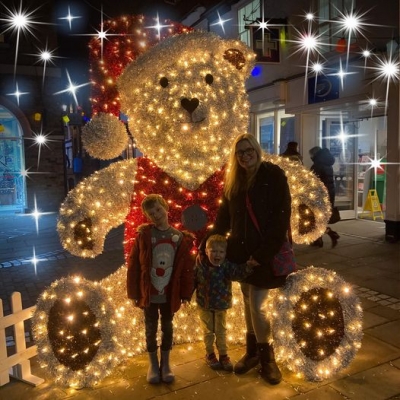 I dont want to appear hypocritical, I am a blogger so I apologise in advance because on my social media you will absolutely see lots of images of myself and my children doing christmasy days out. Please remember that is my job and if it wasn't i wouldn't be doing half as many of those things, particularly this year.
But actually no matter how many fancy days we are incredibly lucky to go on sometimes it really is the simpliest things that bring the most joy and create the most memories. A frosty walk with a flask of hot chocolate, a drive around to see local christmas lights, a local church service, seeing the ware bear. We also have a list oflow cost festive trails we will share nearer the time when dates are confirmed.
Van Hage never fails to get us in the Christmas mood either and their display opens in just over a month, the east herts miniature railway also operates a festive service at weekends and tuesdays and thursdays during school holidays and at just £1 pp is very budget friendly.
Cedars Nature Centre will be running their elf trail again too where entry to the zoo is just £2.40 pp (and includes reindeer dust!) further details to follow.
If you are hoping for a festive cinema visit consider using clubcard vouchers, seeing if anyone has a meerkat movies code or head to a movies for juniors performance which are just a few £ pp.
We also have some ideas of festive things you can do at home here.
We don't promise to have a magic wand and i am aware these suggestions are just a small drop in the ocean when it comes to the worries many of us are facing this year, but hopefully some of the suggestions above may have given you some ideas of how to cut some costs this xmas. If you have any more ideas do feel free to email me and let me know.
Finally just before I go i want you to think about your christmases as a child, what made those special? Often it was being together as a family , the excitement of waiting for the day to arrive, putting up your decorations together, writing the christmas cards together and things like that i remember most. Sometimes parents are our own worst enemys when it comes to putting pressure on ourselves aren't we!?
Wishing you a magical christmas
Kayleigh & The Boys
XxxX