With funds tight this year many of us will be looking for free or cheap activities to do with the children this summer. We have blogs filled with ideas on this subject but one really great activity to get involved with is the Hertfordshire Libraries summer reading challenges which run every year.
This year the theme is Gadgeteers. These guys like creating new inventions and working together to solve problems. It doesnt matter if you are a seasones library pro or a newbie its free to sign up!As children report back on what they have read, they'll collect a set of transferable stickers (some scratch and sniff). Each set of stickers will be provided for every two books read.
Every child who completes the Challenge by Saturday 3 September will be awarded with a medal, certificate, and a pencil. This year's Summer Reading Challenge kicks off on Saturday 9 July with a launch event at St Albans library. This event will feature many fun activities including Junk Robot modelling, 3D pens and stop-motion.
The Challenge is a fun way to maintain children's reading levels over the summer and provide them with a confidence boost. Best of all, it is completely free to take part!
But if you are struggling to make reading appealing as a summer activity for the little ones our top tips may just help.
Tip Number One
Let them choose their own books about what ever they want too. Perhaps even an audio book if they would prefer that. Its hard sometimes to not influence their choices but if you want them to embrace the challenge they need to choose the books they want. Even if that does mean 7 football books which is exactly what my eldest chose on his last visit to the library.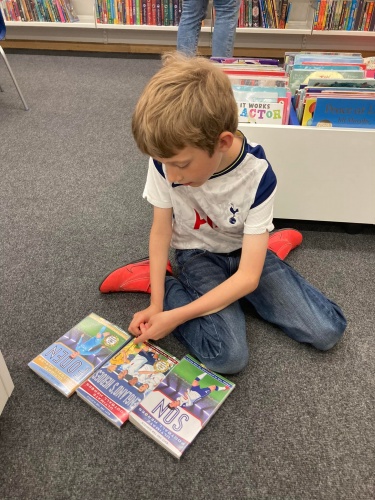 Tip Number Two
Make going to chose the books and return them to report back to staff a fun activity in itself, plan it into your weekly plans, why not take snacks and visit the park on the way home, or pop into another local free attraction like Hertford Museum enroute.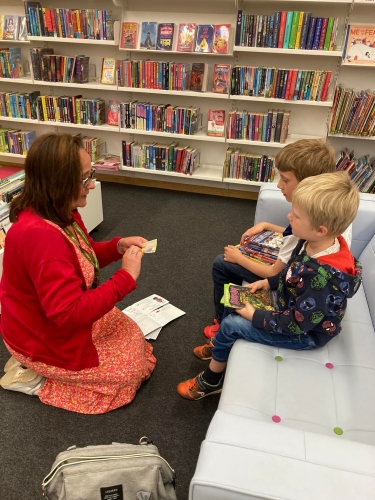 Tip Number Three
Get creative with reading locations. Library books dont need to just be read at home, challenge your kids to read in the most interesting places, can they read in a park, can they make a den and read inside, are you going away can they read on the beach? At the zoo? At the farm? The possibilities are endless and we bet the library staff would love to hear about your adventures with your books as well. Pictured below is my husband and eldest son (when he was a baby) at the Gruffalo trail.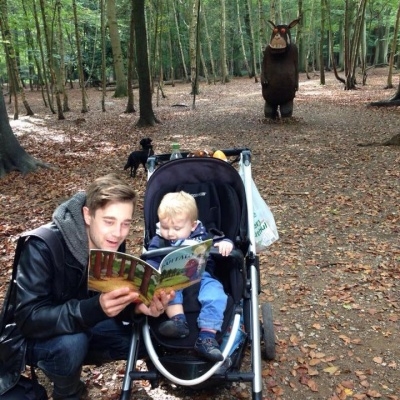 Tip number Four
Involve the whole family, can elder siblings read to younger ones, can you read books together as a family, can you read to grandparents or an elderly relative? And dont forget to borrow books yourselves, children foster their behaviour on what they observe so if they see you engaged in a book i'm sure they will want to join in too.
Tip number Five
Get their friends involved, if you can involve your childrens friends in the reading challenge we guarantee their enthusiasm will go up ten fold. Can you arrange to meet another family at the library weekly? Or can your child video call a friend to tell them about the books? Maybe they could set up their own book club once a week. The possibilities are endless.
We cant wait to get stuck into the reading challenge this year.
More information on the library challenge can be found here.
Will you be signing up?
Kayleigh & The Boys
XxxX