Are you Holidaying in the Uk this year?
Are you a bit worried about escalating costs?
The cost of living crisis is of real concern to most of us , we are well aware that families (including our own) are making cut backs, many of you won't be going away this summer and if you arent don't worry we will ensure there are lots of free or cheap ideas , activities and days out shared on our pages throughout to keep you busy and provide inspiration where needed,
But even for those of us able to get away this year not only do we have to contend with the rising costs of accomodation but also the increased costs of everything else, eating out, days out, parking literally everything and before you know your holiday could well end up costing you a lot more than you had budgeted for.
We've a few simple tips that we hope will help to at least reduce some of those costs for you.
First things first
Packing!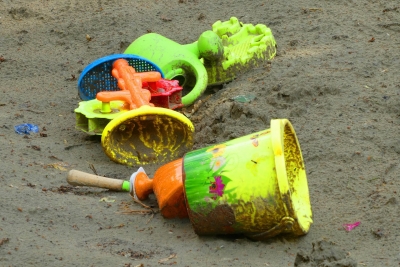 Preparation is key here, how many times have we had to shell out for things on holidays we already had but had left at home? Buckets and spades (groan), suncream! wellies, waterproofs (one of our followers forgot her toddlers shoes last year! That was an expensive start to the holiday for her!) Make a list and double check it. I take a little really useful box with things like buckets and spades, beach mat, chalk, colour pencils, colouring pads, plasters, calpol, small toys, hats, deflated beach balls,spare suncream, talc, theres even a kite in my car at all times!) and a bag of change for parking or arcades. It sounds so simple but its an added expense which is just not needed if you plan ahead and dont forget the swim suits. If your child does need new sandals or swimming costumes etc, check out the local charity shops or giveaway pages etc before you go.
Food Glorious Food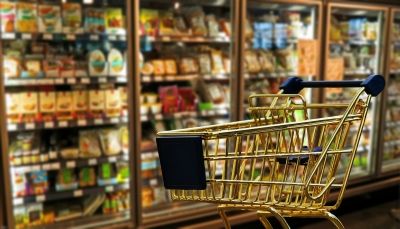 Self catering
If you are self catering its still easy for food costs to mount up! Obviously you are on holiday so you are unlikely to want to slave over an elaborate meal every night but failing to plan is preparing to fail. Often on holidays we rely on the local shops which may be tiny for our supplies, being unfamiliar with the surroundings and not wanting to waste time doing a full shop is understandable but little shops often cost more and if you end up doing multiple shops over the duration of your holiday you could be facing an empty purse sooner than expected.
If you are self catering we would suggest making a list BEFORE you go. You are on holiday so you are going to be wanting good food, that you all love, you may have limited cooking options (check before you go) and you are more likely going to have less pans etc than you would at home so you may wish to avoid complicated dishes that require multiple pans etc. Involve all the family, "What do you want to eat?" and plan and make a list before you go.
Then you will want to source your most local large supermarket to your accomodation, we always either book a shopping delivery for the afternoon/evening we arrive or a click and collect order. Our routine has always been I unpack and settle the kids in and my husband goes and picks up the shopping order and it really really works for us. You will want to consider things like fridge and freezer space in your accomodation too before ordering (if you are unsure you can always email your accomodation hosts/ owners and ask). I always include lots of snacks for the little ones in my shopping order, ice creams (you are on holiday after all etc etc). It's a little more effort but making packed lunches for any day trips etc and bringing water bottles with you will also save you a bomb over the course of a week.
Another top tip i have if you have one is to bring your slow cooker with you! Pop something in before you go out for the day and know that you will have a yummy meal ready for when you return, you are far less likely to reach for the take out if you know you have something ready at home for you. Some of our holiday favourites include Tacos, (we just microwave some rice and melt some cheese on nachos when home and leave the taco mix cooking whilst out), meatballs (just cook spaghetti when home), pulled pork, currys etc etc , I even like to cook an entire chicken in my slow cooker at the start of the holiday so i then have cooked chicken to use in salads or sandwiches etc etc.
Eating out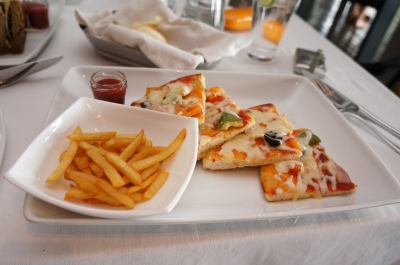 Even if you are self catering you may want to eat out at least once or twice during your holiday as a special treat. This is again where pre planning can save you a heap of dough. Do your research. If you have clubcard vouchers are there are restaurants near where you are staying that accept them? Pizza Express for example?
Do any of the restuarants offer a cheaper lunch deal, could you go for an early dinner/ late lunch as your main meal for example instead of going later in the day. Do any local restaurants offer kids eat free? In the weeks and months leading up to your holiday just have a little research and always find out if you are likely to need to book.
Days out/activities and attractions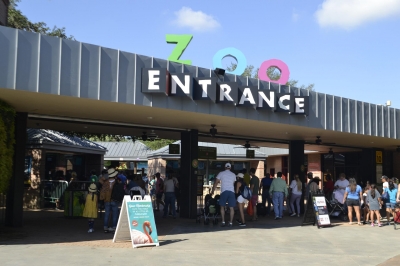 I'm not suggesting that you plan every aspect of your holiday to the letter, because that wouldn't be much fun for anyone i imagine. But I do find people generally have a little research about whats on locally to where they are going before they go to look for days out etc. This is brilliant but I would suggest taking this one step futher... after you've found atractions that you may be interested in look for special offers before you go. Does your child have a blue peter badge, do they do free entry, do you have any memberships here which may be affiliated with another attraction, for example Paradise Wildlife park membership also gets you into a couple of other attractions free of charge. Do you have clubcard vouchers, are there any 2 for 1 vouchers anywhere to be had? It can often be much cheaper to book online before you go. it doesnt hurt to look and you'll be surprised at the discounts that can be found. Don't forget you can also look for things like bowling or cinema tickets that may be discounted. Also if you have english heritage or national trust membership check if there are any local attractions that are included in your membership.
Find a local mummy blogger
I'm biased but Mummy Bloggers and days out bloggers are really awesome. Look to see if there is a local mummy blogger for the area you are travelling too. For example I am going to Devon this year and we found a webpage/ social channel called "With kids in the west country" and it is blooming brilliant. From top tips of the best beaches to visit, the best play parks, pubs with playareas, free attractions and activities even where you can park for those for free its filled to the brim with useful and invaluable information, the type of hidden gems and local secrets that only a local parent would know and we are living for it. Every year I get messages from people who have travelled to Hertfordshire on Holiday and found our webpage useful for planning their stay, this is what inspired me to do the same whenever i go away now. Often these pages/ individuals are happy to answer questions you might have as well if you message them which is again beyond useful.
And finally one bonus tip i have for long journeys is to use the webpage whats halfway between to find somewhere to stop enroute. Avoid busy service stations and the temptation to buy food whilst there and find somewhere enroute (you can use the filter button to find somewhere thats free) and has toilets and have a picnic an enjoy some fresh air.
We hope you have wonderful holidays this summer.
Lots of Love
Kayleigh & The Boys
XxxX