Last Summer, my eldest fell in love with football. Swept up in Euro fever , we sat and watched all the games together, just as I had as a youngster and expereinced the highs and the lows of the Euro campaign together.
Now its important to point out that prior to this Jacob had zero interest in football, zero interest in playing it, watching it , nothing.
Well since last summer this has all changed.
Firstly i half expected this to be a flash in the pan... it wasn't!
So Jacob now decided he needed to choose a team, there was some debate over this but eventually he settled on Tottenham Hotspur as that was who i supported growing up and my dad and brother also support Spurs. My husband has never followed football so was not involved in the decision process.
So a premiership team was chosen and has been diligently followed since. Now i quickly discovered that following football was not a cheap hobby! The kids are ££££!! The tickets are ££££££!! and it just seems never ending.
So I though I would pass on some top tips that i have found to support my sons love of football without breaking the banks.
How to get kitted out cheaply
Firstly- Football Kit! Of course he wanted the football kit, a visit to the spurs store made my eyes water with a kit his size around £70 for the shirt only. He saved his Xmas money and come January there was a sale on, we actually purchased the 20/21 kit the "little kids" variety linked here .
In January they were reduced to £35 and included last seasons shirt, shorts and socks, in January they were also BOGOF so we ended up with two kits for £35, one of which he wears to his weekly football classes and the other he wears around the house (all the time!).
Football boot wise, we got lucky and on a local giveaway page someone was giving away a pair of astro boots in his size, we did order some proper football boots from sports direct but they arrived far too small for him so i would always suggest going into the store to purchase.
I also some how got conned into buying a premier league ball for £21 from sports direct and goal keeper gloves (you can measure your hands instore in sports direct- yep thats a thing!).
We also purchased a range of Tottenham clothing, tshirts, joggers etc cheaply from ebay. These weren't a necessity but as he was outgrowing his clothes quickly anyway did earn me massive mum brownie points.
Football Classes
So jacob obviously wanted to join a football class, here is where we hit some difficulty. Many local football classes that I found were either on a day we couldnt do or too late for us. My husband is childrens educator/ entertainer he is very rarely in for bedtime and so the prospect of trying to occupy my youngest at around 6pm on the side of a pitch whilst my eldest practiced was just not feasible. Fortunately I discovered his school run a football club as part of their afterschool activities and so I was able to get him a place there and as a result he now plays an hour and 15 minutes of football each week and also does the holiday club in the school holidays. We are still hoping to get him into a proper team at some point, we have a range of football classes listed on our webpage which you can browse here .
Watching football
So as i quickly discovered attending big football matches can be a costly affair. But I have discovered some top tips to foster this obsession without breaking the bank. Hertford Town FC play most saturdays and tickets are very reasonable just £1 a child and £8 an adult, no need to prebook just show up on the day. i will admit to being a bit nervous the first time i took my son on my own, I dont know why but it always seemed such a male dominated activity (i know thats rediculous) but i worried i wouldn't feel comfortable. This was far from true, everyone was lovely, there were plenty of women there, and we throughly enjoyed watching the match pitch side with a burger and a can of pop. It had a real lovely community vibe about it too, we've been a few more times since and are starting to feel a bit like we belong!
We have also visited Cheshunt FC, who have a bit of a fancier stadium opposite Cedars Park and enjoyed that experience too. Tickets are also under a tenner here and therefore much cheaper than big matches.
Stevenage FC is also not very far away and offers cost effective football match viewing opportunities.
The biggest bargains that we have found though by doing a little digging are that you can get tickets to see England at Wembley very cheaply in the family stand. You need to sign up for the england supporters club, its free the link is here: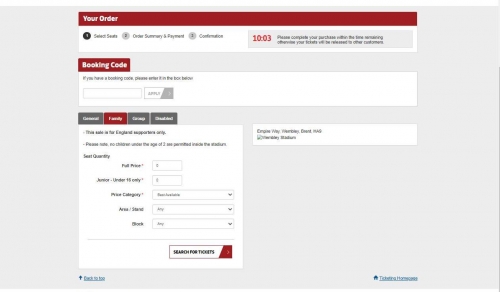 Once you are signed up (you need to register everyone including children on this) you get emailed with first priority of tickets. The trick here is to when clicking the link ensure you select the family section. You can get tickets to watch England play at Wembley for just £10 a child and £25 an adult in the family stand this way which is incredible !! Obviously these are subject to availability.
For premiership games I can only pass on the information I have discovered about Tottenham Hotspur but Tottenham run a membership called "One Hotspur Membership" its £20 for a child and £45 for an adult and aside from getting a goodie bag, you also get to go and watch as many of the under 23's matches as your like (some of them inside the spurs stadium, some of them at stevenage or hotspur way) for FREE!! You also get first priority for match tickets as and when they become available and they are much cheaper that buying any other way. I do know several other football clubs have a similar membership but you would need to contact them for the specifics. For the one hotspur membership children also get a free stadium tour. I have brought my son a membership for his birthday meaning for £20 he gets a goodie bag to open on the day and a stadium tour as well as being able to watch as much football as he wants.
Obviously you could just watch football on the TV, if you have sky sports great, if you don't you could see if a kind friend or relative would loan you their sky go login and watch key matches on a tablet or phone, failing that there is always match of the day, we love our sunday morning match of the day sofa sessions.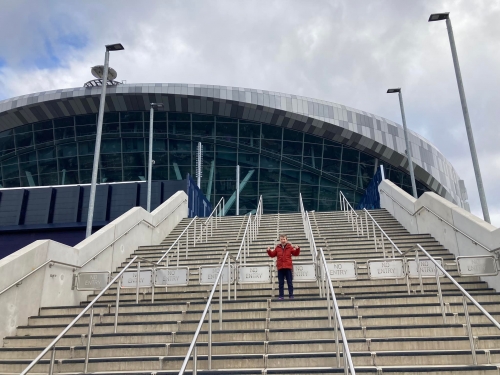 How to get players autographs for free
Disclaimer this doesn't always work. Through lots of digging and a few tips from insiders we have discovered the best chances of getting players autographs is to send them fan mail to their administration office, with an enclosed stamped address envelope.Most Premier League clubs do send a response, this may be a pre printed signed picture but in many cases they do have an allocation of actual autographs that they will send out every month therefore your child could well end up with the autograph of their favourite footballer in the post for just the cost of a stamp. I would advise not getting your childs hopes up on this, you could send a letter on their behalf, or just manage expectations in that you may or may not received a reply. We sent three letters recently to spurs and received responses to ALL OF THEM so it can and does work!
So there we have it Mum's Guide to Football , how to encourage and support your childs hobby without bankrupting yourself. If i've missed any top tips please email me and let me know. Maybe ill see you at a local game sometime?