Click image to enlarge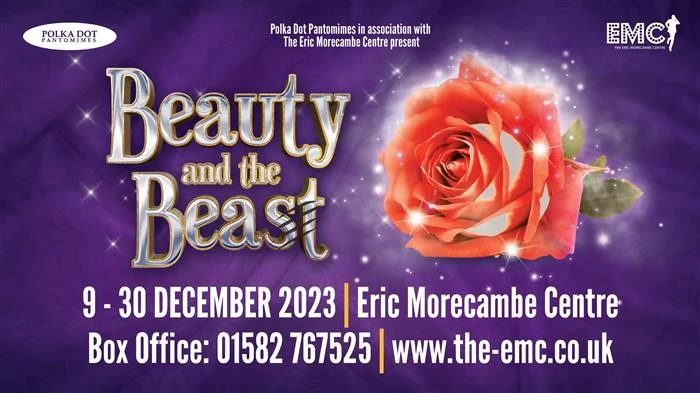 The Eric Morecambe Centre
Sat 9th December 20232023-12-09 - Sat 30th December 2023 2023-12-30

Starring BGT's Francine Lewis as Grimalkin. Impressionist and comedian Francine Lewis captivated the British public and celebrity judges on Britain's Got Talent in 2013 with her uncanny impersonations of some of the biggest names in entertainment. She instantly became a huge hit, winning the public vote in the semi finals and making it through to the final. On the show, Francine was described as 'unique' and 'incredible' by Amanda Holden and David Walliams.

Returning to the EMC, after playing one of Cinderella's beautiful step sisters last year is Josh Handley playing Dame Dolly Doughnut. He is beyond thrilled to be donning the frock once again and being back in Harpenden this Christmas - watch out fellas!

The title Role of Belle will played by Laura D'Arcy. Laura trained at the prestigious Italia Conti. Last year Laura was thrilled to play the lead role of Doris Day in the UK and Ireland theatre tour of the brand new original musical 'The Doris Day Story'. She can now be seen performing in theatres all over the country appearing as Nancy Sinatra in the UK Tour of 'The Rat Pack Show'.

No stranger to pantomime having performed in many over the years. Craig Ranford will be playing the comical role of French Franc. He is very excited to be bringing his panto silliness to the Eric Morecambe Centre this year and can't wait to hear you cheer, boo and join in.

Kate Eason returns for her 5th year and she is delighted to be back in Harpenden directing Beauty and the Beast and playing the role of Fairy Fabulous. She hopes you enjoy the show and that you take as much delight in the Polka Dot Pantomime magic as she does.

And of course the panto would not be complete without our very own Panto Pooches. Sharing the role as Belle's trusty sidekick this year are Mouse, Tilly and Ray.

Mouse is a 7 year old ginger cocker spaniel who loves to sing! and you may have seen him on this year's BGT. Tilly is a 9 year old Border Collie who absolutely loves to learn new things! And Ray is a 4 year old Border Collie who started his life in the Mendip hills. He absolutely loves to work, especially if it involves running around really fast! Both Tilly and Ray compete in agility at championship level.

We can't wait to welcome Mouse, Tilly and Ray to the Eric Morecambe Centre this Christmas.

When the Prince is cursed to live as a Beast in his magical castle his only hope is to find true love before the last petal falls. Will the beautiful Belle be the chance he has been waiting for? Will French Franc be able to save the day from the evil Grimalkin and will Dame Dolly Doughnut finally find her new husband?

This family pantomime features spectacular scenery, glittering costumes, amazing special effects, plenty of audience participation and Harpenden's pawfect panto pooch.

Book your tickets now and be our guest for Harpenden's finest festive treat.

There will be a relaxed performance on Wednesday 13th December at 1pm.
The Eric Morecambe Centre

,

Rothamsted Park, Leyton Road

,

Harpenden

,

AL5 2FR

Find out more or book: the-emc.co.uk