With a beautiful sunny day forecast, I got the two kids into the car and drove the 25 minutes north to Mead Open Farm, having never visited before.
On arrival, the first thing that impressed me was the selection of different play areas. Outside there were multiple adventure play 'zones', suitable for toddlers all the way up to teenagers. Plus, free outdoor Sky Trail (like a slightly less-scary Go Ape) and climbing wall with almost no queues – amazing. Instead of a bouncy castle they had two colossal inflatable pillows which was a neat idea and lots of fun. Being lambing season we got to see some twin baby girls who had been born just that morning, so that was lovely.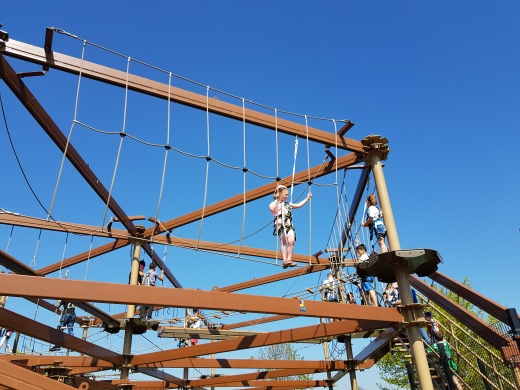 It was too hot to be outside all day so we headed to the indoor soft play and weren't disappointed – the main section was very similar to the Willows Farm Woolly Jumpers (no complaints there, then) and in addition to that they had a new section called "Magical Veggie Wood" which had lots of cool climbing and slides for all age ranges, interactive music buttons and a giant pumpkin to explore. My 2 and 5 year olds played in there for at least 40 minutes without coming back to bug me, which (for my kids) is genuinely unheard of.
We hadn't taken a picnic so had to get lunch in the café and I was really really pleasantly surprised by how good it was – there was a good range of fresh AND healthy choices. Other farm parks please take note: this is what people want!
There were lots of areas we didn't get to (the go-karts, the mini-golf and the tractor ride etc) because the kids were worn out so we'll have to go back another time.
All in all, I would strongly recommend Mead Open Farm especially if you have kids with a wide age gap – there's something for everyone to do. The prices weren't too bad (£13.45/adult and £12.45/child at the weekends) considering the competition, although I would probably stick to going on a dry day so as not to miss out on any of the outdoor activities. The under-twos are free of charge, so very much worth going if yours are still small.
Satnav: Stanbridge Road, Billington, Leighton Buzzard LU7 9JH
Website: www.meadopenfarm.co.uk
Mum's guide to St Albans has not been paid or rewarded in any way to write this review, all opinions are my own. Please check the website before you travel.