Hello everyone, I'm Felicity and I have just joined forces with Sarah to manage Mum's Guide To St Albans! I have 2 little boys, dinosaur fanatic and all things spooky obsessed Henry (3.5 years) and animal loving, tractor adoring Oscar (1.5 years). I live in Fleetville in St. Albans and have been here since January 2019 after moving from NW London. I know the area well having spent my secondary school life here and I'm thrilled that my little explorers get to enjoy such a wealth of amazing events and local businesses that this great city has to offer (….and it's not too bad for us adults either! 😊). I also met Sarah here after a post on this very site advertising one of her family photoshoots.
Sarah did these wonderful natural photos for my family in a little hidden spot in our beautiful Hertfordshire countryside, she is a very talented photographer and creates lovely images for our Mum's Guide to St Albans social sites.
When I'm not looking after Mum's Guide to St Albans I do also work part time as an Executive Assistant. When I'm not working you'll often find me at a toddler group, in a playground or trying to divert the attention of 2 snack demanding head strong pre-schoolers.
If you are a local business we would love to hear from you, please do get in touch with me and be sure to add your local business or organisation to our online listing form to appear on our website (Basic listings can be added for FREE and there are additional advertising packages to suit all budgets). We also are really interested in hearing about local events for children/teenagers or families and can include events on our 'What's On' page. Please do visit our website for full information on how we can help with your news for local families.
Looking forward to hearing from you and supporting our local businesses!
Felicity x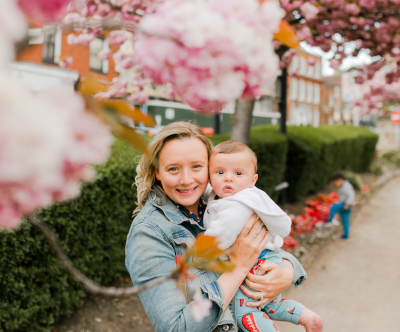 Hi, I'm Sarah and I'm very excited to share that I'm the newbie that is now looking after things here at Mum's Guide To St Albans! I'm mamma to my little whirlwinds - three year old Theo and six month old Caspar and we have been living in Fleetville in St Albans since September 2019 having moved from east London. We REALLY love it here and I have been using and referencing Mum's Guide To St Albans since we arrived here! We are always out and about exploring the area, supporting local businesses and enjoying all the lovely things that St. Albans has to offer families.
When I'm not with my little gang or looking after Mum's Guide to St Albans I'm running my own business - I'm a family photographer http://www.sarahdaghestaniphotography.com/ and I'm always posting about what we get up to locally. If you are a local business please get in touch with me to tell me about what you're up to! I'd love to hear from you and would love to feature all your news for local families.
Sarah x
Please send me an email here, I'd love to here from you:
About Mum's Guide To Ltd
Mum's Guide To Ltd began in 2012 when four mums from Harpenden set-up a website to give local families in a comprehensive, one-stop shop to find all the information they needed about living in the area with children. The site quickly grew to become the most popular site for Harpenden parents and carers. In 2017 the mums decided to spread their wings by launching Mum's guide to UK giving parents across the country the opportunity to set up their own local Mum's Guide To sites.
Our philosophy is quite simple:
Each site focuses on a single town and is run by local parents.
It covers children of all ages from bumps to teens.
It's as comprehensive as possible - covering activities and things to do, parties, local facilities, services and child-friendly businesses.
We are pro-active about seeking out new businesses and keeping the information up-to-date.
A basic listing is always free so even the smallest groups and new businesses can be included.