Having done Willows and Woodside to death recently, we fancied trying somewhere new, so off we set to Old Macdonald's Farm which we'd driven past hundreds of times on the M25 but never actually visited.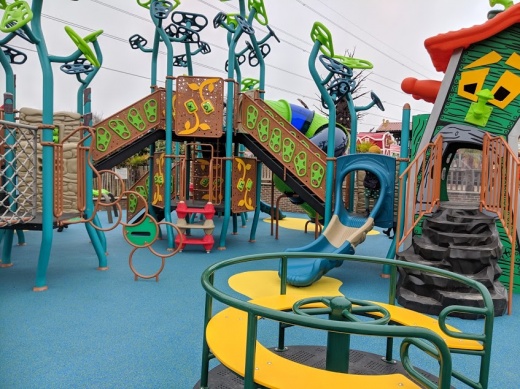 Predominantly its a petting farm, but like all these places, the main sources of fun are the cool rides, the maze, the outdoor play areas and the soft play. I personally have no problem with this, but others might be disappointed that its not more animal-focused. The rides are all very sweet and fun but on the whole quite tame, I'd say perfect for 3-6 year olds (or older kids who are scared of rides, like mine).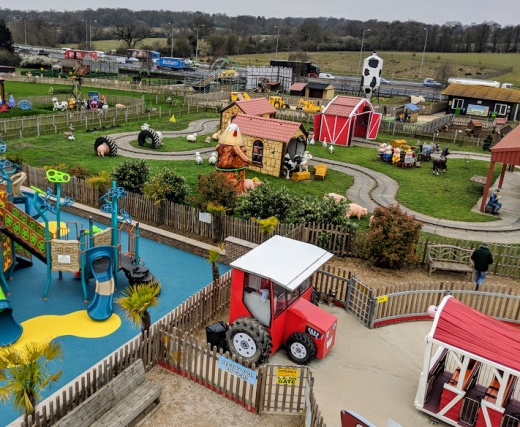 View from the helter skelter
We were lucky enough to be there mid-week term time so there was not a soul in the place, but after checking with staff, they told me it "rarely gets busy enough to queue", which pretty impressive considering the waiting times for very similar rides at places like Gulliver's Land or Peppa Pig World. The outdoor play area was probably one of the best we've ever been to, great fun and very varied in terms of age so something for everyone.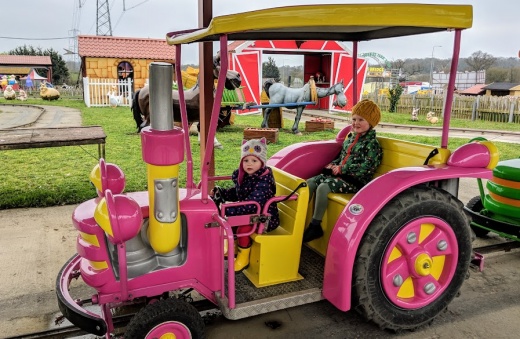 The price (£35ish online WAY in advance for 2 paying adults, 1 child and 1 tot) was quite a lot considering the place wasn't huge and it wouldn't necessarily constitute an entire days worth of fun (unless you were really taking your time over things). We took a picnic so can't comment on food or service, but all the staff we encountered were fantastic. The parking is easy - huge car park right by the entrance and there was pretty much no one there when we arrived (15 mins after opening).
Being a solid 40 minute drive from St Albans, its quite a long way to travel BUT if you find yourself going clockwise round the M25 and need to stop off somewhere for half a day to let the kids let off some steam, this is the place to do it.
Satnav address: Old MacDonald's Farm, Weald Road, Brentwood, Essex, CM14 5AY
Official website: https://www.omdfarm.co.uk/
Mum's guide to St Albans has not been paid or rewarded in any way to write this review, all opinions are my own. Please check the website before you travel.