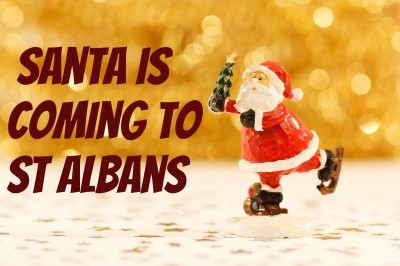 It's official...Santa Claus is coming to town! In St Albans we're lucky to be spoiled for choice for places to meet Father Christmas. Whether it's in a winter wonderland, a Christmas grotto or on a sleigh, here are our top places to catch him:

St Albans Round Table Santa Float
Between the 3rd and 24th December Santa's sleigh will be travelling through St Albans collecting money for various local charities. There's something magical for little ones about seeing Santa go past the window.
Check if Santa is coming to your street here

St Albans Lions Club Santa Float
The St Albans Lions will be touring the town with Father Christmas and his sleigh, Christmas music whilst collecting money for charity. They visit slightly different areas than the Round Table, so most of the town is covered by a visiting Santa!
Santa will visit Park Street on 11th & 12th Dec, Bricket Wood on the 13th Dec, Waitrose King Harry Lane on the 15th Dec, Jersey Farm on the 18th - 20th and the Quadrant in Marshalswick on the 22nd Dec.

Reindeer on the Mall
Ok, so strictly speaking you won't see Santa here, but you can meet and pet the big man's reindeer at Christopher Place shopping centre on Saturday 22nd December 11am - 3am. And it's free.

Santa's Abbey Line Grotto
Take a ride on the Abbey Line to meet Santa and his elves at his grotto at Bricket Wood Station. Festive fun, games and presents are all up for grabs.
A train ticket is required, or a small fee (£2.50) on the door. It's on Sunday 9th Dec 1pm - 4pm. Register online at www.abbeyline.org.uk

St Albans Museum
If you fancy a more charitable approach to Christmas, you can donate a gift to Santa to help refugees at the St Albans Museum. They're after warm clothing for children in desperate need this winter. Visitors can meet Santa and have their photo taken free of charge and they get a lollipop instead of a present. The warm fuzzy feeling you get for helping charity is for free.
It's on the 15th December, 10am - 4pm.
Find out more information here

Meraki Christmas Festival (formerly St Alban's Christmas Market)
There's going to be plenty of festive fun at Meraki this year. The market has moved from last year's spot in the Vintry gardens to the Verulanium Park events meadow, opposite Westminster lodge. Choose from a 40-minute Father Christmas experience or a more traditional Grotto meet & greet. (Advanced booking for Father Christmas Experiences is recommended so get in there fast!)
30th November -22nd December 2018
Click here for more information

St Albans Notcutts Garden Centre
Enjoy a truly special Christmas experience this year at Santa's Grotto where a magical Winter Wonderland awaits! As well as meeting Santa, your child will receive a Christmas gift, personally given by Santa. (There are a limited number of short individual visits within each half hour booking slot so there may be a short wait.)
Saturdays and Sundays from 18th Nov, Thursdays in Dec and Christmas Eve 2018

Santa Spectacular at Willows Activity Farm
Willows hosts it's annual Santa Spectacular between the 21st November and 24th December. The Santa Spectacular is a full day out of indoor and outdoor fun including meeting Father Christmas in his glorious grotto and receiving a golden key to his Toy Shop, attending Elf Academy, saying hello to Santa's reindeer and so much more.

Burston's Garden Centre
Between the 24th November and the 24th December Burton's Garden Centre are hosting a magical Christmas grotto where children can meet Santa. They'll be led into the winter wonderland by Santa's elves and talking reindeer 'Sprout' will tell the story 'Twas the night before Christmas'. Families will visit Santa individually, children will receive their age-appropriate gift and there is a photo opportunity. Festive meal packages can also be purchased in the cafe afterwards.
(It's also worth checking with your school to see if you can get a contribution to your PTA fund with booking)

St Albans Christmas Lights Switch-on
Between 12- 6pm on Sunday 18th November you can see St Albans Christmas lights come on and meet Santa in his grotto. There are also plenty of food stalls and entertainment on St Peter's Street.

Santa Claus and the Magical Christmas Journey - Watford Colosseum
Combine a show with meeting Santa at the Watford Colosseum from the 1st - 24th December. You can expect a festive show with songs, stories and a meet and greet with Santa at the end with a gift.

intu: Watford
It's officially Santa's busiest time of year, but that's not stopping him jetting in from Lapland to find out who has been behaving themselves. It's sure to be a truly magical experience. Don't forget to bring your wish list too, so his elves can start preparing their Christmas deliveries!
Find our magical trail in our gallery space above Next. Simply take the escalator from the upper mall up to the grotto entrance where you'll be greeted by a friendly elf before embarking on your magical journey to meet Santa. Once you've told Santa exactly what's on your Christmas list this year, he'll present you with a small gift to get you in to the festive spirit. The grotto will be open from Friday 23 November right up until Christmas Eve.

Aldenham Country Park Frost Fair
The Frost Fair will host plenty of festive fun, with over 150 exhibitors including entertainment and food stalls, and Santa in his Christmas Grotto.

Knebworth House Sunday Lunch with Santa
2nd, 9th 16th December 2018
Give your family an early Christmas treat with a fantastic lunch at Knebworth Barns, complete with a visit from Santa and a gift for every child. Pre-booking essential. Tickets expected to sell out early.

Van Hage Garden Centre, Great Amwell
17th November - 22nd December 2018
Santa will magically reveal a real mini Christmas tree for each child to decorate and take home, along with his traditional present. Great Grotto's cheeky elves will greet you with a smile upon arrival and when ready, invite you to walk through into Santa's chamber. Only families with a pre-booked ticket can visit Santa on weekends and the week before Christmas. Outside of these dates it's first-com first-served.