If you have just welcomed a new baby - HUGE CONGRATULATIONS! Oh the newborn days - your teeny tiny bundle - the little toes and fingers, all the little details, the evolution for you and your partner to parents, or maybe your other child or children becoming a big brother or sister for the first time. It's such an incredibly special and unique time and it passes so quickly. It is important to capture this time and your new little person.
I've put together some of my top tips for creating beautiful, timeless and natural photos of your newborn baby in your own home.


Sarah x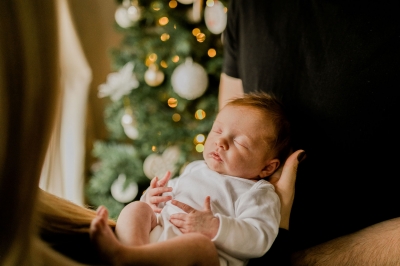 FIND THE BEST DAYLIGHT
This will likely be beside a window or glass door between the hours of 10am - 3pm and switch off the indoor lights. Natural light is the most flattering and beautiful and doesn't cast strange colours or shadows like your indoor lights do. Get your baby's sleepyhead or Moses basket or just layer up lots of soft cosy blankets and move your baby next to the window and enjoy all that beautiful natural light. Avoid direct sunlight i.e. if you have a big east facing glass door then the light will be very strong in the morning so you would be better to wait until the sun has moved away from directly shining through the glass door.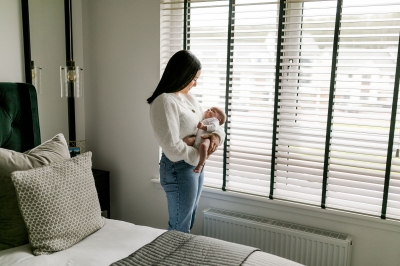 DON'T WORRY - YOU DON'T NEED A STUDIO OR STYLED SPACE
A clear area beside a big window or glass door with lots of natural light can be perfect! Most of my newborn baby shoots take place in a relatively small space, it's about the lighting and some gorgeous natural and simple props like a textured blanket.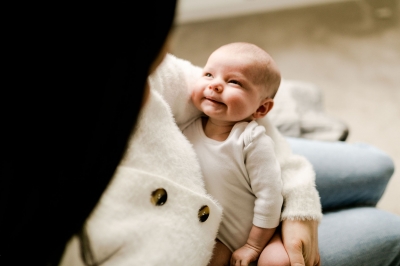 TIMING
Make sure you pick a time when your baby is fed, happy and relaxed, not overly tired or hungry.
CAPTURE THE DETAILS
Little wrinkly hands, lips, forehead with a frown, those tiny little baby hands... these little things change so quickly... capture them as best you can!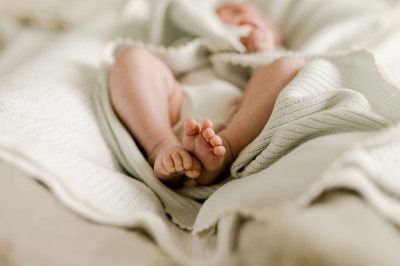 KEEP IT SIMPLE
A little simple white baby vest is perfect to let your baby be the star of the shot and create super beautiful and timeless shots. A vest is perfect as it means you can see your baby's hands and feet. Maybe photograph your baby with a beautiful textured blanket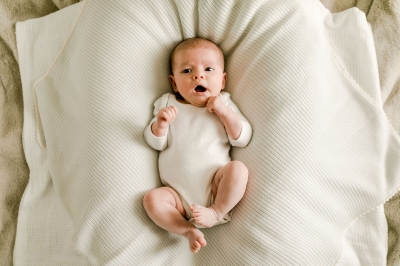 GET THE ROOM WARM
Make sure the room is lovely and warm so that your baby is as comfortable and relaxed as possible
KEEP THE POSES NATURAL
There are a lot of staged baby poses on Pinterest and Instagram, many of these are created in Photoshop or are potentially dangerous if not done with a lot of training such as "froggy pose". These are poses that I recommend avoiding
DECLUTTER
Remove doormats, mess, toys and anything that can be distracting from the photos. Take a test shot in advance of the space and see how it looks, if you're happy with the space, then add baby to the picture!
COME UP WITH A LITTLE PLAN IN ADVANCE
Plan a couple of shots that you would really like to get in advance
GET IN THE PHOTO
Mamma - I know you're very likely exhausted and not feeling like yourself but in the future you will be SO GLAD that you have photos of yourself. One of my favourite childhood photos is of myself, my little brother and my mum just after she had my younger sister. We're in the hospital (back when visiting a new baby in hospitals was a thing!!) and my mum and baby sister are in bed and it's such a lovely photo. Maybe take little bit of time to have a shower, wash your hair, put on some lipstick (if that what makes you feel better!), wear something that you like - neutral and comfortable can be a good idea - and get in the photos :) Even if you put your PJs on immediately afterwards!!
WRAP THE STRAP AROUND YOUR HAND/HOLD ON TIGHT TO YOUR PHONE
Be careful not to drop your camera or phone on your baby!! I know it sounds obvious but it can happen so easily! I've definitely dropped my phone on my own face a few times when scrolling in bed before, oh dear, haha!