With the news that lockdown has been extended for another three weeks comes the realisation for many that their Birthday will occur whilst still in lockdown. But don't panic, we've been through it and with a bit of effort your child (or anyone for that matter) can still have a fantastic day. And who knows, maybe it will be one of the most memorable Birthdays they have ever had?!
My daughter's Birthday coincided with Easter Sunday this year, so we did have the added benefit of the chocolate excitement as well. However, I was also very conscious that I needed to be organised well in advance of the actual day if it was all going to go according to plan. Deliveries are taking longer at the moment, so I was careful to order presents well ahead of the day. I also knew that some older family members would not be in a position to go out and buy presents and certainly wouldn't want to be taking anything they did manage to obtain to the Post Office to send it, so I liaised with them and bought presents on their behalf which got delivered to our house for me to wrap. It did mean more wrapping for me, but it was worth it when my daughter woke up and saw she had received family pressies after all!
I had planned on really going to town on decorations around the house, but I confess I ran out of energy the night before after sorting things for her Birthday and Easter. However, Party Box had sorted me out with beautiful rainbow coloured helium balloons in my daughter's age, sparkler candles and a pinata – all delivered a few days before her Birthday. Together with some balloons and a banner dug out from my stash in the loft the house looked suitably festive.
I was very conscious that family and friends really do usually make a Birthday special. I therefore contacted all aunts, uncles, grandparents, special school friends, Godparents etc in advance of the big day to ask them to send a little Birthday video over to me. They all obliged, and I roped in my other half to compile them into a montage for the Birthday morning. He took his job very seriously and the finished result was brilliant. The messages were a fantastic mix of comedy, music, candles, and everything in between – I was extremely impressed with the thought and effort that had gone into them. When it came to her best friends telling her how much they missed her, I admit I shed a tear, and I know my daughter got a lot out of seeing all those wonderful Birthday messages just for her.
Next up was a treasure hunt around Harpenden. Again, it had taken a bit of forward planning, but I had got in touch with friends spread around Harpenden and asked if they would pop a treasure hunt clue in their front window. With a bit of help from family I then compiled suitable clues to take us on a brilliant cycle treasure hunt round Harpenden. I think we cycled 6 miles in the end, so it was great for working up an appetite for lunch and counted as our one bit of daily exercise for the day. At some stops we were lucky enough to be sung to from a bedroom window (good social distancing!) whilst we read the clue. It definitely helped us all feel a bit more connected to the outside world without breaking any rules!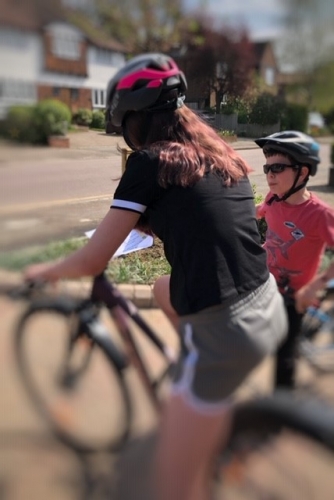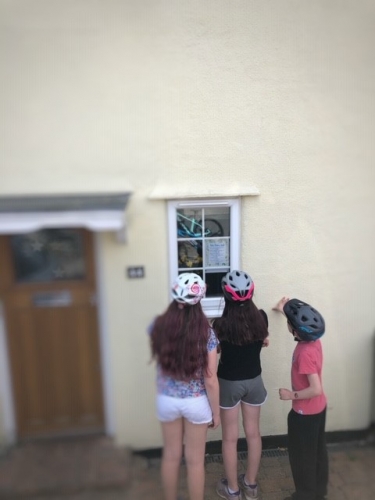 The afternoon was taken up with playing games online (e.g. Articulate) in a virtual house party with extended family (some had even made cakes their end so we could all eat cake 'together' like we usually would), a group video chat with her friends and trying out new games she had received for her Birthday ('Throw, Throw Burrito' is now a firm family favourite!). Alternatives to any of that would be some sort of organised virtual party. Lots of companies are now offering them and I'm sure they would make the day very special too. Have a look at our Online Party section for inspiration.
Food featured highly in the planning and the Birthday girl had picked what she wanted for breakfast (pancakes and hash browns of course!), lunch and dinner! We were also lucky enough to have secured a Mini Movie Night / Birthday Treat Box from Feeding Time. It was beautiful and featured iced biscuits with all three kids' names on them. And it was delicious! (I may have eaten a bit more of the popcorn than I meant to!)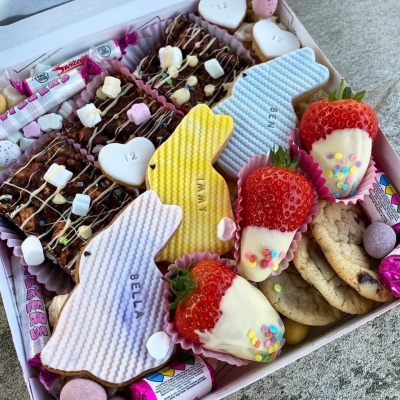 Finally, in the evening, a very lovely neighbour had organised a Birthday sing song in the street. It was a complete surprise to the Birthday girl, but upon being dragged out the front of the house at 8.15pm she was greeted by a fantastic rendition of 'Happy Birthday' from lots of the neighbours, all holding lit candles, and all adhering to strict social distancing rules of course as well. It was another emotional moment and one which will definitely live on in her memory forever, even if she was a little embarrassed!
After a movie chosen by the Birthday girl I think we all went to bed that night exhausted but happy. We had managed to make a Birthday in lockdown just as special, if not more so, than a normal Birthday. Now I just need to hope I don't have to do it all again for my son in June because I'll need lots more new ideas!!!