It may have been a rather dull and rainy day, but there was no shortage of Festive Cheer at Lee Valley White Water Centre's Christmas Launch. We were invited along to try out what was on offer.
Our first stop was the all-weather skating rink, which means it's undercover and it's real ice! The session lasted 45 minutes, which was just right for us. Having tried out skating before the children were able to get the hang of it again quite quickly and make the most of the session. It's smaller than a commercial rink might be, but it wasn't overcrowded, and it felt like everyone was there to have a go a bit of fun, rather than being full of serious skaters doing tricks and speed-skating (I held back on the urge to release my inner Torvill & Dean 😉) The marshals on the ice were very attentive, making sure that anyone who took a tumble was back on their feet again in no time and skate aids are available free of charge (but subject to availability) for younger skaters. A ticket for a family of four costs £30. There are also curling sessions available, if you fancy giving that a go.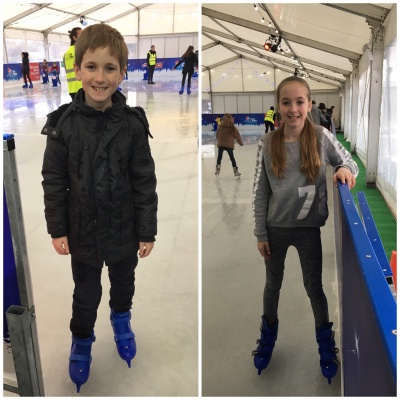 We finished our session in perfect time to head round to the 2012 Olympics Rapids course to watch Santa "arrive" down the course in a raft steered by Rudolph and some Elves! With much hilarity a very wet Santa made it to the bottom without anyone ending up in the water. Quite an entrance!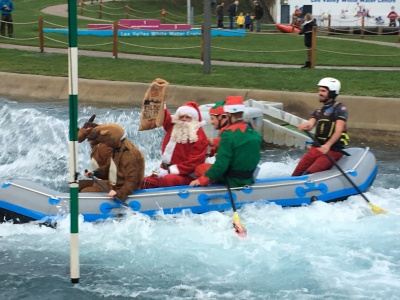 We had a bit of a gap until our session to meet the man himself, so we headed off to check out the fun fair. There was a good range of rides with a mix of the traditional and the more modern, and something for all ages. The children enjoyed trying out the Ferris Wheel, the swing chairs and the dodgems. Tokens are required for each ride and are available for £1.20 each or £10 for 10. Most rides appear to require 3 tokens per person to ride, or 4 tokens per car for the dodgems.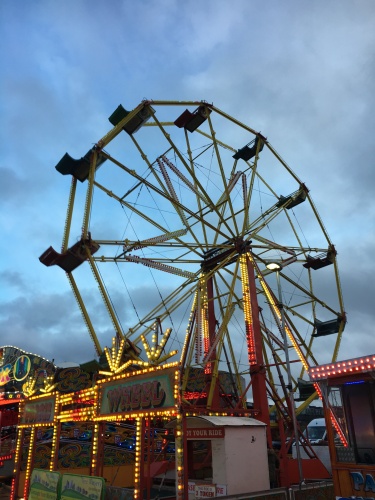 With some time still left until our visit to Santa we decided to warm up indoors with a hot drink and a cake (or in the case of my son, a tuna sandwich, which he said was the best he had ever tasted!) at the Terrace Café. The café was very nice with a good range of drinks, delicious cakes, sandwiches (as already mentioned) and hot options too, if you wanted more than a snack. During the Christmas event refreshments are also available at Rudolph's Retreat and Santa's Pit Stop outside by the fun fair.
Suitably revived, it was time to visit Santa in his cosy log cabin. We were greeted by his cheery elves and didn't have long to wait. Having dried out from his white-water experience Santa was very jolly and in good spirits, and although only my youngest was of an age suitable for a grotto experience, the older two came in anyway and Santa took time to chat with them too. A visit to Santa costs £8.50 per child with accompanying adults going free and includes a gift for the child.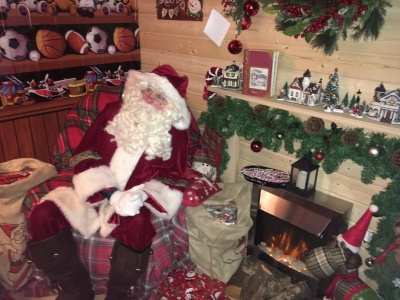 The Christmas Event at Lee Valley White Water Centre runs Friday – Sunday, plus additional days around Christmas and New Year (see website for exact dates) until 6th of January 2019, and entry is free.