We stepped outside into the bright sunshine aware that we were now officially Ladies that Lunch and immediately bumped into a friend:
"How was lunch?"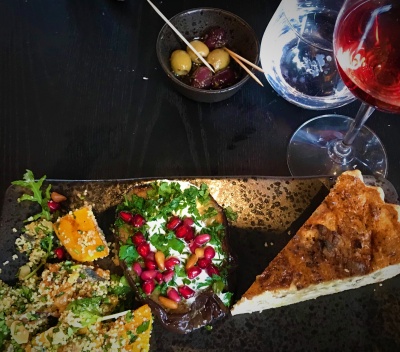 Well…I'm not easily swayed (away from my favourite restaurants) and as my friends know I'm very fussy with food and drink and even more so with where I sit to enjoy it. I'm even more pedantic about the experience itself and the atmosphere which is created not just by the venue but more so by the staff. It was a huge relief that this decadent new wine bar had chosen it's waiting staff to be refreshingly attentive, friendly and warm. You know that even if something small may go wrong they will quickly and willingly correct it and that makes you want to return. We were made to feel important, which to be honest is why you go out and spend your hard-earned money and not just stay at home! And, as to the answer of my friend's question: "The food was very tasty – perfect selection and size for lunch. I had leek and Roquefort quiche with a selection of salads. The accompanying wine was fresh and easy. I had the rosé which, coupled with the quiche, was not only delicious, but I felt decidedly very grown-up.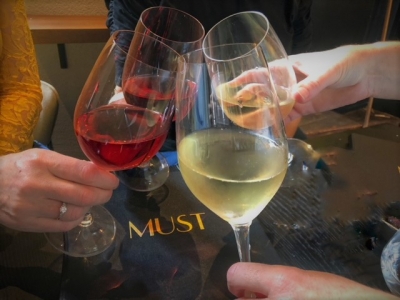 "This is going to be a dangerous venue!"
Opening at 8am for teas and coffees – the new coffee machine arrived whilst we were there at the invitation of the owner. It is going to be the place to hideaway after school drop-off. No more chain coffee shops needed to catch up on emails or catch up on the latest playground gossip. The way the seating is carefully arranged you can relax in the knowledge that no one will tap on the window and come in because you've been seen!
Stay for a quick bite to eat with some good friends and sample the different platters each time you visit because you'll want to try them all. I was torn between the charcuterie and the cheese platters but I fancied a glass of rosé so I settled on the quiche and butternut squash, pomegranate and aubergine and cous cous salads and I wasn't disappointed. Actually, writing it down is making me hungry again. The set lunch menu includes a glass of wine of any colour and a speciality tea or coffee to help you remember that you do have children to pick up from school. But it's ok because as soon as you've given them dinner you can sneak back out and enjoy one of the wine tasting evenings in the wine 'cellar' that on Sundays is only £10 to sample 3 wines to give you an introduction to their selection. Or, grab your other half for a romantic, mood lit retreat from the craziness of the working day and then for just a couple of hours you can remove yourself from reality, pretend you are still young and free in a very swanky, totally on-trend, wine bar and relax into a velvet armchair with a glass of wine to suit every palate.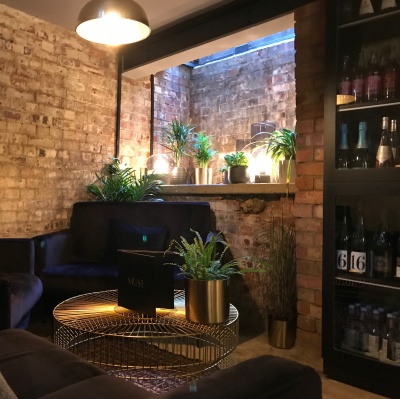 So, this beautiful venue is:
· a MUST for your next Book club meeting
· a MUST for your next Class night out
· a MUST for your next PTA wine tasting event
· a MUST for your next Private party
· a MUST for your next Date night
Whatever your occasion it's a MUST!