Nurture in Nature Forest School is a new local business which offers weekly sessions for parent and toddlers, home educators and schools. Sessions are run by Caroline, an experienced Primary School teacher and qualified Level 3 Forest School Practitioner. Living in Amsterdam for several years, provided the opportunity to experience alternative education approaches and sparked Caroline's ambition to move away from didactic teaching and create a child-led learning environment that she is passionate about. Here she tells us why:​
"I have always loved being outdoors and following the birth of my own children, I enjoyed spending time exploring nature with them and seeing their wonder and excitement. After attending a Forest School with both my daughters, I realised that this was the perfect match for my love of nature, working with children and being able to offer a holistic, child-led provision.​
"I embarked upon my Level 3 Forest School Practitioner training in 2018 and the joy and excitement on the children's faces and their level of engagement in the sessions reaffirmed my belief in the benefits of providing all children with a Forest School experience and so I decided to set-up Nurture in Nature Forest School to offer more opportunities for children to engage and learn outside.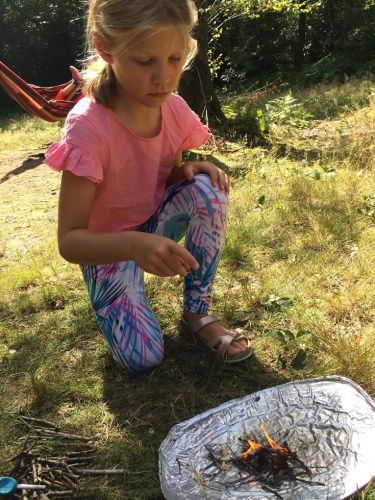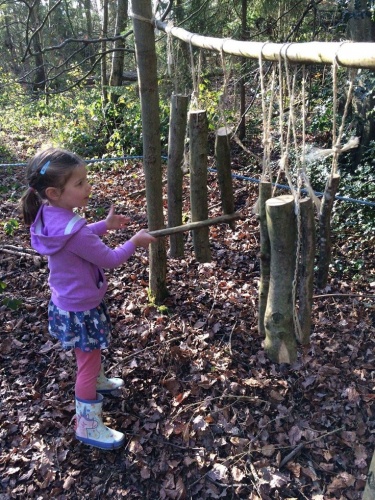 "Through small, achievable tasks our children experience continual successes increasing their self- esteem and confidence. Activities are inclusive and value the uniqueness of each child, helping to develop independence, problem solving and social skills.​
"Spending time in a natural, outdoor woodland environment helps connect our children back to nature. They are given time to discover, learn about and take responsibility for the environment and the natural world we live in, supporting them in their journey to become responsible, caring global citizens."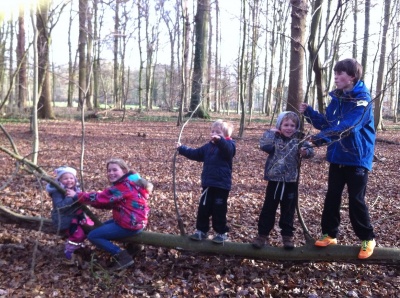 Acorns & Oaks: Preschool sessions for children (18 months - 5 years) and their accompanying adult.
Come and enjoy spending time together exploring the woodland as the children learn about nature through play, storytelling, nature crafts, games and practical skills such as whittling and cooking on camp fires.
Sessions are held every Tuesday and Wednesday morning during term time.
Saplings: Sessions for home educated children (5 -11 years).
Children can come and enjoy an afternoon of Forest School in the woodland. Activities are tailored around the children's interests and requests but could include tool use, fire lighting, nature identification activities, natural crafts as well as games, storytelling and free time for exploration.
Sessions are held every Tuesday afternoon during term time.
From den building, to cooking on fires, whittling, to nature art, there is always plenty of fun, mud and exciting adventures to be had in nature, so grab your wellies and join us!
For more details visit www.nurtureinnatureforestschool.co.uk or email [email protected]