We were kindly invited along to experience all that Shepreth Wildlife Park had to offer. Back in 1984 Shepreth Wildlife Park, previously known as Willers Mill Wild Animal Sanctuary opened their doors to the public as a refuge for orphaned and injured animals. They have grown hugely over the years and have raised over £500,000 for conservation projects worldwide. Shepreth is home to the only Hedgehog rehabilitate and release Hospital in the area and have rescued in excess of 4,500 since opening. Shepreth host many fundraising events and awareness days throughout the year, more info can be found here.
Shepreth Wildlife Park is open daily 10am - 5pm and prices are :
Adult: £13.50
Child: £11.50
Concession: £12.50
Annual memberships can be purchased with prices starting from just £50 and a number of exciting animal encounters can also be purchased.
We arrived by car (just 30 minutes drive) to find ample parking as-well as being conveniently located next door to a train line, so can be easily accessed by public transport.
We were given a map (which is also available online here) which informs you of when and where keeper talks are being held, we managed to catch a couple of these and found them really interesting and informative.


KEEPER TALKS
11:00 AFRICAN SANDS
11:30 HIDDEN TREASURES
12:30 TROPICAL HOUSE
13:00 RED PANDA
13:30 BIRDS OF PREY
14:00 SUMATRAN TIGER
14:30 BLACK & WHITE RUFFED LEMUR
15:30 OTTER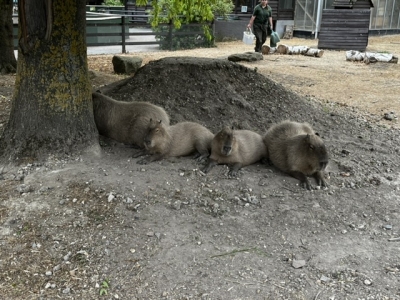 Shepreth is home to an array of animals including Donkeys, Capybara, Red Pandas, Lemur, Macaw, Tigers, Otters, Meerkats, Porcupines and Bats to name a few. There is a nocturnal house (which my 3 year old loved) where bats are free flying - you do still have to wear a mask to enter this area and that includes children, masks are available at the front desk for 50p (which is a small price to pay in order to protect the bats) and also prams aren't permitted inside. There is also a reptile house which we didn't get to explore as my daughter did not want to and was far more interested in watching the Red Panda having lunch.