Updated 28th May
I was a primary teacher for 10 years and have a lot of experience across both key stage one and two. I know many local families are already self isolating at the minute. I thought that it might be helpful to share with you a list of websites that offer support and activities for children while they are off school.
Edit: I recently read a really interesting article by a head teacher and I wanted to share some of the points that really struck a cord with me, as a parent and as an ex teacher myself.
Many parents are feeling stressed and overwhelmed at the prospect of having to home school their children while also trying to work from home. This is an unprecedented event, an emergency situation.
If you are having to work from home, your work is important and has to take priority. It's what pays the bills!
Schools are NOT expecting you to be teachers and to home school your children. Primary age children are too young for distance learning and even at secondary age, this is somewhat challenging. If they have sent work home it is merely to support you.
Schools had little or no time to prepare for this situation and they are conscious that many parents have an expectation on them to provide work/activities/support.
As a parent you have always been the primary educator of your child - and that will never change. It is entirely up to you how you and your children spend your days while at home. If you decide to follow the guidance sent home by your child's school, or to ignore that and do your own thing, that's fine. No one is judging you.
We are all just winging it - you, me, our neighbours, our friends.
So this article will continue to be updated and edited as time goes on. I will add new sites and information as it comes to me. It's here to support you and to help you find activities that will alleviate the boredom and help fill the long days ahead. And if the kids are learning as we go along, well that's a bonus!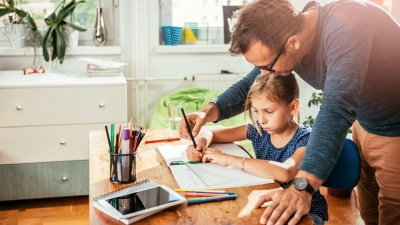 These sites ALL offer some activities FREE and some of them will have subscription packages to access some of their content.
You will need to install Adobe Flash player to access many of these activities and games.
Primary (EYFS, KS1 and KS2)
Oxford Owl - This site contains free ebooks, printable activities and worksheets and advice on how to support your child with reading, phonics and maths.
Phonics Play - A huge selection of phonics games to access from a laptop or desktop. Login details:March20 Password:home.
Top Marks - This website has a huge amount of activities ranging from preschool activities to key stage 4.
Mr Thorn Does Phonics - a terrifc YouTube channel with lots of resources to watch and join in with.
nrich - Maths activities across all key stages. All areas of the maths curriculum are covered.
Primary Resources - this is a good website if you have a printer - lots of worksheets across the primary curriculum.
BBC Bitesize - this is a great site that has resources from preschool through to 16+. Video content and games.
BrainPop Jr - You can access content on this site for 30 days completely free.
CBeebies - so much content here, some of it is educational and some is just fun! Suitable for preschool, Reception, year 1 and year 2.
Pobble 365 - every day this website produces an image which can be used to encourage story writing.
Education Quizes - suitable for all ages with lots of variety.
Nasa Kids Club - learn all about space, great to encourage a love of something new!
The Maths Factor - this website is free to join while the schools are closed. There are age appropriate activities and challenges. The site is busy so it can take a couple of days to get your registration approved but once you do, it's terrific!
Reading Eggs - this site is not free but you can have a 2 week free trial once you sign up.
Shaun's Game Academy - suitable for all ages. Learn how to make your own online game.
Mr Mc Making Memories - this has lots of printable resources aimed at EYFS and KS1 literacy.
BBC Newsround - a great learning resource.
Headstart Primary Activity Booklets - Maths and English activity booklets for each year group, including answer booklets.
Twinkl - the website the teachers all use! Great resources and free for one month. Use CVDTWINKLHELPS to access.
Storytime - while there is no substitute for reading to your child yourself, those who love stories will enjoy this website.
Audible - Free audio books while the schools are closed.
IXL - Lots of resources and activities here for all ages.
Activity Village - this website is usually by subscription but they have produced downloads of activity sheets and colouring pages to print at home because of the school closures.
Hamilton Trust - There is a FREE section of this website with literacy, maths, science and topic based resources.
SATs Papers - if you feel the need to do some tests you can print off some past papers here.
Mystery Science - this is an American site but they have some really good content. There are a limited number of FREE log ins available so get signed up!
National Geographic Kids - not everything here is free but it is worth signing up as there is still a lot that kids can access and enjoy. Very interesting site (and educational which is a bonus!)
Tinkercad - this is new to me but it looks amazing! FREE online tools to help create 3D design. Great for coding! Upper KS2 and above.
There are some amazing resources available on YouTube too. For early phonics and numeracy clips follow Mr Mc and for lots of phonics fun covering all phases with Geraldine Giraffe you can follow Mr Thorne does Phonics. An American channel called Crash Course Kids has weekly updates of science videos and general fun things to watch and learn about.
Babelzone - This website has early French and Spanish speaking resources for those wanting to learn a new language or keep up with learning at home. They are offering a FREE subscription for the next 3 months using the code LCF2020sch
TTS - FREE workbooks for all primary phases.
The Maths Factor - Carol Vorderman's website is now free to access while the schools are closed. Maths matched to the curriculum for children aged 4-12 years.
100 Books - This is a fantastic FREE list of 100 books that kids can read, organised by school year group. Many of the books you will already have on your bookshelves. There are activity sheets free to download for most of the books! Keep reading!
Houses of Parliament Resources Archive - Lots of free to access resources across the key stages, everything from the Gunpowder Plot to Debating.
Go Noodle - Thank you to local mum of two Roisin who has sent us this amazing website which will keep kids active!
RSPCA - Some great ideas here for creative activities, word searches, fact files and much more. Brilliant for those interested in animals and nature.
MEL Academy - this is a must for any budding young scientist! It's free for a limited period (3 months)
Tynker - Coding for kids made easy. This site usually has a fee but will be free while the school closures continue. Perfect for ages 5+
Discovery Education - this is a subscription site usually for schools to set up and share but they do have some free activities and sheets that can be printed. Follow the FREE section in the dropdown.
National Geographic Kids - This is a great website for finding out about our world - whether its tigers or volcanos, its all here!
Starting from 20 April educational videos, quizzes, podcasts and articles will appear on BBC Bitesize Daily via the BBC iPlayer, red button, BBC Four and BBC Sounds.
Secondary (KS3 and KS4)
I have been sent these ideas by a colleague who teaches in a local secondary school.
BBC Bitesize - a wealth of resources for all ages.
Get Revising - covers all subjects from GCSE and above.
Gojimo - this is an app to install on a phone. It has over 40,000 practise questions available free of charge across the curriculum.
IXL - Lots of resources here for all ages.
Activity Village - fancy some relaxing and therapeutic colouring? Free downloads here.
SATs Papers - there are past papers available to download here.
Tinkercad - I added this to the section above too. It's new to me but it is a FREE resource where you can create 3D designs. Great for coding and general tech wizards!
Bex Harper - this is a tutor's website and they ahve a lot of content specifically for seceondary ages. Definitely worth a look.
Houses of Parliament Resources Archive - Lots of free to access resources across the key stages, everything from the Gunpowder Plot to Debating.
**For those sitting GCSE and A levels - visit your exam board websites and there will be practice/past papers to download.
Audible - Free audio books while the schools are closed.
Starting from 20 April educational videos, quizzes, podcasts and articles will appear on BBC Bitesize Daily via the BBC iPlayer, red button, BBC Four and BBC Sounds.
Let's Get Physical!
PE with Joe Wicks - every morning at 9am but can be accessed at any time.
Cosmic Kids - if PE with Joe is a bit too tricky for your little ones, this could be a great alternative.
Bushin Martial Arts - Free sessions via Zoom 3 times a week. Something for ages 16+
Spellbound Academy of Dance - message Katie via the FB page to access the FREE dance lessons!
Ambitions Gymnastics - This YouTube channel are posting daily gymnastics videos for all ages from preschoolers up to 11+.
Get Creative!
Draw with Rob - this is a fantastic site where the illustrator is uploading video showing us how to draw some of the characters in his books. Suitable for all ages! There will be regular uploads to keep your eyes peeled!
RSPCA - Some great ideas here for creating all sorts of things from egg box animals to a hedgehog house!
The Real World
Live webcams at Zoos - this will take you to a fantastic list of zoos which all have cams on different animals.
Museum Virtual Tours - Take a tour at one or all of 13 museums from around the world!
Foxes Farm - Fantastic videos being created by Foxes Farm in Essex showing key elements of farming at this time of year.
Wild Days - Sign up to this website to get access to free content. A daily one hour session on all things outdoors linked to science and nature with Nick Bater from The Really Wild Show!
Natural History Museum - Delve into the Museum from home with a virtual self-guided tour of the galleries, an interactive experience about Hope the blue whale and audio guides narrated by Sir David Attenborough.
Dinosaur Activities at the NHM - More from The Natural History History Museum - lots of Dinosaur themed activities!
Tate Kids - Loads of ideas here for activities to see, make and do. There are games and quizes, activities and so much to explore.
Cirque de Soleil - Experience a front row seat at this 60 minute FREE special
The British Museum - Explore so much right from your sofa! Visit the galleries, including the famous Egyptian Sculpture Gallery.
The Show Must Go Own - Every weekend, for just 48 hours you can access one of Andrew Lloyd Webber's musicals.
The Science Museum - there is now a section on the website with activities for Early Years, KS1, KS2 and KS3.
Book Worms
David Walliams - free audio downloads available every day for 30 days (from 23rd March)
The Ickabog - Every day from 26th May until 10th July a new chapter will be released. This book is designed to be red aloud and is aimed at children aged 7-9 years.
The Gruffalo - every little persons favourite - and mine too! Julia Donaldson has created some of the most well loved characters and stories. Her website is jam packed with activities.
If you know of other websites where access is FREE please do let us know and we can add them to the list.