This week is Family Safety Week. I have asked local business owner Claire, who has a first aid business, to share with us some of the dangers around our homes and to give us tips on how to combat these.
One of the hardest challenges' parents face is keeping their little ones safe and out of harms way throughout their lives. I have put together a couple of child safety ideas to help us do that.

The Dangers of Washing Tablets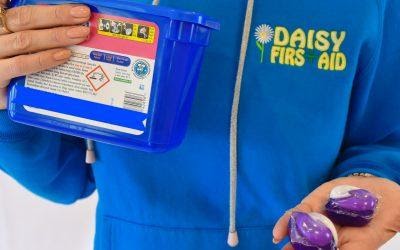 Where do you keep your washing tablets?
If the answer is under your sink then please STOP to read.
These lovely pretty coloured gems do wonders for getting our little one's clothes lovely and clean BUT… they can be incredibly dangerous to babies and children.
To a small child, gel or liquid washing detergent capsules look a lot like sweets or toys – all soft, shiny, squidgy and brightly coloured. But if you swallow one, bite into one or even pop it in your hands, you risk poisoning or serious burns to the skin, eyes and throat.
It's thought over 100 children a year are taken to hospital after biting or swallowing gel capsules used in washing machines and dishwashers. That's why we should all avoid leaving detergent capsules under the sink or anywhere else within a child's reach.
Always seek medical advice if your baby or child does come into contact with a liquid or gel detergent.

Children's Dummies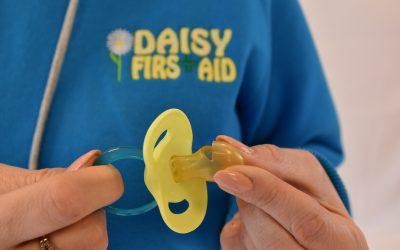 Children's dummies (also known as soothers and pacifiers) can be an absolute godsend for some parents.
Modern dummies are safe to use, can easily be sterilised and the mouth shield prevents your baby from choking on, or swallowing the teat.
It's possible using a dummy at the start of a sleep also reduces the risk of SIDS. But the evidence isn't strong and not all experts agree that dummies should be promoted, so make your own choice.
Dummies can easily become germ-ridden and their use is linked to increased risk of ear and stomach infections. Keep germs away by being super switched on with hygiene – sterilise dummies daily. Never put a dummy in your own mouth to 'clean it'. Mouths are full of bacteria, so it's the worst thing you could do!
It's is also so important that these dummies are not only cleaned daily but also checked carefully for and splits or tears. As you can see from this photo, if the teat becomes detached from the base, even if it's just cracked a little, it could pose a very serious choking hazard for a baby
Blind Cords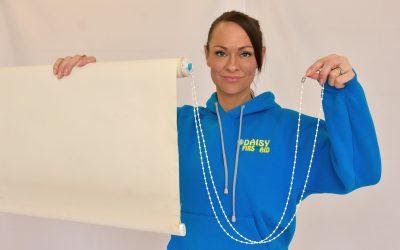 It can take only 20 seconds for a toddler to die from strangulation if they get tangled in a blind cord.
Why do blind cords pose such a risk?
Research indicates that most accidental deaths involving blind cords happen in the bedroom and occur in children between 16 months and 36 months old, with the majority (more than half) happening at around 23 months.
These toddlers are mobile, but their heads still weigh proportionately more than their bodies compared to adults and their muscular control is not yet fully developed, which makes them more prone to be unable to free themselves if they become entangled.
In addition, toddlers' windpipes have not yet fully developed and are smaller and less rigid than those of adults and older children. This means that they suffocate far more quickly if their necks are constricted.
As with drowning, toddlers can be strangled quickly and quietly by looped cords with carers in close proximity, potentially unaware of what is happening.
To reduce the risk posed by looped cords, including blind cords, cords should be kept out of the reach of children.
Make it safe!
Install blinds that do not have a cord, particularly in a child's bedroom
Do not place a child's cot, bed, playpen or highchair near a window
Pull cords on curtains and blinds should be kept short and kept out of reach
Tie up the cords or use one of the many cleats, cord tidies, clips or ties that are available
Do not hang toys or objects that could be a hazard on the cot or bed
Don't hang drawstring bags where a small child could get their head through the loop of the drawstring.

Baby Proofing – Bathroom Ideas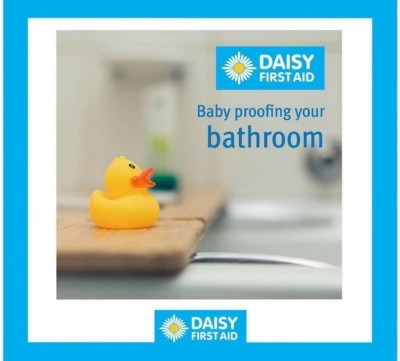 Put a non-slip mat in the bathroom
Install a toilet lid lock
Keep medicines and cleaning products locked away and out of reach
Use window locks
Fill the bath just enough to cover your baby's legs (between 5cm and 7.5cm of water)
Use warm, not hot water (do elbow test or use a thermometer to make water 35 degrees c to 37 degrees c
Run cold water into the bath first, and then add the hot
Don't be distracted by your phone
Never leave your baby in the bath unsupervised, not even for a few seconds
Take extra care lifting your slippery baby out of the bath
Enjoy the special bonding time.

A little about me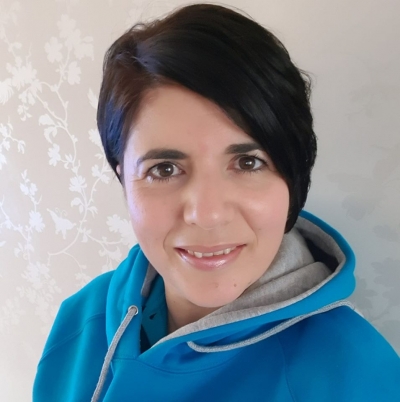 I own and run Daisy First Aid West Essex. I offer fun and fear-free first aid courses designed specifically for parents and child carers. In a two-hour class, which takes place in your own home or local venue, the world of emergency first aid unfolds, as parents, grandparents and care givers interact and learn the skills you need to save a life and to treat the most common accidents and emergencies. Babies and breastfeeding are very welcome too. If you are interested in taking one of my paediatric first aid courses, please contact me on [email protected]
The family first aid classes are accredited by CPD Standards Office and cover the content below;
Treatment of an unconscious casualty
Recovery Positions
Shock
Resuscitation & CPR
Choking
Head injuries
Fever
Febrile Seizures
Bleeding
Burns
Fractures
Anaphylaxis
Meningitis
Other Childhood conditions.