After being kindly invited for a session at Crafty Monkey we booked online via the website which was very simple and easy to use, we had an email confirmation sent with the option to add to my phone calendar (this really is helpful when you are a busy mum) the email also gives you the option to change or cancel the appointment as well as a reminder email couple of days prior.
When we arrived in St Neots we parked up in Tebbutts Road car park which is a two minute walk from Crafty Monkey, we were greeted at the door by the manager Chrissy who welcomed us in, we sanitised our hands upon entry. Both members of staff were wearing masks, although this was not compulsory for visitors I chose to wear one. Myself and Scarlett had a good look around the blank pottery pieces for things to paint before deciding on a bauble and plate for herself and Oscar as well as a Halloween platter for Oscar.
Once we had chosen our pieces Chrissy took us over to our table, bookings are still spread out to prevent too many people being in the shop at the same time, we spoke about wether we were going to print or paint our items, after choosing to do prints we then spoke about fun design ideas (the staff have many ideas so don't be afraid to ask for inspiration) Chrissy was happy, chilled and kept my two year old Scarlett very involved and entertained the whole time, she kept Scarlett informed about what she was doing whilst having a lovely chat throughout. Scarlett did a handprint robin on a bauble and a footprint mouse on a small plate, Scarlett would have happily painted every item if she could but next it was Oscars turn.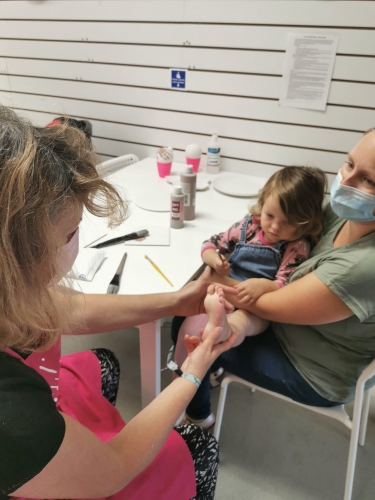 I sat Oscar on my lap whilst Scarlett sat nicely in a high chair looking at all the beautiful creations around the room. Sometimes working with little ones can be hard as they scrunch their hands and toes but Chrissy knew all the tricks in the book to relax him into uncurling them. We did another robin bauble and a small tree shaped plate with some 'mistletoes' hehe, too cute! Oscar was a little unsure at times but Chrissy kept him entertained, it was all done very quickly. We moved on to Oscars 'Bumpkin' platter, I held Oscar the whole time with his nappy flapped down just low enough to allow his cheeks to be out, I gave them a quick wipe then Chrissy painted them and pressed the plate against him. Oscar seemed to enjoy this activity. There is a toilet and changing table at the back of the studio should you need it.
After we had completed our prints we double checked we had done everything to my satisfaction and was asked if either I wanted to write on them or decorate myself or if I wanted that done by a member of staff for a small fee, I chose a staff member to do it as it looks neater. Chrissy said I would get an email when my pieces were ready.
Whilst I was paying Beth explained that during school holidays they run a number of children's workshops and throughout the year hold adult sessions too, they can also host great parties at a reasonable price.
Overall myself and the children had a great time and felt at ease the whole time and I cant wait to see the outcome of our pieces which I will add here once they are complete.
Thank you for having us Crafty Monkey we will be back!!