We were kindly gifted passes to visit Audley End Miniature Railway and take part in the Enchanted Summer Adventure in the first week of the holidays.
Upon arrival we were greeted by a very nice car parking attendant who instructed us to park in the closest car park as we only had a short time until our train was due to depart, there is another car park within a pram friendly walking distance.
We walk up to the desk and the friendly staff sign us in, hand us our train ticket, give us our activity booklets and pencils and then shows us where to go to board the train. There are buggy stations dotted around to leave your buggies whilst on the train or if you don't need them whilst playing in the park. All aboard we set off on a magical journey, the route is picturesque with bridges going over the river and through the forest. All along the route were beautifully decorated scenes of magical and mythical creatures, we ticked the items in the booklet along the journey. The journey was the perfect length to entertain the children and if you want to go on it again you can get another ticket for an extra pound or two at the main desk.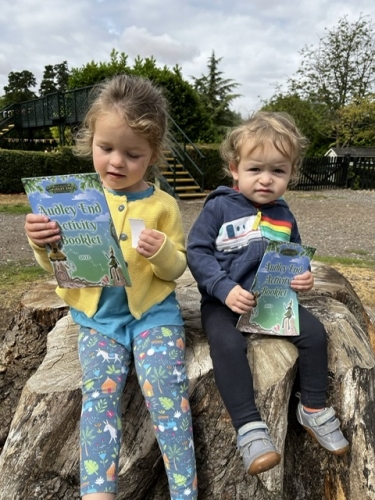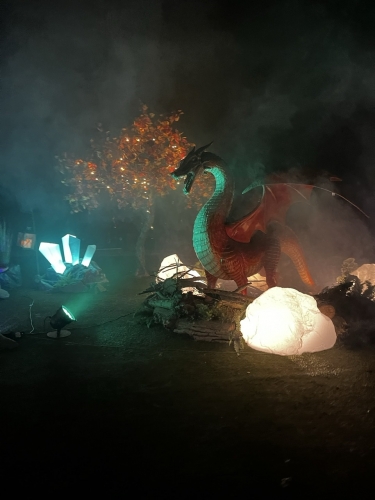 We exited the train at the entrance to the Fairy Forest Walk. Violet the Fairy handed us a small paper leaf (I will explain a little more later) and welcomed us in. We used our booklet to tick off the fairies that we found, admiring the magical and intricately designed fairy homes that we found (the detail and care taken to create each and every one is amazing, there has been no expense spared here) We came to the wish fairies home and found walls of paper oak leaves each with children's wishes written on (this was where we could use our leaf that Violet had handed us) Around half way through the trail we came across a clearing where there were a number of toadstool tables, a real life fairy handed us some materials and we followed some super simple instructions to make our own magical wands!
The trail is buggy friendly but even my youngest was far too engaged to sit in it, some of his favourites were the wind chimes and the mermaid with merbabies.