Today was the day when we got to visit Santa at his burrow grotto at the MK Centre along with the brilliant theatrical Peter Rabbit and friends, I don't know who was more excited me or my 2 year old (probably me as The Tales of Peter Rabbit was a much loved set of tales I grew up reading) But either way we were very excited.
The booking process was easy and I had an email confirmation in my inbox within minutes of paying, I had not been to this centre before so checked ahead on the site for directions and used the postcode given on the website that directed me to the carpark.
We went on a weekday so parking was easy as there are so many spaces with little boards overhead telling you if there are available spaces on that level, parent and child spaces are spread out around the car park and are painted in purple which makes them easy to spot. you get given a ticket upon entry which you use to pay before you leave on the ground level, make sure you pay on the ground level as there are not any pay stations in any other level.
Upon entering the main building it dawned on me just how big this centre was!! Luckily the grotto is right near the front with lots of signage and more lights than Blackpool, This truly was the highlight for my two year old who loves the lights. There are buggy parks in front of the attraction but these are left at your own risk although there were a number of staff members hanging around which would hopefully deter any chancers. We were greeted by happy elves who chatted to all in the queue waiting to enter to keep the children entertained, when we were let in to the burrow it was nicely decorated to give the impression you were really underground and this was topped off by the option of accessing the burrow via a few tunnels alternatively you could take the easy option and walk around the outside of the tunnel (your child is visible to you the whole time)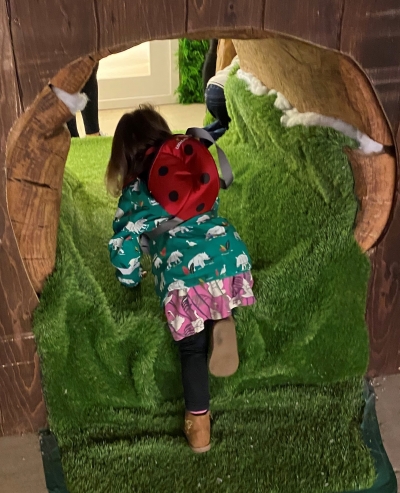 We were into the kitchen in the next area and were given biscuits to ice whilst Squirrel Nutkin got up to some mischief. Top Tip: beware of the flying (soft) snowballs We were able to take any remaining icing home along with our iced biscuits in a little bag, on route to visit Santa we bumped into Mr Tod who showed us what he was cooking up for his tea .....luckily his new diet does not consist of children, he kept the children well entertained whilst we waited to see Santa, you are then taken through to see the main man himself (who was a pretty realistic looking Santa if you ask me) where he is sat upon his sleigh throne and has a little chat with the children and asks them what they would like for Christmas before giving them a gift and then offers to have a photo which you can purchase after if you wish. For an extra couple of pounds you can add a little train journey which was short and sweet but filled with lots of beautiful lights.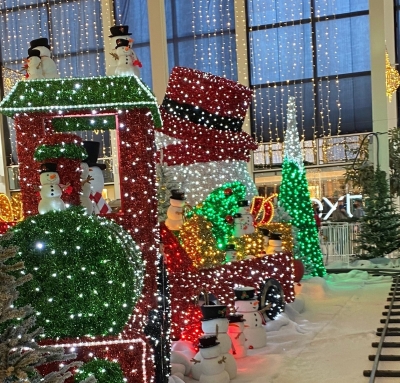 All in all it was a lovely day out, I really enjoyed the fact that it wasn't just a queue to see Santa and that you got a theatre performance in with the price, so if you haven't booked and are considering it then I hope I have helped you make the decision.
Leanne and the Littles x